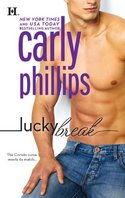 I love to read and write contemporaries. I love to talk to others who read contemporaries and gauge what they have to say about current books and authors. Recently I got to thinking about the books I've written.
The Hot Zone – Sports Heroes
The Chandler Brothers– Brothers and their mother who wants grandchildren
The Costas Sisters– polar opposite twin sisters with an Atlantic City con family
Ty and Hunter– 3 best friends, separated by a deep dark secret
The many Temptations I've written over the years
THE LUCKY SERIES – 3 sexy male cousin plagued by a family curse.
I don't want anyone to think the word "curse" means the LUCKY series is a twist on what I write. Let me be clear. The LUCKY Series is NOT a paranormal series. It doesn't pretend to be. What the Lucky series does, finishing up with LUCKY BREAK in stores tomorrow, is to touch on the notion that a curse can actually be many things from a streak of bad luck to a self fulfilling prophecy-and how an affected family and those who love them suffer in the process. The newest generation of Corwin men want to find love and break the curse&mdash:but they don't know how. Derek in LUCKY CHARM reunited with the love he let go in order to protect her from the curse and is now praying that she is his lucky charm. Mike in LUCKY STREAK found a woman adept at gambling and one willing to take risks, their love being the biggest risk of all. And up now in LUCKY BREAK is the last Corwin cousin, Jason.
To read more from Carly Phillips and for a link to enter her Lucky Break contest please click here.