So, it happened. 2020 is here!
We all talk about resolutions, but this got me thinking. As a reader, what are your resolutions?
Could it be to read more books? To ditch paperbacks and embrace e-readers? To try a new-to-you author every month? Or, perhaps… reading outside your comfort zone.
That's one of my reader resolutions. I tend to favor m/f contemporary, erotic romance and mystery. It's not that other genres don't matter to me, they do, but we all have those kinds of books we're drawn to. So, this year I will enrich my Goodreads Reading Challenge with more LGBTQ books, and who knows, maybe an inspirational or two (I tend to stay away from romances with no sex or closed-door sex).  I'm excited to open my mind to new reads and authors.
Another resolution is…to listen to more audiobooks. I've come to love listening to audiobooks in my car. Guys, the amount of time I spend in my minivan (yes, glamorous! I know…) is ridiculous. When I have the children with me, I can't listen to racy reads, but after I drop them off at school it's fair game.
And my third resolution as a reader is to recommend books I enjoy more often. I know, being an author, this should come with the territory. But sometimes, life's so crazy and busy, it's easy to forget to share a post or tweet about an amazing read. I need to start sharing those great reads with the public.
What are some of your resolutions as a reader for 2020?
*If any of them include writing racier romances, I'll be shameless and suggest you try Sold to the King, available on Amazon (free on KU, people!) and I'm leaving you with an excerpt:
He walked up to her. "Tell me why you're a virgin, Izzy." Not the smoothest ice breaker, but certainly a woman her age living in the States had to have had opportunity for sex? Curiosity stabbed at him.
She didn't turn to him, but the planes of her back stiffened, stretching the corset. "Does it matter?" she said in a clipped voice.
He nudged her shoulder, making her spin on her heel and stare at him. "I don't do well with bullshitting. You're a young, attractive woman. Just tell me."
She clutched the wineglass in her hand, studying the red contents. Then, she took a generous amount of it, so much a little bit dribbled down the corner of her mouth. A knot formed in his throat, and he wanted to reach out for her, kiss her and lick her lips. "I never met my biological father. My mother was an addict and gave up on me, and, unfortunately, my adoptive father died a few years after he adopted me. I learned to be self-reliant and my focus was on studying, and finishing high school, then college."
Though she spoke with the nonchalance of a much less important subject, the vein in her neck pulsed. His heart clutched a bit. Damn. He could feel her pain, even if she tried so hard not to show it to him.
"You're a survivor. I admire that." His father had always been an absent loser, and now more than ever, Nassor appreciated his mother—she'd done her best, after she'd been shunned by her family for years, and had no emotional support.
"Boys were never my priority."
"What about the auction? What made you change your mind?" Besides money.
She caressed the rim of the glass. "When I heard about it, I thought I'd never make it. A lot of women are far prettier than me. I wanted to see if I'd get picked."
Because she's not used to getting picked. Sadness clogged his throat. Hell, growing up, he hadn't been the family's favorite, either. The bastard son got shunned from most royal events, until recently when his mother married his father—after decades of a dysfunctional relationship.
"What's on your mind?" She put the glass on the table and studied him. For the first time, a pang of insecurity laced her voice.
He shook his head, eager to will the naive thoughts about their similarities aside. Don't feel bad for her, a voice inside him warned. Despite her difficult childhood, she'd managed to get a degree and would have access to a lot of cash after this thing between them ended. A lot of people weren't so lucky—like his late friend Jonah.
"You." He took a swig of his wine. Best to keep reality in check. He touched her cheek, outlining her jaw. She quivered under his touch, and he leaned closer, enjoying her response.
Desire gleamed in her eyes. He cupped her face, looking deep into her soulful gaze.
(C) Carmen Falcone, Entangled Publishing/One Handed Reads, 2020
***
Highest Bidder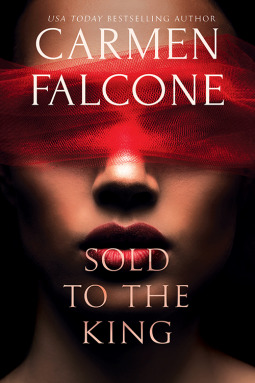 I'm less than a week away from being crowned king.
To celebrate my last days of freedom, I'm indulging in all kinds of hedonistic activities —including attending the coveted Virgin Auction.
When I see Izzy on stage, I forget where I am. She's gorgeous. I must have her. At any cost.
Even if only for three weeks.
Even if it can only ever be temporary.
And especially because it's the last time I can do something for myself and not what's best for my country.
I'm bound by duty and honor, but for the next few weeks I get to have my American cake and eat her too… one decadent bite at a time.
Romance Erotica Sensual [Entangled, On Sale: January 19, 2020, e-Book, ISBN: 9781661468941 / eISBN: 9781661468941]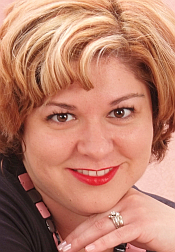 Carmen Falcone learned at an early age that fantasizing about fictional characters beats doing math homework any day. Brazilian by birth and traveler by nature, she moved to Central Texas after college and met her broody Swiss husband—living proof that opposites attract. She found in writing her deepest passion and the best excuse to avoid the healthy lifestyle everyone keeps talking about. When she's not lost in the world of romance, she enjoys spending time with her two kids, being walked by her three crazy pugs, reading, catching up with friends, and chatting with random people in the checkout line.