Perfect people are boring. Also, kind of annoying. I'll admit to occasionally pretending perfection but the ruse never lasts long. I don't enjoy reading about perfect characters and I don't really enjoy writing them either. Real people are flawed, sometimes hopelessly so. Characters in books need to have flaws too. Human foibles bring book characters to life. Visible "flaws" are limited by the eye of the beholder.
I found The Emotional Wound Thesaurus (Angela Ackerman & Becca Puglisi) to be an invaluable resource for writing flawed characters. Emotional wounds and internal flaws are the salt & pepper of romance authors. Sprinkle that stuff liberally or risk a bland story.
In my historical romance series, What Happens in the Ballroom, I purposely gave my characters a little more emotional baggage than they could successfully bear. And then I poked them with a sharp stick before writing their happily-ever-after.
For book 2 of the series, ABOUT AN EARL, Oliver Chalford, the new Earl of Winchcombe, has scars he can hide and one he cannot. Unable to erase his physical scar, he struggles with the scars within that threaten to destroy his chance at happiness.  The son of an abusive alcoholic, Oliver wishes for nothing more than a quiet life free of his father's unpredictable behavior. I introduced him to a sassy American colonial with abandonment issues. Getting these two to their happily-ever-after required a disguise, a diamond, and a talking parrot.
"There we stood, like a couple of matching candlesticks, while he screamed and yelled for what seemed like hours. He mistook me as the eldest and declared I would be punished with a whipping. As he pulled the buggy whip from the hook, Oliver stepped forward and admitted he was the eldest. So as never to confuse us again, our father cracked the whip. I didn't realize what had happened at first. Not until Oliver dropped to his knees clutching his face." Penry put a hand to his face as he spoke, his fingers tracing the wound his brother wore.
"Your father scarred Oliver on purpose?" Jewel's knees went weak from the horrible clarity of the fact. Oliver's scar wasn't the result of an awful accident.
Every hero in my series (Quin, Oliver, and Kerrigen) was both fun and challenging to write. Every fresh thought, every display of emotion, had to be reflected in the cracked mirror of their internal flaws.
I had to break them down throughout the book so they could be healed in time to grab at their chance at happiness before it passed them by. Avoiding another trap of perfection, my heroines had to be a vital element in both the breaking down and the healing of their hero rather than their savior. Each heroine has her own flaws to take into consideration because she's looking for a happily-ever-after too.
In ABOUT AN EARL, Julianna (Jewel) Latham struggles with her feelings of abandonment and loyalty to a family that has shown her none in return. Her inner conflict makes her appear brash and impulsive whenever she dares to reach out to someone new and risk abandonment once again.
I hope readers enjoy my stories as much as I enjoyed writing them. To see more of my books check out my website at https://www.dianalloydbooks.com/  I'll be checking back if you want to leave a comment about your views of perfect book characters.
What Happens in the Ballroom Book 2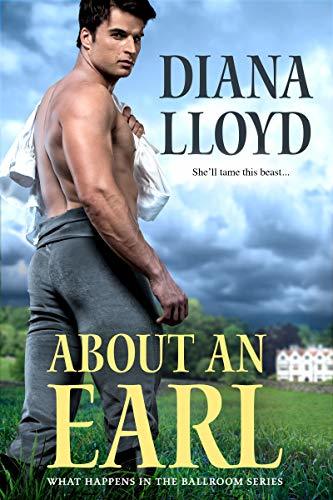 An outsider at her first English ball, Jewel is fascinated with the beautiful dresses and the lovely dancing, but she's vowed to save the Earl of Winchcombe from her cousin's marriage trap. When she first glimpses the handsome lord, her heart beats faster. As they plan to thwart her cousin's machinations, she discovers a kindred spirit in Oliver–even if he's a peer and she's a lowly colonist. Caught kissing the earl, the ball ends in disaster and Jewel's displeased uncle whisks her away to Scotland. . .
Lord Scar, as the ton calls Oliver, would rather be anywhere than at a godforsaken masquerade ball and when he learns from the free-spirited colonist about the nefarious marriage plan, he grudgingly accepts her help. Jewel intrigues him and sets his heart racing. Yet, when the ball is over and the mask is off–Oliver curses the scar that will send her screaming away.
When her uncle banishes her, Oliver comes to her rescue by offering Jewel his hand in marriage. She agrees, despite his disfigurement. But what's a beastly lord like him to do with such a beautiful wife–especially when he discovers she's delightfully saucy?
Each book in the What Happens in the Ballroom series is STANDALONE:
* How to Train Your Baron
* About an Earl
Romance Historical [Entangled: Amara, On Sale: January 27, 2020, e-Book, ISBN: 9781660347988 / eISBN: 9781660347988]
Diana Lloyd, mother of gingers, lives in the state shaped like a mitten. Diana has loved books since she first ate one and appreciated them even more once she learned to read. Enjoying an occasional tumble down the rabbit hole of research, Diana writes historical romance by mixing equal parts History, Heart, and Humor. A 2017 RWA Golden Heart finalist with HOW TO TRAIN YOUR BARON, Diana is anxiously awaiting the publication of book two ABOUT AN EARL and book three LAST LORD STANDING in the "What Happens in the Ballroom" series.