Jake propped up the wall outside Captain Castillo's office in the Northeast Division with one shoulder. Castillo hated tardiness almost as much as he hated the press.
Jake hadn't bothered knocking on the office door because he could hear Castillo's voice on the other side. He'd end the phone call at precisely three thirty and open that door, expecting Jake to be standing right where he was. And if he weren't there? He didn't know. He'd never tempted fate like that. He had to play by certain rules so that he could break others.
The low drone of Castillo's voice stopped, and Jake stood at attention.
The door swung open, framing Castillo, navy suit slightly rumpled, salt-and-pepper hair already escaping from the pomade Castillo slathered on his head. The captain nodded once. "McAllister."
Jake followed the captain into the room, taking the lone chair on the other side of the functional desk, and dove right in. "I'm assuming this is about the two murders."
"It is. We've identified the second victim, Kelsey Lindquist." Castillo shoved a picture of a pretty blonde across his desk. "No connection to Marissa Perez that we can see. They didn't know each other, live in the same neighborhood, work together or in the same in­dustry."
"That's first glance. They're not working girls, so how is he finding them? Marissa did some online dating. Do we have Kelsey's phone?" Jake glanced at the thick file on Castillo's desk. "Looks like Billy's been doing some work while I was in court. How'd you ID the latest victim so quickly?"
"Parents, unfortunately. Kelsey missed work today. Her boyfriend located Kelsey's car in the parking lot of a shopping center this afternoon, purse and phone on the floor of the car. He called the police. The officers took one look at her driver's license and called us."
"Boyfriend?"
"Not a suspect…yet."
"Tough." Jake's gut rolled. If anything ever happened to Fiona, he'd be ready to do murder himself. "Have her parents identified the body?"
"Not yet." Castillo shoved the folder toward Jake. "This is yours now. We're forming a task force, and I want you to lead it for us."
"For us?" Jake drummed his fingers on top of the file. "You expect more bodies in other jurisdictions?"
"You and I both know that's a possibility. He's gotten away with this twice. Do you really think he's going to stop now?"
"The Player did."
"The Player stopped after six." Castillo mopped his brow with a tissue he'd plucked from a box on his desk. "You've already noticed the similarities."
"Copycat."
Castillo shrugged, his suit crumpling even more around his shoulders. He needed Billy's tailor—they all needed Billy's tailor.
"Most likely. Would be rare for The Player to come out of retirement." Castillo steepled his fingers. "I know you're already thinking about The Player's mur­der book."
"Thinking about the murder book and Quinn. Does he still live in Venice, near the beach?"
"Ned Verona would know for sure. Hit him up after the meeting." Castillo splayed his hands on the desk, thumbs touching. "I'll take everyone through the slideshow of what we have now on both murders. You and Crouch can chime in whenever you feel the urge. Then I'm going to turn the show over to you for an intro to the task force."
Jake slid the file folder from Castillo's desk and tucked it under his arm. Resisting the urge to flip through the pages, he followed the captain into the conference room, already packed with Robbery-Homicide detectives, several uniformed officers and a few civilians.
The lights dimmed, and for the next hour Castillo briefed them on the two murders. Jake picked up where the captain left off, discussing the formation of the task force and how it would operate.
Blinking his eyes as the lights went up, Jake asked, "Any questions?"
Someone yelled from the back of the room. "Are we gonna call this task force The Player 2.0?"
"Not unless you want to send the public into panic mode. Maybe we'll have a contest. Winner gets extra duty." As the officers and detectives peppered him with questions, Jake scanned the room, his gaze trip­ping over the blonde in the back.
Oh, hell, no. Had Castillo invited her?
She'd noticed his attention and had taken a step back, folding her arms over a snowy-white blouse, a half smile curling her lip, exuding a confidence born of being connected.
Jake rushed through the rest of the questions, and as the meeting adjourned he elbowed his way toward Castillo, who was talking to Lieutenant Alicia Fields. He waited until Alicia took a breath before butting in. "I need to talk to you, Captain."
Alicia held up her finger. "Do you mind, J-Mac? Give me a minute."
Someone tugged on his sleeve and he jerked his head over his shoulder, meeting the amused blue eyes of Kyra Chase, the quack.
"Get used to it, McAllister. I'm part of this task force—whether you like it or not."
He didn't like it—not at all.
His hazel eyes narrowed and his nostrils flared, as if he'd just gotten juiced up with adrenaline and was de­bating between fight and flight. As if Jake McAllister would ever flee from conflict. Quite the contrary. He had a reputation for courting it.
Castillo sliced his hand in the air to cut the tension vibrating between her and Jake. "McAllister, you know Kyra Chase, right? She did a great job on Verona's case a few months ago. Put the department in a good light by assisting with the victims in those gang retaliation shootings, got some cooperation from family members we never expected."
"I know of her." Jake thrust out his hand in an ag­gressive gesture. "Detective Jake McAllister, Ms. Chase."
She clasped his hand, and its warmth and strength rattled her even more than the gesture itself…and the fire in those eyes that had just turned green. "You can call me Kyra."
(c) Carol Ericson, Harlequin Intrigue, 2021. Reprinted with permission from the publisher.
A Kyra and Jake Investigation #1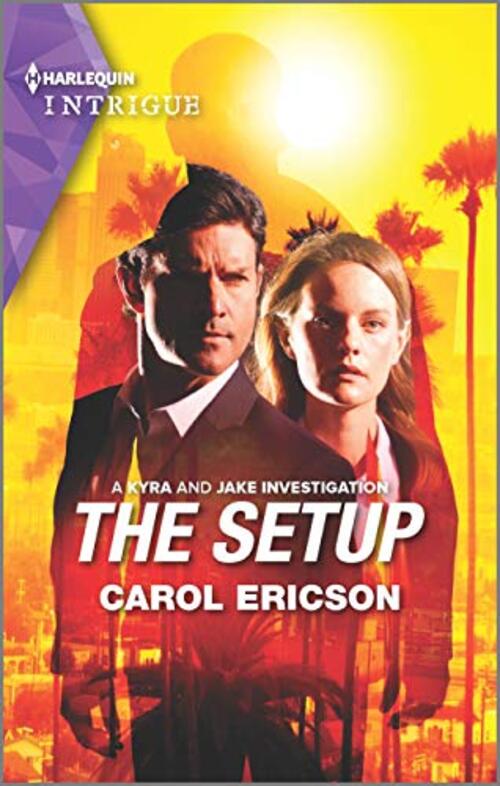 With a serial killer on the loose…
Secrets get you killed.
Detective Jake McAllister isn't aware Kyra Chase is connected to a twenty-year-old unsolved murder. He sees his new case partner only as an unwelcome distraction. But with the body count rising, they'll need to trust each other to help them catch a killer who seems to know more about Kyra than Jake does.
From Harlequin Intrigue: Seek thrills. Solve crimes. Justice served.
For more action-packed stories, check out the other books in the A Kyra and Jake Investigation series by Carol Ericson:
Book 1: The Setup
Mystery | Romance | Thriller Serial Killer [Harlequin Intrigue, On Sale: March 30, 2021, Paperback / e-Book, ISBN: 9781335401656 / eISBN: 9781488072741]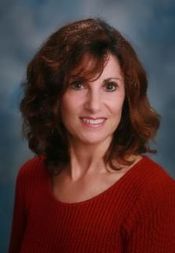 Best-selling, award-winning romance author, Carol Ericson, has written more than 50 books, mostly romantic suspense. A California girl and graduate of UCLA, Carol lives near the ocean with her husband and their giant dog. Carol has an eerie fascination for true crime, a weakness for reality TV, and a fondness for really hot salsa. For more information about Carol's books, please visit her website at www.carolericson.com, join her newsletter, and like her on Facebook.