1–What is the title of your latest release?
WHEN A COWBOY LOVES A WOMAN, book 2 in the Creedence Horse Rescue series
2–What is it about?
It's a second chance love story for two people who both lost their spouses. It has an adorable ten-year-old girl, a feisty eighty-year-old, and a rescued horse who loves to be sung to. A kitchen fire forces Elle Brooks to move in with her friend, Bryn, and her motley collection of rescue animals. Spending time with the hunky veterinarian, Brody Tate, and his spunky young daughter as they rehabilitate rescued horses reminds her of all she lost in a car crash years ago. The hope of a future brings these two wounded souls together.
3–What do you love about the setting of your book? 
I love getting to go back to the town of Creedence and spend time on the Heaven Can Wait Horse Rescue Ranch. There is such a fun crew of animals there, from an ornery goat to a fashion-conscious pig to a mini-horse who loves jelly beans. And this new book will introduce you to some adorable new animals that readers won't be able to help but fall in love with. Plus I adore the community of people and all the friendships and connections they have with each other.
4–How did your heroine surprise you? 
Elle Brooks ended up being much stronger than I had originally thought. When I started working on her, she was pretty fragile but ended being tougher than she thought was too.
5–Why will readers love your hero? 
Brody Tate is a dad, a rancher, and a veterinarian. He's really kind and thoughtful and puts everything he has into being a good father. He has a great sense of humor and loves animals. Plus he's a crazy hot cowboy.
6–What was one of your biggest challenges while writing this book (spoiler-free, of course!)? 
I was writing this book at the beginning of last year and trying to finish it in time to go to a conference in March. Rumors of the pandemic were going around as I was trying to finish and it was a scary time and hard to focus when so many tough things were happening in our world.
7–Do you look forward to or do you dread the revision process? 
Both–I love how much better the book is afterwards, but I dread getting the call and having to make all the changes. I hate deleting stuff that I worked so hard to create. Thankfully, I have an amazing editor who I fully trust and I know the book will be better after the revisions.
8–What's your favorite snack to have on hand while writing? 
Peanut M&M's and Reese's Pieces. My favorite snack is Cheetos, but I can only eat those during plotting and proofing, otherwise, I get orange Cheetos dust on the keyboard.
9–Where would you go for an ideal writer's retreat? 
That's a toss-up between a villa in Italy, a beach house in Mexico, a chateau in Paris, or a castle in Ireland–any of these sound wonderful
10–What's the best piece of writing advice you've received? 
Writing is a marathon, not a sprint. And Nora Roberts' famous advice that essentially says, "There is no F-ing muse-you just have to sit in the chair and write."
11–Who is the fictional character you want to hand out with the most? (anyone in literature!)
Harry Potter because then I'd get to visit Hogwarts, Hogsmeade Village, and Diagon Ally
12–What's one of your earliest book memories? 
My dad reading to us before bed from a Mother West Wind book.
13–If you had to write in a different genre, what would it be and why? 
I really want to write a women's fiction novel and I have a great idea for a thriller I'm working on. These are both my favorite go-to genres to read.
14–What song will automatically put you in a good mood? 
Into the Mystic by Van Morrison or Rubberneckin' by Elvis Presley
15–What is your favorite way to practice self-care?
In the winter, it's curling up with a good book, a blanket, and a warm cup of coffee. In the summer, it's definitely hanging out at the pool with a good book, a Diet Coke, and some Cheetos-my perfect day.
16–What can you eat and never get sick of? 
Pizza
17–Will you share a favorite, recent-ish book you recommend? 
I just read Anxious People by Fredrik Backman and I adored it! I love his writing and all the connections he makes throughout the story. I also just read The Book Woman of Troublesome Creek by Kim Michele Richardson and really loved it. And for writers, I love, love, loved Jennifer Probst's new book, Write True. I swear she was writing just to me.
18–Do you have any hobbies? 
I play on a volleyball league, love to travel and read, and love hiking with my hubby and our two dogs.
19–Are you an early bird or a night owl?
Night owl
20–What can readers expect from you next? 
How To Cowboy, the third book in the Creedence Horse Rescue series releases in December, and then my next book with Hallmark Publishing comes out at the beginning of the year.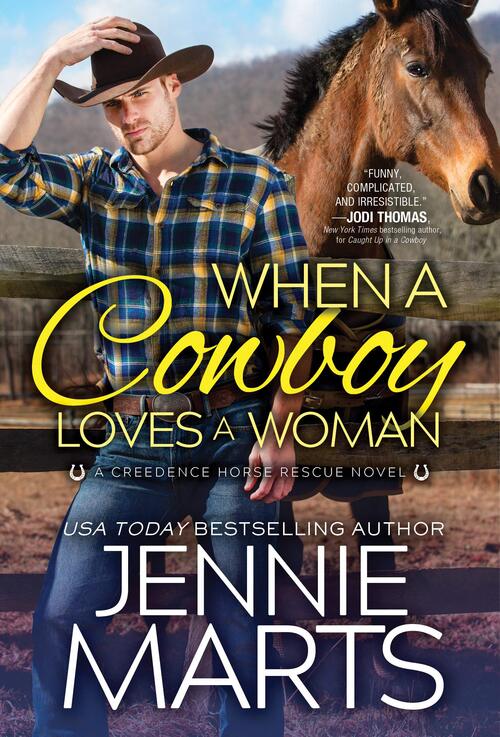 They both know the pain of loss and how to protect their hearts…but fate has a way of stepping in…
Her perfectly controlled life falls apart when a kitchen fire lands young widow Elle Brooks in the muscled arms of handsome rancher and veterinarian Brody Tate. The fire forces Elle to move in with her friend Bryn and her motley collection of rescue horses and other animals on the Heaven Can Wait Horse Rescue ranch, where she volunteers. Spending time with the hunky cowboy and his spunky 10-year-old daughter, Mandy, as they rehabilitate the beautiful horses, reminds Elle of all she lost in a car crash years ago. She can't deny the feelings that being close to Brody is stirring in her.
As a widower himself, Brody puts all he has into being a good dad for his spirited daughter. He hasn't let women and romance even enter his mind, until he meets Elle. And now, this woman is all he thinks about. Spending time with her is shaking up the calm stasis he had worked so hard to achieve, but he can't seem to stay away.
Brody and Elle both know the pain of losing someone they loved, and neither planned ever to let themselves fall in love again. But fate has a way of stepping in, and what started with a small fire now burns hotter than either one could have imagined. Can these two wounded souls take a chance on each other and risk their hearts again?
Romance Western | Fiction [Sourcebooks Casablanca, On Sale: March 30, 2021, Mass Market Paperback / e-Book, ISBN: 9781492689140 / eISBN: 9781492689157]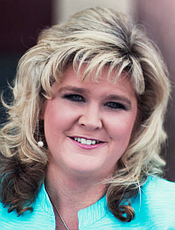 Jennie Marts is the USA TODAY Best-selling author of award-winning books filled with love, laughter, and always a happily ever after. Readers call her books "laugh out loud" funny and the "perfect mix of romance, humor, and steam." Fic Central claimed one of her books was "the most fun I've had reading in years."
She is living her own happily ever after in the mountains of Colorado with her husband, two dogs, and a parakeet who loves to tweet to the oldies. She's addicted to Diet Coke, adores Cheetos, and believes you can't have too many books, shoes, or friends.
Her books include the contemporary western romances of the Cowboys of Creedence and the Hearts of Montana series, the cozy mysteries of The Page Turners series, the hunky hockey-playing men in the Bannister Brothers Books, and the small-town romantic comedies in the Cotton Creek Romance series.