CHAPTER 1
It was a cool, pretty October Friday morning in my home town of Salem, Massachusetts. My beautiful Laguna blue 2014 Chevrolet Stingray Corvette convertible was in the shop because some inconsiderate dope had run a shopping cart down one side of it, leaving a significant
gouge in the passenger door. My aunt Ibby was in Boston at a librarians' convention, so her vintage but trustworthy Buick wasn't available either. My hours as a field reporter at WICH-TV had just been cut nearly in half because the station manager's wife's nephew had just graduated from broadcasting school and "needs some experience."
I'm Lee Barrett, nee Maralee Kowalski, thirty-three, red-haired, Salem born, orphaned early, married once, and widowed young. My aunt Isobel Russell and I share the fine old family home on Winter Street, along with our big yellow-striped gentleman cat, O'Ryan.
"Might as well walk to work," I grumbled to the cat, who watched with apparent interest as I pulled on cordovan boots over faded jeans, then tossed my NASCAR jacket over a white turtleneck shirt. "With the new schedule I don't have to get there until noon anyway." O'Ryan
gave a sympathetic "Mmrrow," and followed me to my kitchen door and out into the front hall.
Aunt Ibby had surprised me with an apartment of my own on the third floor of the house when I returned from Florida a few years ago after the death of my race car driver husband, Johnny Barrett. Coming home to Salem had so far been a really good choice for me, and the field reporter job at WICH-TV had seemed like a dream come true.
"Listen, Ms. Barrett, this is only temporary," station manager Bruce Doan had said when he'd told me about my lowered occupational status. "The kid just needs a little television face time in local TV before he moves on. Meanwhile, your workload will be reduced, but you can still do your investigative reports on the late news once in a while." The "kid" in question was Buffy Doan's nephew, Howard Templeton. The reduction in income wasn't a problem. Between Johnny's insurance and the inheritance from my parents, I'm fine financially. Besides, Templeton seemed like a pleasant enough guy, but I was trying hard not to dislike him for disrupting my more or less orderly world. It was becoming a challenge.
I locked the kitchen door and started down the curvy, wide-banistered staircase to the first-floor foyer with O'Ryan padding along beside me. He paused at the arched entrance to Aunt Ibby's living room, peeked inside, then joined me at the front door. I patted his fuzzy head, wished him a nice day, unlocked the door, and stepped out onto our front steps facing Winter Street.
October days can be delightful in New England–some call it "Indian summer." This was such a day. Leaves had begun to turn to red and gold and the sky was an impossible shade of blue–think Maxfield Parrish paintings.
My peevish mood began to melt away as I strolled along the edge of Salem Common, a pastoral oasis in the midst of a busy city. I waved across the wrought iron fence to Stasia, the pigeon lady who sat on her regular bench, surrounded by cooing birds. Across Washington Street, the tourist buses lined up in front of the Witch Museum while the massive statue of Roger Conant gazed down benignly upon us all. I could even smell the aroma of fresh, hot, buttery popcorn wafting from the same four-wheeled red-and-white wagon I remembered from my childhood.
Things aren't so bad, I told myself. Howard Templeton will "move on" eventually. My car will be repaired in a day or so. I still have a job. I'm blessed to have my aunt who loves me, and Pete Mondello, the wonderful man in my life. Everything is going to be okay. . . .
Those rose-colored glasses slipped off in a hurry when a horn tooted and the WICH-TV mobile van rolled past, a happily waving Templeton kid in the front seat and my favorite videographer, Francine Hunter, at the wheel.
Great. That automatically left me riding around in the station's beat-up Volkswagen work van with Old Eddie for my driver. That's in case anything worth covering happened during my shift, and in case Scott Palmer–who wears about fourteen different hats around the station including occasional field reporter–didn't grab the call.
I turned onto Hawthorne Boulevard, kicked a crumpled-up candy wrapper aside (darned urban tumbleweed), trudged past the Nathaniel Hawthorne statue (old Nate, sitting up there, all famous and beloved), and headed for Derby Street, getting crabbier by the minute.
WICH-TV is housed in one of Derby Street's wonderful old waterfront brick buildings that hadn't been destroyed during the urban renewal madness of the 1950s. The front door opens onto the main lobby, where the brass-doored elevator still gleams and the black-and-white tiled floor is scrubbed daily. Before I went inside, I took a quick look into the adjacent harbor-side parking lot, checking to be sure Templeton hadn't glommed onto my parking space along with everything else. He hadn't.
Sometimes, in the interest of saving time, I use the metal stairway to the second-floor office suite, but being in no great hurry, I opted for "old clunky," trying not to focus on the brass panels. I have a thing about reflective surfaces. I'm what's called, in paranormal circles, a scryer. My best friend, River North, calls me a "gazer."
River is a witch and one of the few people who know that sometimes when I look at a shiny object I see things that others can't see. Aunt Ibby knows all about my so-called "gift." My detective boyfriend, Pete, knows about it too, and struggles to understand it. That's all right. So do I.
I pressed the UP button. And waited.
The brass doors slid open and Scott Palmer stepped out. "Hi, Moon," he said. "Boy, am I glad to see you!"
I've known Scott since I got my first job at WICH-TV. I was the last-minute replacement for late night show host and practicing witch, Ariel Constellation, who did psychic readings between old horror movies on a show called Nightshades. (Unfortunately, Ariel hadn't foreseen her own death and I was the one who'd found her body.)
Anyway, I'd used the name Crystal Moon for that short-lived career and Scott sometimes still calls me Moon.
"Hi, yourself," I said. "When you're that happy to see me it usually means you want something."
"Yeah, well, I kinda do. Me and Old Eddie were all set to cover the golf tournament over at the Salem Country Club, when Doan decided he wants me spend my whole afternoon digging up background on some dead guy." He gave me the big smile and the long, innocent, deep-into-your-eyes look he's perfected. "How about it, Moon? You always liked that research stuff. Me? I'm all about action."
"I'd like to help, Scott," I said–because having been raised by a research librarian, I really do like that research stuff–"but my wheels are in the shop. I'm grounded. Stuck right here."
The smile faded for a fraction of a second, the eye thing didn't even flicker. "That's perfect. You can grab a company computer and do a fast workup on the guy."
"Who are we talking about anyway?" I asked. "Somebody famous?"
"I guess he was at one time. Name's Larry Laraby. Ring any bells?"
I frowned. The name was familiar. I snapped my fingers.
"Sure. His picture is in the lobby. He worked here a long time ago."
"Right," Scott said. "Laraby was the station's first sports guy. Back in the sixties and seventies, I think. Anyway, will you do it? Old Eddie's waiting out front."
"Might as well, I guess," I said, "since you'll have the VW and Templeton has the mobile. By the way, why are we doing this?"
"The station's seventieth anniversary is coming up. Doan's planning some kind of special about the old-timers who worked here."
I thought about what I'd watched on WICH-TV when I was growing up. "I remember Katie the Clown. She used to do a kids' show in the morning."
"She's probably still around town somewhere. And did you watch Ranger Rob? He was on in the afternoon." A short laugh. "Hey, Phil Archer is still working here. He's pretty old. He might even remember Laraby." He gave me a quick salute and headed for the door. "Thanks,
Moon. I owe you one."
The brass doors had closed by then, so I hit the UP button again. Scott was right about Phil Archer, the station's long-time news anchor. I remembered watching Phil on the evening news when I was a kid. Phil had since been moved to the noon news, so there was a good chance he'd still be in the building.
As the elevator clunked its slow way up to the second floor, I thought about a simple plan. Just a little something to fill my spare time until Howard Templeton "moved on." Sometimes even the simplest little plan can turn serious.
Deadly serious.
***
(C) Carol J. Perry, Kensington, 2019
A Witch City Mystery #9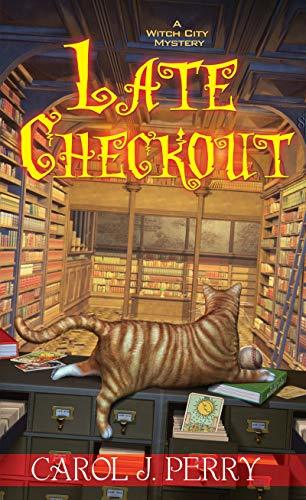 A dead ballplayer means foul play in Salem . . .  
Field reporter Lee Barrett is not happy that her hours are being cut back at WICH-TV, although it is nice to spend more time volunteering with Aunt Ibby, a research librarian at Salem's main branch. But Lee's least favorite task is going up to the stacks, a spooky, seldom-frequented upper section of the library. On this day she has good reason to be afraid–she finds a dead man, surrounded by hundreds of scattered books and torn-out pages.
 
Her police detective beau, Pete Mondello, is soon on the scene, and the deceased is identified as a former minor league baseball player–and ex-con–named Wee Willie Wallace, who hasn't been seen in Salem for twenty years. With help from her friend River's Tarot reading, her clairvoyant cat O'Ryan, and Lee's own psychic gifts, she steps up to the plate to catch the killer who took the old ballplayer out of the game . . .
Mystery Paranormal | Mystery Woman Sleuth | Mystery Amateur Sleuth [Kensington, On Sale: September 24, 2019, Mass Market Paperback / e-Book, ISBN: 9781496714626 / eISBN: 9781496714633]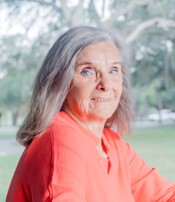 Carol J. Perry knew as a child that she wanted to be a writer. A voracious reader, whose list for Santa consisted mostly of book titles, she never lost sight of that goal. While living in Florida, Carol was on assignment for Southern Travel Magazine, preparing an article on the world's largest sandcastle which was being built near her home. That combination of events inspired her first young adult novel, Sand Castle Summer. That book was soon followed by half a dozen more.
Carol has always been an avid reader of mysteries. Her debut mystery novel is set in Salem and involves O'Ryan, a most mysterious cat, several witches, and some strange Halloween happenings. Appropriately enough, this Salem-born author celebrates her birthday on Halloween Eve! Carol and her husband Dan live in the Tampa Bay area of Florida with two cats and a Black Lab.