Welcome back to Fresh Fiction! Can you tell us about your new release, FROST AND FLAME, the second book in the Gods of War series?
Frost and Flame is Bane and Nola's story.  Bane is an ice-cold warrior with a bloodthirsty dragon-like beast trapped inside him.  He's determined to win the war, so he can kill his queen–the woman who murdered his wife.  Nola is a Korean-American mortal woman who suffers with fibromyalgia and doesn't know she has ties to Bane's world. . . or that she's an up-and-coming queen with the ability to control Bane's beast.  Needless to say, he isn't happy about it.  But, the two must work together if they are to survive the war.  If only they could stop lusting for each other. . . (Narrator: They can't!)
Nola Lee is destined to rule, but she doesn't know it at the beginning of the novel. That being said, she's hardworking and kick-ass, as well as vulnerable and sensitive. She has spent most of her life unwell, having dreams of a golden god. Now, that god is here, and her illnesses are under control. What went into creating this multifaceted character? 
I wrote Frost and Flame while I was ill, and some of Nola's struggles echo things I went through. From the beginning, my plan for Nola involved teaching Bane that there are different kinds of strength.  Nola might be weak in body–for a time–but she is mighty in other ways.
Bane of Adwaeweth is a dragon-shifting god and has his heart set on revenge over the evil queen responsible for the death of his wife. He's taken by surprise when Nola comes out of nowhere and has total control over him. Before long, he's falling for her. How fun was it to show the softer side of this alpha hero?
So fun!  Taking the biggest, baddest alpha male and making him an ooey-gooey marshmallow for one woman is my favorite trope to write.  And Bane was bigger and badder than most, so watching him melt for Nola–someone he originally despises–was beyond awesome for me.
The worldbuilding in this series is so rich! Where do the ideas comes from for this fascinating paranormal universe? 
I play the 'what if' game with myself. What if this happened? What if that happened? Then, as I answer those questions, I play 'connect the dots' to figure out what story fact flows into other story facts–a longwinded way of saying ideas come from everywhere!
I noticed on Instagram that you have a wonderful group of dogs! Can you tell us about them, and share some photos? 
I have the most amazing dogs ever!  They are weird and quirky and they think I'm the best person ever born. I like to imagine what kind of people they'd be.
Nemo–a German Shepherd with a fear of being told what to do.  If he were human, he'd live in my basement until forever, laugh at his own jokes, and revel in telling stories about his glory days while giving people inappropriate massages.  But dang, I love this dog.
Thor–a Pomeranian with a God complex.  Found on the streets as a baby, he had burns on his feet and worms in his belly.  After weeks of searching for an owner, he became the official Showalter mascot.  Now Thor 100% believes everyone ever born loves and adores him and lives only to cater to his every whim.  He loves to hear himself bark.  If he were a human, he'd be the gossip king of the world.
Pepper–a Catahoula mix found on the streets, covered in ticks and fleas.  She can be a bit of a curmudgeon, but always she is the mommy dog of the pack, keeping everyone in line.  She is also the hunter of the pack.  So far (to my knowledge) she's bagged 2 squirrels, 1 large field rat, 1 roadrunner, and 1 baby gopher she loving placed in my hair while I was sleeping.  If human, she would be an old lady with rollers in her hair and a cigarette in her mouth.  She would invite you inside for a nice cup of hot chocolate, and probably poison you. Just depends on her mood.
Boots–a lab/pit bull mix I had to feed every two hours for several weeks.  He is a 100 pounds of love, and he's my baby.  He's a big goofball, with a childlike exuberance that makes me smile and a love for food of every kind.  If he feels I'm being threatened, he is ferocious.  Anytime I've been sick, he has stayed by my side as I healed.  If human, he would be a big lovable teddy bear who plays video games with the guys, drinks a ton of beer, and treats his girlfriend like a queen.
Noel–a lab/pit bull mix and the sister of Boots.  This sweetheart of a dog has suffered from severe anxiety.  It all began with a beep.  Ever since, certain noises have sent her into a panic.  We keep our phones turned to silent and I often wear headphones when watching TV, so she won't have to hear specific sounds.  She loves to cuddle.  Oh, man, does she love to cuddle.  She's the same size as Boots, and she happily drapes herself over my body to nap.  If human, she would be strung out on coffee and desperate to meet a deadline, while worrying about an upcoming date.
Peanut–This little nugget was found on the streets after his sister was hit by a car.  He is neurotic and has suffered from separation anxiety.  He loves his people more than anything else in the world, and thinks other dogs are meh.  He's all bark. . . and all bite.  He gets mad about, oh, absolutely everything, but he's also down for a cuddle at any moment of any day.  If human, he would be the old man telling you to stay the eff off his yard.  He would also offer you a butterscotch.
Athena–Our little Chihuahua was found next to a daycare, at death's door.  After we nursed her back to health and searched for previous owners, this amazing firecracker stole our hearts.  She took her sweet time warming up to us, but we understood.  She was so worth the wait!  She loves a certain number of people and her pack of dogs, but she hates everyone else.  Especially animals on TV, her mortal enemies. If human, she would be the mean girl at school with a secret heart of gold.
What can readers expect from you next? 
Gena: I am currently working on the next book in the Lords of the Underworld series, The Darkest Assassin.
Fox is a demon-possessed immortal with many talents.
Ability to open portals – check
Power to kill the most dangerous Sent Ones – check
Scare away any man who might want to date her – mate
Now, the keeper of Distrust has been marked for death, a winged assassin with rainbow-colored eyes tracking her every move, determined to avenge the males she accidentally decimated. If only she could control the desire to rip off his clothes. . .
Bjorn is a fierce warrior with many complications.
Tragic, torture-filled past – check
A wife he was forced to wed, who is draining his life force – check
Ever-intensifying desire for the enigmatic Fox – mate
Never has he hesitated to exterminate an evil being. Until now. The sharp-tongued female with a shockingly vulnerable heart tempts him in ways no one else ever has, threatening his iron control.
But, as Fate itself seems to conspire against the unlikely pair, both old and new enemies emerge. And Fox and Bjorn must fight to survive.
And learn to love. . .
Next I'll be doing revisions for The Darkest King, the next Lords of the Underworld book, and writing a rough draft for my second Forest of Good and Evil book!
Rapid Fire Random Questions
Favorite candy: Gluten free shortbread cookies
Favorite way to be kind to yourself: Wearing a collagen face mask while "nesting" in bed watching TV or phoning (playing on my phone)
Best compliment you recently gave to someone: I told my sister how much I admire her emotional strength.
Favorite flower: Rose
Random interesting fact you like to tell people: Dogs are people too.  (What?  It's true!)
Best vacation you've ever taken: I drove to Aspen with my husband and two kids.  Kids were about to head off to college and it was a chance to spend time together as a family.  I loved every second.
Earliest celebrity crush:  Mr. T
Cake or pie: Cake
Last book you read that you really LOVED: Cowboy Guardian by Molly Jarrett
You have a totally free afternoon – no deadlines, no obligations, no Twitter notifications!  What do you do?:  I nest, watch TV and pet my dogs.  And text Jill Monroe inappropriate images.
Gods of War #2
From Gena Showalter, the New York Times bestselling author of the Lords of the Underworld saga, comes Frost and Flame, the second book in the scorching paranormal romance series Gods of War.
Bane of Adwaeweth is the most feared immortal warrior in All War history. Possessed by a bloodthirsty beast, he will stop at nothing to win. Then he meets irresistible Nola Lee. He hates the power she wields over him, but she alone can rain vengeance upon his wife's killer.
Unaware of her destiny to rule as queen of beasts, Nola battles illness, addiction and vulnerability. With Bane, however, she experiences pleasure for the first time, and only wants more. But being with him comes with a terrible price.
With enemies lurking around every corner, Bane and Nola must fight to survive. But time is running out, and neither can resist the sizzling attraction blazing between them. Will their romance save the beast and his beauty, or destroy everything they've come to love?
Romance Fantasy | Romance Erotica Sensual [HQN, On Sale: September 17, 2019, Mass Market Paperback / e-Book, ISBN: 9781335505040 / eISBN: 9781488085918]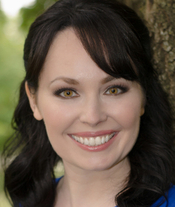 Gena Showalter is the New York Times and USA Today best-selling author of the wildly popular White Rabbit Chronicles, the Angels of the Dark, the Lords of the Underworld, and the Otherworld Assassins series. In addition to being a National Reader's Choice and RITA nominee, her romance novels have appeared in Cosmopolitan and Seventeen magazine, and have been translated in multiple languages. She lives in Oklahoma with her family and menagerie of dogs, and truly believes love conquers all.
***
Fresh Fiction Editorial Manager Danielle Dresser is an avid reader, lackluster-yet-mighty crafter, and accomplished TV binge-watcher. Once upon a time, she was a publisher publicist and continues to cultivate her love of books and reading by chatting with the best authors in the business. She lives in Chicagoland with her very own romance hero husband, darling daughter, and two tempestuous cats. Follow her on Twitter and Instagram, @dj_dresser.