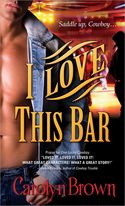 Good morning! Thank you for inviting me to stop by on my blog tour this month. I Love This Bar is on the book shelves ready for my readers to bust down the book store doors to get at one. Did I mention that my imagination often times runs wild and free and I get these amazing images in my head about how much my readers love my books?
I Love This Bar is the first in the four book Honky Tonk series with Hell, Yeah coming out in August; My Give A Damn's Busted in October and
Honky Tonk Christmas in November. The series is centered around an old beer joint in Mingus, Texas called The Honky Tonk and the four bar owners who have no intentions of ever giving up their saloon…and the four sexy cowboys who are determined to change those sassy women's minds.
Daisy O'Dell is the first bar owner you will meet. And Jarod McElroy is that amazing cowboy on the cover of I Love This Bar. Want to read an excerpt that will tell you exactly what happened between them there at the first?
Is that a big "Hell, Yeah!" I hear surrounding my computer? Well, I'm going to pretend it is so you might as well yell.
Grab a cup of coffee and a two pieces of double fudge brownies and read away!
All the air escaped Daisy's lungs in a whoosh and when the cowboy collapsed on top of her body. She sucked in air and pushed at the weight but her arms were pinned. She opened her eyes to see a head full of dark hair and felt the sharp bone of his nose pressing into her left breast:
He moaned or mumbled something. Her breast muted whatever it was.
Thank God he's not dead; she thought when he rolled to one side.
He raised his head and looked over at her, his face only inches from hers, his eyes zeroing in on her lips.
Hot damn! That's one sexy face, they both thought at the same time.
She shut her eyes and leaned forward for the kiss then reality hit. She had fallen flat on her back on the floor of the Honky Tonk beer joint and took the nearest cowboy down with her. She popped her eyes wide open and wiggled back away from the sexiest gray eyes she'd ever seen.
Oh, shit, who saw us? Daisy looked up to find everyone staring down at them, the cowboy's body still touching her from breast to toe even if he had rolled to one side. The blush that filled her cheeks had nothing to do with afterglow.
The joint was as quiet as a tomb. It was a hell of a time for the juke box to go silent.
"You all right?" Tinker, the bouncer, asked.
Daisy looked up to see him bent over the two of them, worry etched in his face as he bent to touch her face.
"I'm fine. Make sure he is, too," she panted.
Tinker held out a hand and in one swift movement the cowboy was on his feet. One minute he'd been walking toward the bar; the next he was grabbing for anything to break the fall. Then as if slow motion she slipped in the same slick puddle of spilled bear and grabbed for him. He hoped he hadn't broken any of her bones when he landed on top of her.
Tinker picked Daisy up carefully and set her on a barstool. "You all right?"
"I'm fine. My dignity is in shatters and I might have a bruise or two, but I'll live," she said.
"Then I'll get back to the door. Motion if you need me," Tinker said.
She nodded and raised her voice to the customers who were still watching the whole scenario as if it were an X-rated movie. "I'm fine everyone. I promise. Get on back to having a good time."
Someone plugged coins into the juke box and George Strait's song, "River of Love," filled the place. Several people started a line dance and by the time the song ended everything was back to normal.
All expect Daisy's heart. It still raced.
She looked at the cowboy. He was just as sexy sitting on the bar stool as he'd been lying on top of her. "Sorry about that. I hope you don't have anything broken."
The cowboy barely nodded. "Just a little stunned. Stupid things like that happen so fast it's like it happened to someone else. Might have a bruise but you broke my fall. You sure you are all right?"
It was her turn to nod.
"Guess we stepped in that beer at the same time. Where's the bartender? We both ought to sue the hell out of him." Jarod was amazed that he could utter a single word the way his pulse raced. He could lie and say that it was the embarrassment of the fall, but the truth was that was one dazzling lady he'd taken a fall with.
Daisy knew every rancher, cattle rustler and hot blooded male and female in five counties but she'd never seen that damn fine looking cowboy before. Snug fitting jeans covered one sexy tight butt hitched up on the stool. Bulging biceps underneath his snowy white tee shirt stretched the knit. His black hair and high cheek bones said that he had some Native American blood somewhere but his eyes were the color of heavy fog. He could have played the resident bad boy in an old movie: maybe James Dean in Rebel Without a Cause. She remembered watching the movie with her grandmother back before Granny died. From that day forward, Daisy O'Dell had been attracted to bad boys, and that had been her down fall.
For the first time she seriously considered breaking the rules and taking a man through the door into her apartment at the back of the Honky Tonk. She shook her head to remove the crazy notion. The man could be a serial killer or a drug pusher. Hell, he could be worse than either of those two things ? he could be married.
She blushed scarlet. She'd been ogling the stranger rudely.
His straw hat had somehow found its way to the bar in front of him and she wished she could pick it up to fan her scorching face. Not that it would have helped a whole hell of a lot. The way her hormones were overreacting she could have melted ice on the North Pole in December.
© Carolyn Brown, Sourcebooks Casablanca, 2010
So tell me after reading that would what would be your first thought if you suddenly found yourself flat on your back on a dance floor with a cowboy like Jarod right on top of you?
I LOVE THIS BAR BY CAROLYN BROWN–IN STORES–JUNE 2010
She doesn't need anything but her bar…
Daisy O'Dell has her hands full with hotheads and thirsty ranchers until the day one damn fine cowboy walks in and throws her whole life into turmoil…
He's looking for a cold drink and a moment's peace…
Instead, Jarod McElroy, finds one red hot woman. She's just what he needs, if only he can convince her to come out from behind that bar, and come home with him…
About the Author
Carolyn Brown is an award-winning author who has published 36 historical and western romance novels for the library market, many of them bestsellers in that market. Born in Texas and raised in southern Oklahoma, Carolyn and her husband now make their home in the town of Davis, Oklahoma. For more information, please visit her website.
To comment to win please click here.