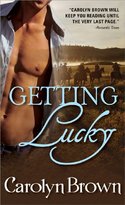 Hello and thanks for having me on your site to celebrate Getting Lucky hitting the market this month. It's the final installment in the Lucky Series and tells Julie and Griffin's story about their journey to true love and happiness. Writing a series has ups and downs, pros and cons, as opposed to writing a single book.
One pro to writing a series is research. Basically, the whole series is going to be about the same area and time frame so when the research is done for the first book, it's pretty well set for the next two.
I wrote about the two areas I was most familiar with and even though each book was set in a different town in southern Oklahoma or north central Texas, they were all within spittin' distance of each other. Close enough that the Luckadeau cousins could visit back and forth for barn dances, cattle sales and family gatherings.
To read more of WHY WRITING A SERIES HAS BOTH UPS AND DOWNS and to comment for a chance to win a complete set of the Lucky books please finish the article.