My name is Evangeline Fontenot but everyone calls me Evie except my papá, he calls me 'tit ange. Little angel. I have people in my life who love me, but what I really want is a mother.
I'm in the second grade and our class just got a new teacher. Her name is Miz Honeycutt and I decided she'd make a great mom. She's real pretty, loves kids and she has a big orange cat named Henry. I know because she has a picture of Henry on her desk. I haven't met Henry yet, but I'm sure he's real nice too.
I've been telling Papá about Henry and Miz Honeycutt every night at supper, but he still hasn't gone to meet her. Bobby, a boy in my class, says he got a bad grade on his spelling test and his mom had to come to talk to Miz Honeycutt. It worked for him so I decided it might work for me.
It did, but now I have to make sure Miz Honeycutt doesn't decide she likes my uncle or anyone else better than my papá. Who knew getting a mom with a cat was this hard!
Excerpt from The Sheriff's Little Matchmaker:
Sasha thought she heard someone call her name. Distracted, she glanced over Ethan's shoulder, her stomach plummeted, and she missed a step, landing on his poor foot. "I'm so sorry."
"It's okay. Are you…?" He looked down at her and frowned before loosening his hold to turn around.
She blinked, but Evie Fontenot was still standing on the edge of the dance floor, and wouldn't you know it, her sexy-as-sin father was crossing the restaurant, closing the distance between them like some avenging angel. Ha, devil is more like it. A devil dressed in a white button-down shirt that contrasted with his olive complexion and dark jeans that showcased his slim hips and long legs. And, oh God, he was wearing those black cowboy boots that made her stomach tingle.
What were father and daughter doing here? It had to be a coincidence. From what she'd heard from fellow teachers, Gator's Cajun Grill was a popular Friday night spot. Remy Fontenot had no way of knowing where she'd be tonight or that she had a date. She hadn't lived in Rose Creek long enough for everyone to know her business. No, that would come later. A definite downside to small-town life. Too bad she couldn't see herself as a big city person.
Before Sasha's stomach could settle back to its usual spot, Evie had planted herself in front of her and Ethan.
Evie put her hands on her hips. "Uncle Ethan, what are you doing here with Miz Honeycutt?"
Uncle? Sasha groaned. Seriously? Even in a small town like Rose Creek, what were the odds?
"Hello to you, too, Evangeline," Ethan said in a stern tone, then grinned and ruffled the little girl's hair. "Sasha is my date. You know what that means, right?"
Evie scowled. "But—"
"Date?" Remy had joined them, and his scowl matched his daughter's, a line forming in the middle of his forehead. He looked at Sasha, and the groove deepened. "You're dating my baby brother?"
"Brothers? But…but…Ethan said…" You've got to be kidding me. Sasha gulped back a sudden wave of nausea. Oh good Lord, this just got better and better.
Ethan clapped Remy on the back, rather hard from the sound of it. "Remy's my much older brother…more like a father really…since he practically raised my sister and me. Isn't that right?"
Was Remy growling? Good grief, had she wandered onto the set of a Fellini movie?
Say something, Sasha. "I didn't…I don't…I mean, you two have—"
"Different last names?" Remy put his arm on Ethan's shoulder and squeezed, making the other man grunt. "We're half brothers."
Side by side, Sasha could see similarities. They were the same height and general body type, but Ethan didn't have Remy's thick black hair or bittersweet chocolate eyes or deep silky voice. Ethan Dent was handsome and pleasant, but she had to admit he didn't make her heart beat erratically the way Remy did. Oh, Sasha, you are in so much trouble.
"How do you two know each other?" Ethan's gaze bounced between her and Remy.
"Miz Honeycutt's my new teacher." Evie sidled closer to Sasha, smiling broadly. Ethan's head jerked back, and his gaze landed on Remy. "She's your cat lady?"
***
Rose Creek, Texas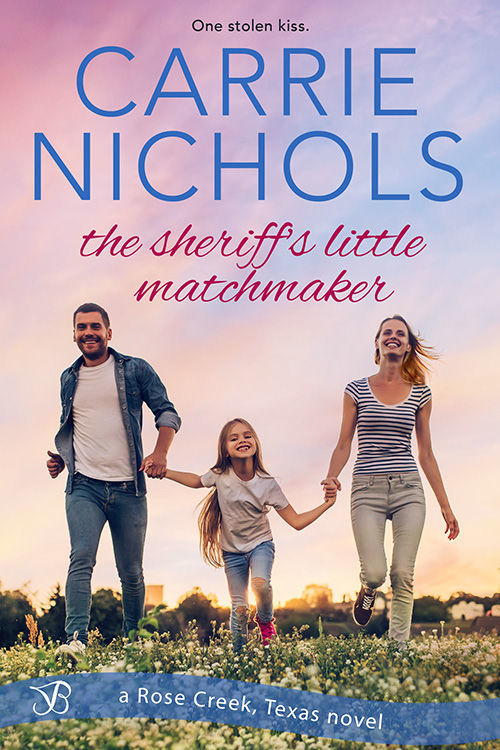 When teacher Sasha Honeycutt kisses a handsome cowboy in a
bar on a dare, she never expects to see him again. To her
surprise, though, he walks through the door of her classroom
for a parent-teacher conference. Sheriff Remy Fontenot might
be sexy as sin, but Sasha has no interest in falling for
another police officer. Rose Creek, Texas is her fresh start
after being "that poor widow." Only, Remy's precocious
daughter has big plans for the two of them…
After their stolen kiss, Remy knows there's a sexy woman
hiding under that school marm charm. When fate—aka his
seven-year-old—keeps putting her in his path, he decides to
take it as a sign. His daughter needs a mom, and the
intriguing, beautiful Sasha is perfect for the role. Not to
mention their chemistry is off the charts. Unfortunately,
he's set his sights on the one woman in town who has no
interest in falling for another man with a badge.
Romance Contemporary [Entangled Bliss, On Sale: October 8, 2018, e-Book, ISBN: 9781640636477 / eISBN: 9781640636477]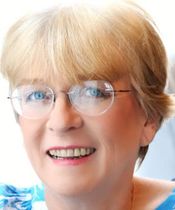 Carrie's 2016 RWA® Golden Heart® winning short contemporary, THE MARINE'S SECRET DAUGHTER, is a February 2018 release from Harlequin Special Edition. The first in her Small-Town Sweethearts series.
Carrie Nichols, is a hardy New Englander who traded snow for central AC when she moved to the Deep South. She loves to travel, is addicted to British crime dramas and knows a Seinfeld quote appropriate for every occasion.
Carrie has one tolerant husband, two grown sons and two critical cats. To her dismay, Carrie's characters, much like her family, often ignore the wisdom and guidance she lovingly offers.