All year long I search for new and interesting stories.  Each year, they seem more elusive. November 1st, WAIT UNTIL DARK, a digital novella was released.  It's a prequel, and introduction to my Maximum Security series that starts with THE CONSPIRACY, out January 22nd.  
As I worked to come up with a plot, the only thing I knew was that Jonah Wolfe and April Vale would be thrown together in a tale of greed and murder.  I had no idea how the story would play out.
Or who, exactly, would wind up being the villain.
I knew the setting.  Maximum Security is the Dallas security company where Cassidy Jones, the heroine of Beyond Danger, worked as a private detective.  I wanted to introduce some of the other men and women who worked at The Max, and WAIT UNTIL DARK gave me the perfect opportunity.  
I wasn't sure how I was going to put Jonah and April together, but little by little, a plot began to unfold in my head.  Since the book is a novella, I thought I'd start right off with the action. A bloody murder? Humm…why not?
Halfway through, I was still finding my way, trying to figure out who the bad guys were.  But the plot was progressing.
In the story, Jonah Wolfe, one of the PIs who works at The Max, has a knack for spotting trouble.  When April storms into his office, all his warning signs flash red. April's been accused of murder–but has no memory of how she awoke in her coworker's bed, drenched in his blood, the deadly bullet fired from April's gun.
When I write a story, I start by making up a crime–then I have to solve it.  Neither of those things is easy! In April's case, the evidence against her is mounting and the clock is ticking.  
Politics and money come into play and the danger mounts.  April and Jonah must work together to prove April's innocence–before the real killer strikes again and this time April is the target.
It's a sexy tale of murder, betrayal, and intrigue that kept me writing long after I should have been done for the day.
I hope you'll watch for April and Jonah in WAIT UNTIL DARK, a digital novella out November 1st.  And that you'll look for more Maximim Securitiy novels, starting with THE CONSPIRACY, out the end of January.  Till then, I hope you had fun on Halloween.  Trick or treat! Warmest, Kat
***
Exclusive Excerpt from WAIT UNTIL DARK:
The sound of voices cut through the pounding in her head, dragging her from a dark void into the light of day.  As uniformed policemen streamed into the bedroom, April Vale looked down at her naked body and saw a sea of blood soaking the mattress.  A naked man lay beside her, a bullet hole in the center of his chest.
A scream tore free as she recognized David Dean, Mayor Rydell's campaign manager.  Then strong arms hauled her upright and a wave of dizziness hit her, making her stomach roll.  One of the officers draped a blanket around her bare shoulders and they hustled her over to a chair by the window.  
Fighting a fresh wave of nausea, April gripped the blanket, her body shaking head to foot.  "What…what's happening?" She didn't realize her hands were being cuffed together in front of her until she heard metal clanking and cold bands of steel wrapped around her wrists.
"What's your name?"  The room swarmed with policemen.  The one in front of her was stocky and balding, in his early forties.  A pair of EMTs rushed into the room and began working over the bloody man on the bed, but his eyes were open and staring at nothing and she knew he was already dead.
April swallowed the bile in her throat and fought to clear her head, but when she tried to remember where she was or how she got there, all she came up with was a blank.
"I don't understand what's happening," she said, trying to keep the blanket around her.
"This will all go smoother if you cooperate," the stocky policeman said.  "Tell us your name."
"I'm…I'm April.  April Vale." She glanced over at David.  The hole in his chest seemed even bigger and bloodier than before.  
"Can you tell us the name of the victim?"
Victim.  A thick lump rose in her throat, threatening to choke her.  "That…that's David Dean. We work for Mayor Rydell."
A young officer with black hair slicked straight back from his forehead walked up.  "Looks like we've got the murder weapon, Sarge. It was right there on the floor next to the lady's purse."
April frowned, her mind foggy again.  "Wait…wait a minute. What's going on?  I don't understand." Her fingers tightened on the blanket, trying to keep it in place over her naked body.  "I don't know how I got here. I don't remember what happened."
A gray haired man in a navy blue suit brought the gun over in a plastic bag.  She recognized the little .380 she carried for protection.
I'm Detective Sullivan.  Does this belong to you, Ms. Vale?"
She took a deep breath.  "I think it's mine. I have one like that.  I have a legal permit to carry."
The EMTs began checking her over, her blood pressure, her vision, whether or not she had a concussion.
"We need to get her to the hospital," one of them said, "have her checked out, get a blood sample."
"Hospital?  I don't want to go to the hospital."  
A female police officer walked up just then.  "We've cuffed your hands in front of you so you can hold onto the blanket.  If you cooperate, we'll leave them that way. If not, we'll have to cuff them behind your back."
She closed her eyes.  This couldn't be happening.  "You think I shot him? I don't even know how I got here."
The woman's expression never changed.  "You need to go to the hospital. We need to make sure you're okay.  If you were drugged, it'll show up in your tox screen."
Tox screen.  Drugs. Her pistol and a dead man.
That's when it began to sink in how much trouble she was in.  That's when April's brain finally started working and she began to figure out what she needed to do–before things got a whole lot worse.   
At the sound of the glass front door swinging open, Jonah Wolfe looked up to see a tall, leggy redhead walk into the office.  
"I hope she's looking for me."  Jason Maddox, one of the country's top bail enforcement agents and one of Jonah's best friends, had an eye for beautiful women.  This one definitely met Jase's exacting standards.
But being a former undercover police officer, Jonah noticed more than her stunning face and figure.  Her hands were shaking as she approached the receptionist desk and her face was pale. He wondered what kind of trouble the lady was in.  
"May I help you?"  The receptionist, Mindy Stewart, shoved up the tortoiseshell glasses perched on the end of her nose.  She was petite and cute, and smart enough not to date any of the confirmed bachelors who worked at Maximum Security.
"My name is April Vale.  I'm looking for Jonah Wolfe."
When Maddox groaned his disappointment, Jonah's focus sharpened on the redhead.  He rose from behind his desk and started toward the front of the office. A waiting area with a dark red tufted leather sofa and matching chairs, oak coffee and end tables, gave the place a western feel that perfectly suited the misfit Texans who worked there.
"I'm Wolfe," Jonah said when he reached her.  "What can I do for you?" His gaze ran over her, taking in her spectacular curves.  He couldn't help hoping she needed him for something a lot more intriguing than his skills as a private detective.  
He might have smiled, would have if a TROUBLE sign wasn't stamped in the middle of the pretty lady's forehead.
"My name is April Vale.  Thank you for seeing me.
"No need to thank me, Ms. Vale.  I haven't done anything yet."
"I'm hoping you will."  She had the face of an angel and legs that went on forever.  But she was a redhead and all that fiery hair just ramped up the warning signs flashing in her big blue eyes.
"Is there somewhere we can speak in private?" April asked.
"Conference room.  Follow me." As he led her down the hall, she caught an appreciative glance from Jax Ryker and Dante Romero, the only other guys currently in the office, but she didn't seem to notice.  
"This way."  Jonah held open the door to a glass-walled chamber with a long oak table seating twenty.  April walked in and he waited for her to take a seat.
She smoothed the navy blue pencil skirt she was wearing with a pair of sky high heels.  She looked good. Classy but not completely untouchable. "As I said, I appreciate your seeing me on such short notice."
"Not a problem."  Jonah leaned back in his chair.  "All right, April, why don't you tell me why you're here?"
She took a deep breath, drawing his attention to the full breasts he'd been doing his best to ignore.  Since he never mixed business with pleasure, he shoved the buzz of attraction he was feeling to the back of his brain.
"I work for Mayor Rydell," April said.  "Currently I'm…. I was just released from police custody a short time ago, Mr. Wolfe.  That's…that's why I'm here."
Jonah straightened in his chair.  "You were under arrest?"
"Officially, I haven't been charged yet.  But the charge could be murder."
Jesus.  He hadn't seen that one coming.  Now she really had his attention.  Jonah leaned toward her. "So who did you kill, Ms. Vale?"
***
Maximum Security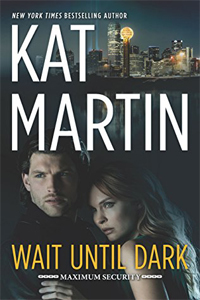 Don't miss the thrilling prequel to New York Times bestselling author
Kat Martin's brand-new series, Maximum Security!
Private investigator Jonah Wolfe knows trouble when he sees it. So
when April Vale storms into his office at Maximum Security, all his
warning signs flash red. April's been accused of murder, except she has
no memory of how she woke up in her coworker's bed—drenched in his
blood, as he was shot with her gun. As the campaign manager for the
mayor, April's job and life are on the line if she doesn't figure out who's
trying to frame her. But the clock is ticking, and the pair must find the
murderer…before April winds up dead.
Romance Suspense [HQN Books, On Sale: November 1, 2018, e-Book, / ]
For New York Times bestselling author Kat Martin, a career in real estate led her down the road to romance.
Through real estate, Kat found her own perfect match–her husband, Western author Larry Jay Martin.
"We were on opposing sides of a transaction–I represented the seller and he represented the buyer," Kat recalls.
A short time after the two became acquainted, Larry asked her to read an unpublished manuscript of an historical western he'd written. Kat fell in love with both the book and the author!
"It was quite a romantic story," she admits. "I'd still like to see it get published." Then, after doing some editing for her future husband, she thought she'd try her own hand at writing.
Kat moved on to become the bestselling author of over fifty historical and contemporary romance novels. To date, 15 million copies of her books are in print, and she's been published around the globe, including Germany, Norway, Sweden, China, Korea, Bulgaria, Russia, England, Estonia, Lithuania, South Africa, Italy, Poland, Thailand, Portugal, Turkey, The Slovak Republic, Spain, Argentina, Estonia, Czech Republic and Greece.
When she's not writing, Kat also enjoys skiing and traveling, particularly to Europe. Currently, she's busy writing her next book.