1–What's the name of your latest release? 
Untamed Passion
2–What is it about? 
After a single night of passion results in an unplanned pregnancy, a woman must decide if she can make a future with a man who can't embrace love while he's trapped by his resentment of his father.
3–What word best describes your heroine? 
Determined.
4–What makes your hero irresistible? 
I love Oliver's inner strength. He's a recovered addict who strives every day to stay sober despite the increasing pressure coming to bear on him because of the drama surrounding his father's criminal activity.
5–Who are the people your main characters turn to when they need help? 
Oliver struggles to reach out to anyone. He has estranged himself from his family and keeps most people at arm's reach. His assistant is the person who he relies on the most. It's to her he turns when he needs to find the woman who ran out on him after an incredible night of passion. Sammi has a tricky relationship with her mother who has managed Sammi's modeling career since she was a baby. Sammi has a best friend, a fellow model who offers some much-needed career and romantic advice.
6–What do you love about the setting of your book? 
New York City is one of my favorite places to set a story. Great food. Amazing parties. Shopping. Career opportunities. The possibilities are endless.
7–Are you a plotter (follow an outline) or a pantster (write by the seat of your pants)?
Although I do start out with some structure to my stories, at heart I'm more of a pantster. I love the way my characters reveal themselves to me.
8–What is an ideal writing day for you? 
I like to write early, usually editing what I worked on the day before. And then afternoons are for new words.
9–Do you listen to music while you write, need total silence, or do you have the TV on?
Sometimes I'll listen to movie soundtracks when I write. Most of the time, I'm listening to white noise. Rain, thunderstorms, birds.
10–How do you approach research? 
I usually dive in at the beginning of the book once I've decided on a topic. I love to research. It isn't unusual for me to get lost in it for a time.
11–What is your publishing journey story? 
I started in high school and wrote for 30 years before I sold my first book to Harlequin. My first book came out in 2011. It's been a glorious journey since then!
12–Do you have critique partners/writing groups you want to give a shout-out to? 
In 2010 I finaled in the Romance Writers of America Golden Heart and that is a group of writer friends I treasure. That year there were 4 of us from Midwest Fiction Writers that finaled. Nan Dixon, Lizbeth Selvig, Nancy Holland, and myself. We all went on to sell and they remain my writing sisters.
13–What're the most frustrating things about being an author? 
For me what I get most frustrated with is how I am always doubting myself. When I am in the midst of writing a book, I always worry that the story isn't doing what I want it to do. Often months or years after a book is published, I think of little details that I wish I'd put in to make the story better.
14–What's your favorite scent?
A blend of coconut and lime. It makes me think of the tropics.
15–What movie will you watch no matter what if it's on TV? 
Pitch Perfect.
16–Do you like breakfast, lunch, or dinner best? 
Breakfast.
17–What's one thing you wish you knew more about? 
Photoshop. I love using the program, but there's so much to know.
18–What's the silliest thing you've recently done?
I don't know if it's silly exactly, but I've been having a blast painting rocks with my daughter for garden beds. She's the artist. I just indulge my inner child and play.
19–What can readers expect from you next? 
My next book is part of the Texas Cattleman's Club series. My hero gets blamed when a whole bunch of money goes missing from a big art festival he's helping to set up and his former lover is hired to investigate where the funds disappeared off to. I love a reunion story.
20–How can readers reach you? 
They can find me in all these places below. Follow or like any of my author pages to find out what I'm up to and be notified of my next releases.
Website http://catschield.com
Facebook http://www.facebook.com/catschieldauthor
Instagram https://www.instagram.com/catschield/
Pinterest https://www.pinterest.com/catschieldbooks/
Twitter http://www.twitter.com/catschield
Bookbub https://www.bookbub.com/authors/cat-schield
Amazon http://www.amazon.com/author/catschield
Dynasties: Seven Sins #6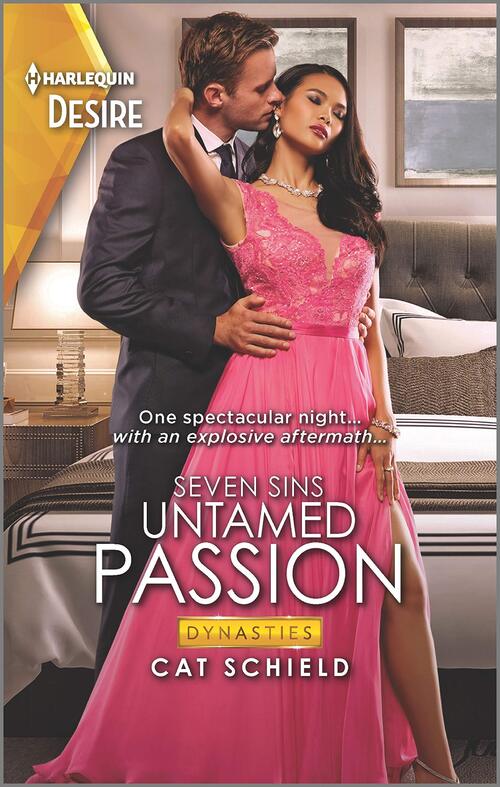 Feel the drama and passion in the Dynasties: Seven Sins series!
One spectacular night… with an explosive aftermath!
Desire as volatile as theirs has consequences that could last a lifetime…
When a single rapturous night with Sammi Guzman leaves the intoxicating model pregnant, photographer Oliver Lowell is determined to embrace his responsibilities. But his wrath over his father's numerous betrayals has haunted him for years and leaves Oliver feeling ill equipped for parenthood. Passion has never been his and Sammi's problem, but will this black sheep tame his demons for good?
Harlequin Desire: Luxury, scandal, desire—welcome to the lives of the American elite.
One man's betrayal can destroy generations. Fifteen years ago, a hedge-fund hotshot vanished with billions, leaving the high-powered families of Falling Brook changed forever. Now seven heirs, shaped by his betrayal, must reckon with the sins of the past. Passion may be their only path to redemption. Experience all Seven Sins!
Romance Contemporary | Romance Billionaire | Romance Series [Harlequin Desire, On Sale: October 1, 2020, Mass Market Paperback / e-Book, ISBN: 9781335209382 / eISBN: 9781488063176]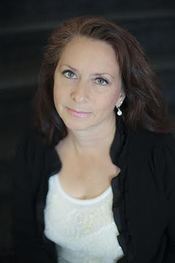 Cat Schield lives in Minnesota with her daughter and 2 Burmese cats and a Doberman. Winner of the Romance Writers of America 2010 Golden Heart® for series contemporary romance, when she's not writing sexy, romantic stories for Harlequin Desire, she can be found sailing with friends on the St. Croix River or more exotic locales like the Caribbean and Europe.