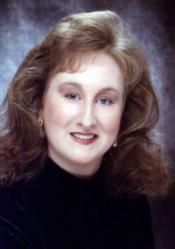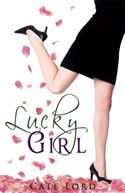 It seems a long time ago that I was single and dating.  That was part of the fun, though, of writing LUCKY GIRL, my quirky romantic comedy to be released September 6th by Entangled Publishing.  When writing the book, I mentally slipped on my three-inch heels, donned my slinky size 6 dress, and sashayed back through memories of when I lived and studied in England—the good experiences, the awkward, and the deliciously romantic.  Best of all, I got to relive once again my first date with the man I affectionately call "The Brit," who later became my husband.
The heroine of LUCKY GIRL, Jessica Devlin, finds herself single at twenty-nine, months before she was to be married.  Heartbroken, she takes an overdue vacation from her job as beauty editor of Orlando's O Tart magazine and flies to England to be maid-of-honor in her cousin's wedding.  Jess is anxious about the trip, and not just because her cousin is living the fairy tale romance Jess wanted so badly.  There's also the embarrassing episode that took place two years ago after Jess's grandfather's funeral; it involved an English pub, too many drinks, and a handsome Brit who held her in his arms and soothed her while she cried.
Of course, Jess believes there's zero chance of her running into James Bond gorgeous Nick Mondinello again—but guess who is at the wedding?  Definitely awkward!
Jess firmly believes marketing exec Nick isn't right for her, since he's a playboy like her dad who left when she was twelve.  Determined to enjoy her single-gal vacation to the fullest, she agrees to a date with one of the handsome ushers.  He isn't exactly her type, but she decides to see how the first date goes.  She hasn't dated in a while and she's nervous.  Of all embarrassing happenings, Nick shows up at the same restaurant where she and her date are having dinner.  As her vacation progresses, fate keeps bringing her and Nick together when she least expects it.  It's almost as though Nick is her Mr. Right.  But he couldn't be.  Could he?
I'll never forget my first date with The Brit.  Like Jess, I hadn't dated in a while, was still getting over a prior relationship, and was nervous.  The Brit seemed to be, too.  He arrived on my doorstep right on time, though (a point in his favor; I appreciate men who are punctual) and took me to a trendy pizza restaurant established in an old building with wooden beams and creaky floors.  The atmosphere was wonderfully romantic, the pizza was delicious, and he never once commented on my nerves.
I was managing pretty well until I tried to spear a whole black olive on my pizza with my fork.  The olive bounced off my plate, rolled across the table, dropped onto the floor, and disappeared under a nearby table where another couple dined.  Yikes!  I was mortified.  But, when I looked at The Brit, he grinned, and soon, we were both laughing.  From that moment on, we were able to relax and enjoy our evening.  More dates with him followed, and from that point on, the runaway olive became our private little joke.  I found the Brit to be charming, witty, intelligent, kind, and romantic.  I fell in love.  He and I celebrated our 19th wedding anniversary this summer.  To this day, I still can't eat black olives without thinking of that first date. 🙂
I didn't work that black olive episode into LUCKY GIRL.  That may well end up in another book.  I did, however, use The Brit for inspiration when creating the character of Nick.  I hope readers will enjoy Jess and Nick's story and see how, thanks to the good, the awkward, and the deliciously romantic, she ends up being one lucky girl.
Connect with Cate: Facebook | Goodreads | CateLord.com
Find LUCKY GIRL at Amazon & Books On Board
To comment on CATE LORD's blog please click here.