Instead of trying to find your perfect match in a dating app, we bring you the "Author-ReaderMatch" where we introduce you to authors as a reader you may fall in love with. It's our great pleasure to present Cathryn Fox!
Writes:
Hooked on You is a sexy romantic comedy set in the port town of Lunenburg, Nova Scotia where you can discover amazing restaurants, distilleries, artisan shops, and hot lobster fishermen!
About:
Introverted extrovert seeks a fun-loving reader who loves books, embellished stories, dining and dancing, and will bring me food when I'm on a deadline. Must have a sense of humor.
What I'm looking for in my ideal reader match:
-Loves small town.
-Is open to trying new foods.
-Loves cows.
-Doesn't mind living with a houseful of hot fisherman.
-Can clean out a pumpkin and race it across the water.
-Might not understand mathematical computations but listens intently, anyway.
-Must love a hot hero who wants to do right by the town, and his girl.
What to expect if we're compatible:
-sexy books that give you all the feels.
-A fun newsletter with FOXY swag giveaways.
-Heroes who have a sense of humor.
-Heroines who will always challenge the heroes.
-Fun readers group–FOXY FICTION.
-A huge backlist so you an OD on FOXY FICTION.
-Be sure to visit me, and join my newsletter to get insider information and prizes!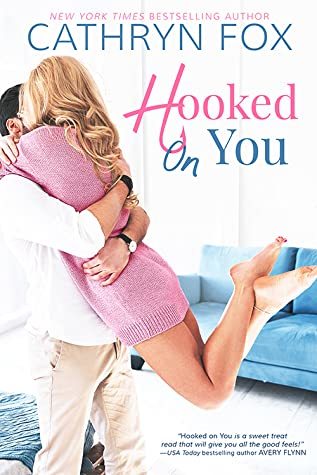 "Hooked on You is a sweet treat read that will give you all the good feels!" – USA Today and WSJ bestselling author Avery Flynn
I'm a bookworm, a mathematician, not the kind of girl a hot lobster fisherman would notice.
Until he did.
I'm not in small town Nova Scotia to hook up. I'm here to settle my grandmother's estate and sell the B&B, which I soon discover has been overrun with seasonal fisherman and operated on the honor system. The hard-core fishing folks become an instant family––the one I never had. Then there's the blind pet cow, who has a crush on my hot fisherman, Nate. Okay, technically he's not mine. I have no desire to get reeled in.
Until I do.
Soon, the little town grows on me, and the fisherman? It's not long until I take the bait and we're playing house at the B&B. Things are looking up.
Until they aren't.
Rumors about a new plant and jobs being in jeopardy start swirling around town like a nor'easter, and all the signs point to my guy being behind the scandal. Should I give him enough line to play it out and learn his true intentions, or cut and run before I'm hooked?
Romance Contemporary | Romance Comedy [Entangled: Amara, On Sale: April 27, 2020, e-Book, ISBN: 9781682815953 / eISBN: 9781682815953]
New York Times and USA Today bestselling author Cathryn Fox is a wife, mom, sister, daughter, aunt and friend. She loves dogs, sunny weather, anything chocolate (she never says no to a brownie) pizza and red wine. Cathryn lives in beautiful Nova Scotia with her husband, who is convinced he can turn her into a mixed martial arts fan. When not writing, Cathryn can be found Skyping with her son living in Seattle (could he have moved any farther away?) shopping with her daughter in the city, watching a big action flick with her husband, or hanging out and laughing with friends.