from Anne-Lise Briard
RUE DES MORILLONS, PARIS, APRIL 25TH, 2016
Dear Madam or Sir,
I am sending you this package very late, please forgive me. After discovering it in room 128, someone else would have immediately handed it over to the reception of the Beau Rivage Hotel; nevertheless, if you were to ask those who know me, they'd tell you just how lazy I can be in my daily life. So don't take this postponement to mean that I don't like your book. Not at all. I will even admit to you: I read it.
I had just opened the nightstand to the right of the double bed, which as it happens was quite comfortable, when I was delighted to find the distraction you provided me. You see, I had forgotten to bring a novel to keep me company this weekend on the shore of the Iroise Sea . . . Since I can't fall asleep without first reading a few pages, I become very annoying when I'm deprived of the pleasure. Thanks to you, my husband didn't have to deal with my rotten mood.
Anyway, it was on page 156 that I found—between two chapters—the address to where I'm sending these pages. I hesitated for a long time and, to tell you the truth, my spouse and my children didn't support my "bizarre" initiative—to use my daughter's vocabulary, her only excuse being that she's sixteen years old.
My husband decided it must be an old manuscript turned down by publishing houses and abandoned in a drawer, waiting to attract some desperate reader. My son went even further, arguing that a book in such a bad state and typed on a primitive typewriter must have been lying around in that hotel "for eons" and that its owner would have retrieved it "ages ago" if it held even the slightest interest in their eyes.
I was almost convinced by their arguments, until I arrived at page 164. There, in the margin, was this note:
What's the point in the end? Don't lies eventually lead us to the path of truth? And don't my stories, true or false, come to the same conclusion, don't they all have the same meaning? So what does it matter if they're true or false if, in both cases, they signify what I have been and what I am. Sometimes we see more clearly into someone who lies than into someone who tells the truth.
I was so surprised to see that quote! I had stumbled upon an anonymous author by chance and discovered that he also was an admirer of my favorite writer.
It was at that moment, I think, that I decided to thumb my nose at my family's advice and return the book, without knowing whether I was sending it to a woman, a man, a teenager, or an elderly person, lugging the manuscript from hotel to hotel, like those believers who protect themselves from the wrath of God by carrying a Bible wherever they go.
The only way to get a response was to entrust the package to the postal services, hoping a creative mailman would track you down at the end of the journey (having never sent a package with an address but no addressee, I'm counting on the amused curiosity of an underpaid employee to help me carry out this return).
Thank you for the enjoyable reading experience you've provided me, even if unwittingly.
Sincerely,
Anne-Lise Briard
**
from Sylvestre Fahmer to Anne-Lise Briard 
LES CHAYETS, LAINVILLE-EN-VEXIN, MAY 2ND, 2016
I've just finished reading your letter for the tenth time . . . How can I say this so that you'll understand? This manuscript . . . it would take so long to explain. And your letter . . . written by hand and for me alone, reminding me of the letters I received as a child when I was away at summer camp. My mother had that same rushed and slanted handwriting.
I just got your package last night: the address you found belongs to my godfather, who, fortunately, still resides in the same place he's lived in for the last fifty years . . .
Luckily, my godfather remembered my long-ago writing attempts. He placed the precious package on his dresser and let it gather a layer of dust before he decided to give me a call.
Believe it or not, when I opened it, I could almost smell the salty sea air and hear the rumbling of the surf. That feeling has stayed with me since and I'm all the more surprised because I'm not familiar with that region of Brittany where you say you found it.
So that you'll understand just how extraordinary your find is: I lost this manuscript on April 3, 1983, on a trip to Montreal. To show you how much I appreciate the marvelous gift you've given me, but also to prove your son right, I'll admit that I searched for it for months, even questioning the airline and the various people who might have found it. I wrote to the stewards and the flight attendants, as well as the cleaners. I spoke to the shopkeepers in the Montreal airport, and also those in the Paris airport when I returned from my trip. No such luck! I was forced to say good-bye to my first manuscript, which, was also my last.
And there you have it! Thirty-three years later, you pull it out of a nightstand in a room, nestled in a hotel in Finistère . . . But I have to tell you something even more incredible: the original work ended on page 156.
Maybe if you'd known that, you would have noticed that starting on page 157, the style becomes more fluid. My successor was not content merely to finish my book; it seems that on top of it, they did so with a certain artistry.
I am also not the author of the poems in the margins . . . They must belong to the mystery person who discovered my manuscript and took it upon themselves to finish it before abandoning it at the very tip of Brittany. That man (or that woman, since we have no way of knowing) was not thoughtful enough to send me their additions as you have done.
In the years that followed, from time to time I wondered what my life would have been like had I not lost that manuscript. I entertained these unfulfilled, adolescent dreams for a long time.
Speaking of unfulfilled, you didn't say anything about the story! What am I supposed to think about your silence? A stranger returns this manuscript to me, even though she is under no obligation, thanks me for a pleasant read, reveals implicitly that she's passionate about literature, and yet doesn't even tell me what she thinks . . .
Never mind, forget I said anything. And thank you for sending me these few lines that will keep me company from now on, like the nostalgia of a bygone youth.
Sylvestre Fahmer
From The Lost Manuscript by Cathy Bonidan. Copyright © 2021 by the author and reprinted by permission of St. Martin's Publishing Group.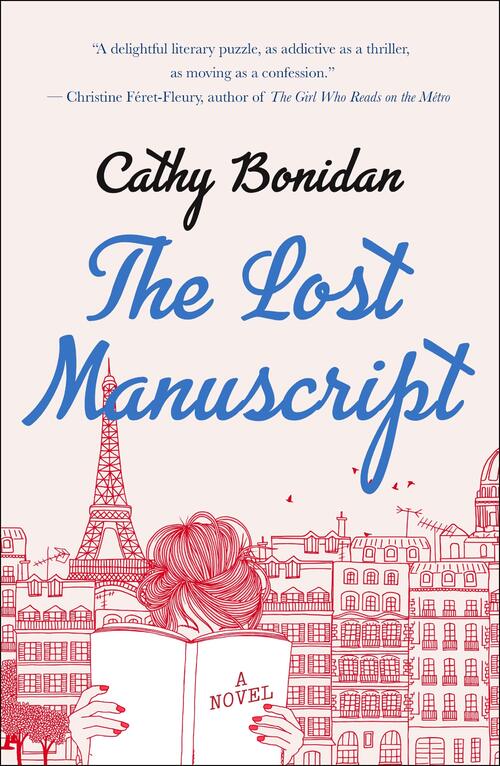 Cathy Bonidan's The Lost Manuscript is a charming epistolary novel about the love of books and magical ability they have to bring people together.
Sometimes a book has the power to change your life…
When Anne-Lise Briard books a room at the Beau Rivage Hotel for her vacation on the Brittany coast, she has no idea this trip will start her on the path to unearthing a mystery. In search of something to read, she opens up her bedside table drawer in her hotel room, and inside she finds an abandoned manuscript. Halfway through the pages, an address is written. She sends pages to the address, in hopes of potentially hearing a response from the unknown author. But not before she reads the story and falls in love with it. The response, which she receives a few days later, astonishes her…
Not only does the author write back, but he confesses that he lost the manuscript 30 years prior on a flight to Montreal. And then he reveals something even more shocking—that he was not the author of the second half of the book.
Anne-Lise can't rest until she discovers who this second mystery author is, and in doing so tracks down every person who has held this manuscript in their hands. Through the letters exchanged by the people whose lives the manuscript has touched, she discovers long-lost love stories and intimate secrets. Romances blossom and new friends are made. Everyone's lives are made better by this book—and isn't that the point of reading? And finally, with a plot twist you don't see coming, she uncovers the astonishing identity of the author who finished the story.
Fiction | Romance Contemporary [St. Martin's Press, On Sale: January 12, 2021, Paperback / e-Book, ISBN: 9781250256300 / eISBN: 9781250256317]