I set CROWN OF BONES in a fantasy world where Bone Throwers decide every child's fate, determining if they are savant, those who can raise their phantom, non-savant, those who cannot, or marred, those who are sacrificed to the sea. It's epic in scope yet written with a contemporary YA voice and feel.
In the pages, you will quickly meet the three main characters: Marcus, the troubled Heir to the throne, Ash, his best friend, the non-savant wordsmith, and Kaylin, an enigma I cannot say more of yet.
What I can reveal is that I am, in truth, a Bone Thrower, and those fight scenes are authentic as well, choreographed from my experience in Iaido and the insights from my martial arts trained son.
I hope you enjoy the danger, romance and adventure!
*
C is for Contrast, the play of opposites attracting each other, night and day, land and sea, sun and moon, right and wrong… Ash and Kaylin.
R is for Rapture. The passion and intensity the characters feel, whether for each other, their goals or a long-awaited first kiss, forms a powerful current the readers will ride from beginning to end.
O is for Outspokenness, a quality woven into Ash's personality. She is a strong female character, not relying on her sword as much as her thoughts, insights, and integrity. But, her candor is also a quality that gets her into trouble from time to time…
W is for waterscape. In the beginning, Marcus and his companions on the journey, are uncertain about what, if anything, dwells beneath the sea. The reader, on the other hand, finds out before them!
N is for Nemesis, the name the Sierrak Starwatchers give to Amassia's second sun, a dark-red binary star orbiting far from our own.
*
O is for obstinate, the only way to describe Marcus's giant, petulant, stubborn, and unpredictable phantom.
F is for fate. The Bone Throwers traffic in it. The Path reveals it, but only the heart can learn to wield its own.
*
B is for beautiful. In Crown of Bones, beauty is very much in the eye of the beholder, from hero to anti-hero, heir to lowly scribe, Mar to phantom, what they hold closest in their hearts is true, and unique unto themselves. No exception.
O is for Ochee, a spiced tea from the realm of Tangeen. It's made from an aromatic mixture of ginger, cinnamon, cloves, black pepper, cardamom, wild tea, dried orange pieces, and juniper berries. Pure magic!
N is for Natsari, a phantom out of legend, controlled by a savant said to be on their last step along the Path. The ancient Bone throwers are convinced it will rise at the beginning of the next Great Dying to bring balance to the world.
E is for enamored, the way most phantoms feel toward Ash. They are drawn to her, like a moth to the flame.
S is for swearing-like-a-sailor, a habit Ash has in abundance. She gets away with it because her choice words are all in different languages, ones no one around her speaks, until she meets Kaylin…
Ammasia #1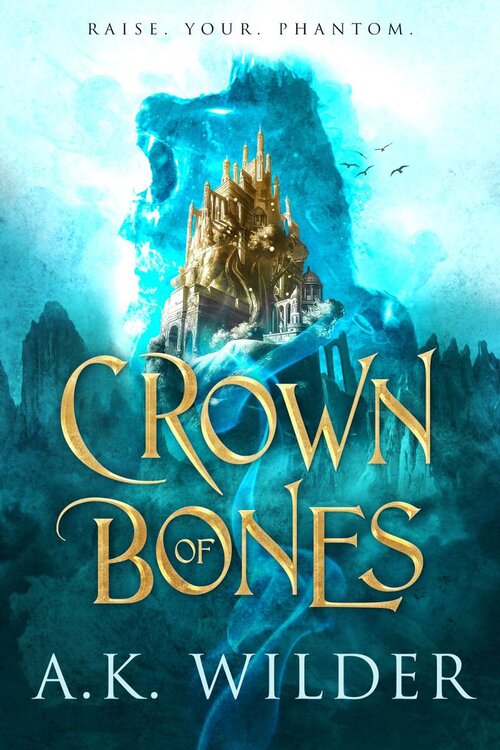 Raise. Your. Phantom.
In a world on the brink of the next Great Dying, no amount of training can prepare us for what is to come…
A young heir will raise the most powerful phantom in all of Baiseen.
A dangerous High Savant will do anything to control the nine realms.
A mysterious and deadly Mar race will steal children into the sea.
And a handsome guide with far too many secrets will make me fall in love.
My name is Ash. A lowly scribe meant to observe and record. And yet I think I'm destined to surprise us all.
Young Adult Fantasy [Entangled: Teen, On Sale: January 5, 2021, Hardcover / e-Book, ISBN: 9781640634145 / eISBN: 9781640634138]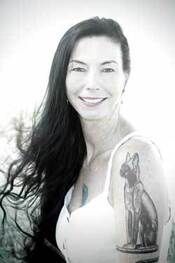 A. K. Wilder is an established fantasy writer under the name Kim Falconer. Born on the Wilder Ranch in California, she now lives on the far east coast of Australia. She is an astrologer and tarot reader, like her father before her, and holds multiple degrees, from horseshoeing, herbal medicine, and veterinary nursing, to a masters degree in writing. Storytelling is her first love, with passions for reading, organic gardening, yoga, Spanish guitar, meditation, weight training, and the sea. Her writing is done in the early hours of the morning, when the dragons are still asleep. akwilder.com