Everyone is home for the holidays, clamoring for all the Christmas cheer only their mother can whip up. They can already smell the chestnuts roasting—or is that Mom's hair on fire? From New York Times bestselling author Chandler Baker comes the hilarious short story, Oh. What. Fun.
 ***
Gift wrapping is a disappearing art, like cursive. At one point, Mom tried to teach us how to cut the paper just so, to make sharp corners and tie ribbons that didn't resemble dead things, but we can admit that it's not where our particular talents lie, and when Mom had to give up on us, we accepted her decision with grace and dignity.
There's an ongoing debate between Channing and Doug about whether Santa presents for the twins should be wrapped. Doug contends that Santa doesn't wrap gifts and instead pulls them from his bag naked and just sticks them by the fireplace like a goddamn heathen. Obviously the Clausters know better.
Santa doesn't need to wrap presents. That's what the elves are for. Santa gifts come with a unique wrapping paper not sold locally, which is how everyone knows they truly do originate in the North Pole. This year, Mom ordered the wrapping paper all the way from an Etsy shop in Santa Fe. Channing said she would wrap the Santa gifts for the twins herself; the only problem is that even four-year-olds would strain to believe that Santa would accept such shoddy handiwork out of his workshop, and we're inclined to agree.
Channing told us that the twins have been very good this year and that was why there were so many presents, but it wasn't easy purchasing them all and carting them here. She was exhausted and clearly had no energy to wrap a single one. So Mom agreed it would probably be best if she did go straight to bed and get a good night's rest. Which is exactly what Channing did. There's really no point arguing with our mother.
Mom must have kept wrapping for quite some time, though, because around 10:00 p.m., Sammy nearly stepped on her (Sammy, put down the damn phone!) when he came out of his room texting Jess Broland, who we all remember as the boy who karate kicked Sammy's tooth out in the first grade. Luckily, it was only a baby one.
"Are you going somewhere?" Mom isn't a yogi type, but her ability to straddle on the prickly rug while trying to wrap thirty-odd gifts is a bit of a hidden talent. A Hallmark movie played quietly in the background.
"I thought I'd go meet up with a few of my friends," he told her.
"Friends from high school?" Mom asked as though she was trying to decide whether to grant him permission, as though she still believed she had that power.
"Yup. We're just going to Buffalo Wild Wings, no big deal."
We can all attest to the subtle way in which Mom tenses up when we leave the house to meet up with friends over the holidays. The worry that our "friend time" will somehow cut into our "family time" is etched in her fine wrinkles, and we can tell she wants to relay the entire week's itinerary all over again just to make sure we won't somehow get the wrong idea about our priorities. "Bite your tongue" is a facial expression that our mother has a tendency to overdo, and it gets on some of our nerves more than others. Sammy, for the record, falls into the "unbothered" camp and left before Mom had time to ask when he'd be home. As it turned out, that was just after 2:00 a.m., but, well, that's Sammy for you.
A strange thing happened a few years back—we suppose it's only natural for tragic events such as the one we're currently dealing with to spark bouts of nostalgia. Mom dragged us to one of her high school reunions, where we were informed, to our utter shock, that she was voted "Most Easygoing" in the Senior Superlatives. We thought perhaps they had the wrong Claire, but no, apparently Mom was quite popular; everyone knew and loved her. We don't know what exactly brought this to mind.
Do you know, however, how a vampire might look when confronted with the sun? That was how Mom appeared at 2:00 a.m., her elbow crooked over her eyes and her face colorless and feeble, makeup having been removed hours earlier.
"Is that you, Sammy?" Her voice croaked. Her feet shuffled.
"Yeah, Mom. It's me."
"Just checking."
Who else would it be? A burglar? A late-night snacker? A Ghost of Christmas Future, where all the pies are a little overcooked? Satisfied, she turned back in the direction of her and our father's room.
Read More About Oh. What. Fun. Here >>
—
Jump Into the Holidays with Exclusive Excerpts from Festive Reads by Bestselling Authors Rainbow Rowell, Suzanne Redfearn, J. Courtney Sullivan, and Chandler Baker on FRESH FICTION!
What happens when a group of bestselling authors are asked to write holiday tales? Pure magic. Unwrap short reads by your favorite writers by visiting www.amazon.com/holidaystories. Then download Rainbow Rowell's take on an awkward meetup after the pandemic has made one couple's social skills rather rusty. Scroll on as Suzanne Redfearn's heroine gives her husband-to-be a mid-winter quest that will (hopefully) ensure their happy-ever-after. Don't miss J. Courtney Sullivan's fame-hungry reality TV star's attempts to create an early holiday miracle for a struggling couple. And finally, laugh-out-loud at Chandler Baker's fictional Clauster family as their Christmas celebration goes up in flames.
Get a taste of these unique holiday tales with exclusive excerpts from each today and tomorrow on the FF blog! First up, Rainbow Rowell…
—
Everyone is home for the holidays, clamoring for all the Christmas cheer only their mother can whip up. They can already smell the chestnuts roasting—or is that Mom's hair on fire? From a New York Times bestselling author comes a laugh-out-loud short story for any mom who'd rather wreck the halls.
Tyler, Channing, and Sammy Clauster have descended on their childhood home, with significant others and four-year-old twins in tow, for another good old-fashioned Christmas. Overwhelming holiday magic, as always, comes courtesy of their mom, Claire. They know she's thrilled to cook, wrap gifts, decorate, accommodate, play games, overprepare every Christmas Eve Eve Eve tradition, and still let Dad be known as the Fun One. It's her thing, right? Maybe the family should have paid closer attention. Because this year, something is a little off-key—and it's not just the carols.
LGBTQ | Holiday [Amazon Publishing, On Sale: November 30, 2021, e-Book, / ]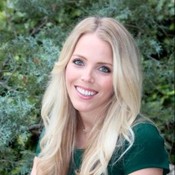 Chandler Baker lives in Austin with her husband and toddler where she also works as a corporate attorney. She is the author of several young adult novels and her adult debut, Whisper Network, was a New York Times bestseller and Reese's Book Club x Hello Sunshine pick.