The Gentry brothers, Alex, Court, and Nate, are undercover FBI agents. They own a biker bar, Aces & Eights, as a cover for covert operations. The first book in the Aces & Eights series, Jack of Hearts, is Alex and Madison's story. Unfortunately for Alex, Madison is the cousin of the man he's investigating, making her strictly off-limits. That's easier said than done, though.
Hello, Alex. Thanks for joining us today.
Alex, looking wary: You're not going to ask me a bunch of personal questions, are you? I'm an undercover FBI agent, and there's stuff I can't talk about.
I think we're more interested in your love life than any investigations you have going on.
Alex: Figures.
First Question. How would you describe yourself?
Alex, shooting the interviewer an eye roll: You're looking at me. You describe me.
If I give a physical description, will you add to it, you know, tell us what makes you who you are? (Alex nods.) Okay, you're tall, have black eyes that seem fathomless, black hair that I'd kind of like to touch just to see if it's as soft as it looks, and I'm guessing you have some American Indian blood in you. How'd I do?
Alex grins: Pretty good. One-fourth Seminole Indian to be exact. So, I guess I have to tell you what makes me me? It would take hours, days maybe, to tell you how I grew up in an abusive home, yet pretty much have my act together. I owe Nate, he's my oldest brother, for that. For raising Court and me to be the men we are today, in spite of our father doing his best to beat us into the ground. I don't want to talk about this anymore.
Okay, we'll go to the next question. How would you describe Madison?
Alex, his black eyes turning soft: How do you describe the moon and stars? The ocean or mountains? They're awesome, beautiful, breathtaking, magical. Yet, those words don't do them justice. I don't think I have the ability to adequately describe Madison.
Okay, I get that. Just try for a physical description.
Alex: I guess I'd start with her hair. It's red, like the flames of a fire. That was one of the first things I thought about her hair. It's long and curls around her face in the sexiest way. Her eyes? Cat eyes. Green like moss on a rainy day. (He laughs.) I'm a man. We're not good at this description stuff. We just know what we like, okay? And I definitely like her.
Do you consider yourself heroic?
Alex: No. I'm just a man doing his job the best he can. Because I carry a gun and a badge doesn't make me a hero.
You don't think cops are heroes?
Alex: Of course they are. They face danger every day, never knowing if they'll make it home to their families. (He narrows his eyes.) Is this a trick question?
Well, it does seem like that could apply to you.
Alex: Are we done here?
Not yet. If you had a free day with no responsibilities and your only mission was to enjoy yourself, what would you do?
Alex: I like this question. I'd spend the day on my Harley with Madison riding behind me, her thighs pressing against mine and her arms wrapped tightly around my waist. We'd ride up the beach road, stopping at a secluded spot where we'd wade along the surf while I stole kisses.
I bet you're very good at stealing kisses.
Alex (snorts): Truth!
What was Madison's first impression of you?
Alex: I don't think there's a woman in the world as confused as Madison was about a man she was attracted to. She thought I was one of her drug dealing cousin's friends, yet she couldn't deny the instant chemistry between us.
So you lied to her?
Alex, dipping his chin to his chest: That was my biggest regret, but I couldn't tell her I was an undercover FBI agent. If she slipped, letting that cat out of the bag, we both would have been in danger. I wasn't so worried about myself, but if anything happened to her… Well, that was something I couldn't live with. Yeah, I lied to her. It was the only way I knew to keep her safe.
What's your idea of a good marriage?
Alex: I have no idea what constitutes a good marriage. I sure as hell didn't have good role models in my parents. In my mind, though, I can visualize waking up to Madison's beautiful smile every morning for the rest of my life. I can see us old and wrinkled, holding hands, her laughing at my stupid jokes. (He wickedly grins.) And she'll still like kissing me and other stuff.
Do you think that will happen in your lifetime, you and Madison getting married?
Alex: If it does, I'll be the luckiest son of a dog in the world.
What are you most afraid of?
Alex: Losing Madison.
That's it?
Alex, scowling: That's not enough?
Last question—
Alex: Bless you.
How do you know you're in love with Madison?
Alex: That's easy. Because I'd die for her.
I guess that says it all.
Alex: Damn straight.
Alex Gentry doesn't scare easily. Working as an undercover FBI agent in the biker bar he and his brothers co-own, he hangs with deadly criminals in order to gather information. Danger is just part of the family business. But one thing has him terrified: his attraction to Madison Parker.
Madison is the cousin of Ramon Alonzo, son and second in command to a notorious drug lord Alex is trying to bust. Alex has befriended Ramon as part of his cover, and Madison has unknowingly become his informant. Falling for her could risk this case—and both their lives.
All Madison wants is to get her new bookstore business off the ground, and for her creepy cousin Ramon—to whom she's unfortunately indebted—to leave her alone. If she could only stop fantasizing about his mysterious new friend, Alex…
As the Alonzo cartel investigation heats up, so does their relationship. But will the secrets they're keeping tear them apart—or get them both killed?
Romance Suspense [Montlake Romance, On Sale: February 14, 2017, Paperback / Kindle, ISBN: 9781503941380 / ]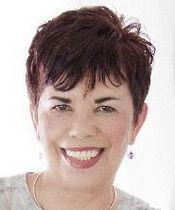 A native of Florida, Sandra Owens managed a Harley-Davidson dealership before switching from a bike to an RV and roaming the open road (though she's also chased thrills from sky-diving to upside-down stunt-plane flying). In addition to Crazy for Her—a 2013 Golden Heart Finalist for Romantic Suspense—her works include the Regency romance novels The Letter, winner of the Golden Quill for published authors award, and The Training of a Marquess, winner of the Golden Claddagh Award. A member of the Romance Writers of America and a potential cat owner, she lives with her husband in Asheville, North Carolina.