1–What is the title of your latest release?
2–What is it about?
It's an historical sapphic romance set aboard the fateful maiden voyage of RMS Titanic, where the main character, Penelope Fletcher, is moving to America and is sharing a cabin with Ruby Cole, a free-willed Irish woman who Penelope is immediately drawn and attracted to.
3–What do you love about the setting of your book?
That it's just one place? But in all honesty, the Titanic was such an incredible ship for its time and the sheer luxury and glamour of it was fun to reproduce while writing—even if the characters are sailing in Second Class and so don't really experience much of the more lavish amenities.
4–How did your heroine surprise you?
The way she handles the sinking. All throughout we see that Penelope isn't really sure of herself or where she stands in the world, or with the people in her life. But the sinking brings out another side of her that I really hadn't expected as I was planning and drafting it.
5–Why will readers love her love interest?
Because she's spunky. And outgoing. She is one of those people who has her own dreams and goals in life, and while she'll maybe alter some things for those she loves, she will stick by what she wants and who she loves. But underneath it all, there's also a vulnerability to her that she doesn't let show to anyone. She's determined, funny, carefree, and I think everyone needs a Ruby in their life.
6–What was one of your biggest challenges while writing this book (spoiler-free, of course!)?
Because it takes place during a real-life historical event—a historical tragedy, at that, where people lost their lives and their descendants are still around today…it was important to me to not only represent it accurately but also do so in a manner that is respectful to the victims. I didn't want to make light of it or distract from the devastation…which is why the mood shifts a lot in the second half of the book.
7–Do you look forward to or do you dread the revision process?
I love it! I think it's my favourite part of the overall writing process. You take something raw, chisel away at it, rework it, until it's something beautiful. I tend to just spew all my thoughts and decisions down in my first draft and revising gives me the chance to pick up all the strings I'm weaving and ensure they're given the proper care and attention.
8–What's your favorite snack to have on hand while writing?
I don't really snack while I write. The only thing I usually have by me is Irn Bru Energy drink.
9–Where would you go for an ideal writer's retreat?
Somewhere with sun, so that I could write outside, by a pool. But it would need to be a villa, rather than a hotel because being around strangers means I would never relax. Also, somewhere that's surrounded by nature or at least a calmness…and has some rich history around it for when I needed a break from writing.
10–What's the best piece of writing advice you've received?
Use post-it notes to plan out scenes! I think it was Alys Arden who I saw this method from and I fell in love. Different colours equal different character POVs and each post-it note equates a scene. I'm a bit of a planner so I like having a clear path to follow (even if I do end up straying from it) and this is the best way for me to do that. Also write without spellcheck for your first draft! Not being distracted by red squiggling lines was a LIFE CHANGER.
11–Who is the fictional character you want to hang out with the most? (anyone in literature!)
If we are just talking fictional characters who appear in a book and only in a book, I'd say Sand dan Glokta from The First Law world by Joe Abercrombie–mostly because I'd just want some of his cunning and genius to rub off on me. However, if we're including ANY fictional character, I'd have to go for Alistair from Dragon Age or Garrus from Mass Effect.
12–What's one of your earliest book memories?
Reading Tales of Toyland by Enid Blyton. Or, anyway, my gran reading it to me. The amazing thing was the book we read from was my mother's old copy. I ruined it by colouring in the drawings and drawing all over the pages but every night, when I stayed with my gran, she'd read me a story from that book.
13–If you had to write in a different genre, what would it be and why?
I think, right now, it would be fantasy. Mostly because it was fantasy stories that got me into reading and writing. Maybe one day.
14–What song will automatically put you in a good mood?
Hmm. Right now it's probably "Cure for Me" by Aurora. But "Sweet Child O' Mine" by Guns N' Roses will always make me smile just by that first opening riff.
15–What is your favorite way to practice self-care?
Probably by changing into my pyjamas, crawling into bed, and playing the Playstation. It helps being taken away to another place but also still having control of what comes next.
16–What can you eat and never get sick of?
Right now it's a freshly made white baton loaf with Philadelphia spread, ham, cheese, tomato and balsamic vinegar.
17–Will you share a favorite, recent-ish book you recommend?
???
18–Do you have any hobbies?
I do! Besides writing fanfic and reading, I also sew, draw, paint, embroider, craft, customise dolls/figures, collect ceramic figures, cosplay, and game. I honestly hate being idle…I constantly need to be doing something.
19–Are you an early bird or a night owl?
I suppose a night owl since a lot of inspiration and motivation to do things does come at night…but I also work from a schedule because I need routine and structured otherwise I'd get nothing done.
20–What can readers expect from you next?
The next book from me is OF TRUST & HEART, also coming from Entangled on 18th October. It is a sapphic romance set in the 1920s where the daughter of an earl must try to find a husband and ends up falling for the beautiful singer at a speakeasy her cousin takes her to.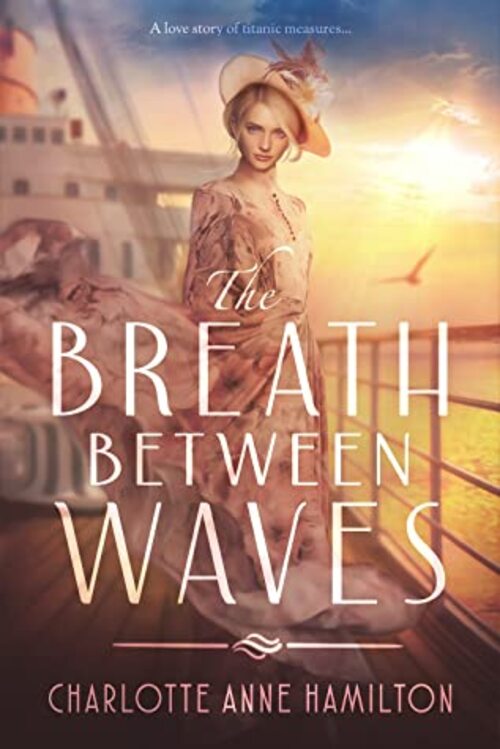 Penelope Fletcher gave up everything to board the RMS Titanic.
Forced to travel to America for her father's new job, Penelope left her home in Scotland, her beloved grandmother, and even her girlfriend, who promptly got engaged to someone else. Heartbroken, Penelope isn't looking forward to the weeklong journey. Or that her parents want her to find a husband in America. To make matters worse, she also has to share a cabin with a complete stranger.
Ruby Cole, her spunky Irish roommate, is unlike anyone Penelope ever met. They become fast friends as they bond over crushing family expectations and sneaking into lush parties together. That Ruby likes women, too, comes as a surprise to Penelope, but she knows their affair can only be temporary. Because as soon as the Titanic arrives in New York, Penelope will have to marry someone of her father's choosing.
Before long, though, they'll both have to decide what–and who–is really worth fighting for.
Romance Historical | Romance LGBTQ [Entangled: Embrace, On Sale: August 9, 2021, e-Book, ISBN: 979853926501 / eISBN: 9781649371881]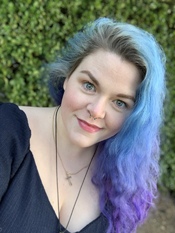 Charlotte Anne Hamilton is a blue-haired mermaid-wannabe who lives in Ayrshire, Scotland with her two fur-children, Izzy (chocolate lab) and Smudge (queen cat). She is currently studying Astronomy and Planetary Science and in her spare time, she enjoys reading and gaming, as well as dabbling in all forms of art and her craft as an eclectic witch. Her main source of inspiration in writing and in life is the popular phrase: "but make it gay."