Danielle: Welcome back to Fresh Fiction, Tif! Please tell us about your new book, IT TAKES HEART.  
Tif: Thank you so much for having me back Danielle! I love the Fresh Fiction crew! I'm so pleased to introduce IT TAKES HEART, the first book in a new romance series called Heart Resort, which takes place on a heart-shaped peninsula on the Outer Banks. The series concept revolves around four siblings trying to find love on the couples resort that they collectively run, and IT TAKES HEART is between Brandon Puso (the youngest Puso sibling) and his former love, Geneva Harris.
IT TAKES HEART is a wonderful story, chock full of some of my favorite romance tropes: returning home, second chance romance, sibling's best friend… I say, the more the better! Do you have a favorite romance trope to write? What about to read?  
Thank you so much for that! My favorite romance trope is second chance romance and friends to lovers! To read, I love opposites attract and just one bed.
I adored the setting of your novel: a couples resort in the Outer Banks! What do you love most about writing in this locale? Were you able to travel to the Outer Banks for research?
The Outer Banks is really our family's most favorite place to vacation. We have a motorhome that we travel in and there's an RV resort with its own beach area in the Outer Banks. It's really the one time a year when I can take a huge deep breath and take in the ocean air! I think I've been doing research on this locale for years and have not known it.  
Family and friendship are important themes in IT TAKES HEART and are themes I've noticed in many of your books. What brings you back to putting family and friendship at the heart of your novels?  
I think the community a character keeps (or avoids) says a lot about a person! So it feels really natural for me to write the environment that character lives in, and for the love interest to notice and be immersed by it as well.
The last time you were on Fresh Fiction, it was for our Valentine's Day Recipe Roundup, and you shared a delicious recipe for Vegetable Pancit Bihon. Do you have new recipe you've gravitated toward over the last few months or so you'd be willing to share with us?
Absolutely!   
Tif's Bisteak
1. Cover and marinate for at least one hour in refrigerator:
1lb flank steak
Equal parts lemon and soy sauce (to cover steak)
2. Remove from refrigerator about 15 minutes before cooking.
3. In a hot pan, sear steak 2 minutes on each side, then remove and set on a cutting board. Loosely cover with aluminum foil. Turn heat to medium.
4. Slice one onion, and stir fry in pan until translucent.
5. While onions cook, slice flank steak into thin strips.
6. Add meat to onions until desired doneness.
Danielle: What can readers expect from you next?  
Ahhh, so much in the coming year! This October, I have my first YA romance (and a holiday book!) coming out called THE HOLIDAY SWITCH. In April 2022, the 2nd book of the Heart Resort series called KNOW YOU BY HEART will publish, and the third to follow in late 2022. I'm so excited!
Rapid Fire Random Questions:
Summer or Winter?:  Gah, so hard! Winter!
A favorite bookish memory: Starting a library system with my own books with my cousin and we pretended to borrow books from one another.
If you had to be an animal, what would you be and why?:  Cat! Because I am an introvert and am quite good at chilling next to a window.
A book you wish was taught in school: The Handmaid's Tale 

Dusk or dawn?: Dawn! I'm definitely an early bird. 
A personal indulgence you'll never give up: My morning cup of coffee. 
Do you believe in ghosts?: OMG YES. 
Vanilla or chocolate?: Chocolate 
A movie or TV show that you love but feel like no one else likes: New Moon (I love this book and movie OMG)

You have a totally free afternoon – no deadlines, no obligations, no Twitter notifications!  What do you do?: Catching up on all my Netflix and Hulu TBW.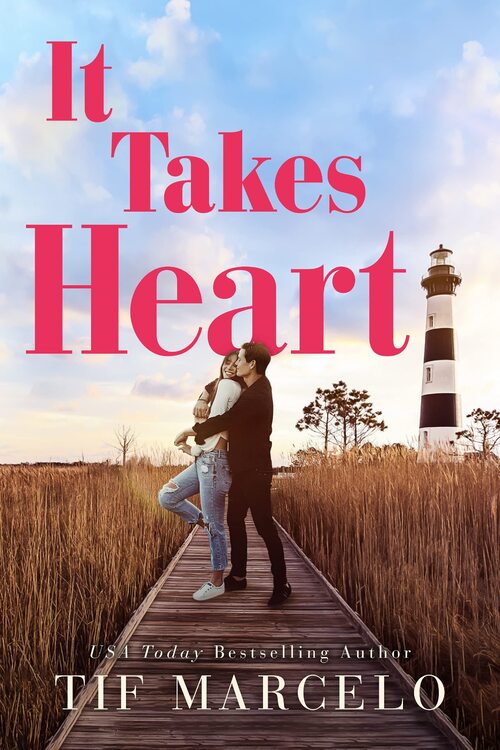 From romance author Tif Marcelo comes a heartwarming story about taking a second chance on love at a family-owned couples resort.
Heart Resort, a private resort in the Outer Banks, is a romantic getaway for couples but a hotbed of family drama for its proprietors, the Puso family. Brandon Puso, the youngest of the four siblings, prefers life on his own as a licensed contractor in DC after a falling-out with his eldest brother.
After a hurricane plows through the Outer Banks, Brandon has a change of heart. He returns to the resort to help with the grand reopening but encounters his big sister's best friend, designer Geneva Harris, who's there to do the same thing. But Geneva and Brandon have a secret. Years ago, they had a secret romance that ended in heartbreak.
With the resort's future at stake, Brandon and Geneva decide to put the past aside and to keep peace with the family. But as their mutual attraction heats up, they have to decide if history will repeat itself–or if this time, love gets a second chance.
Romance Contemporary [Montlake, On Sale: August 10, 2021, Trade Size / e-Book, ISBN: 9781542029650 / ]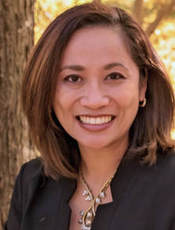 Tif Marcelo believes in and writes about heart-eyes romance, the strength of families, and the endurance of friendship. A veteran Army Nurse with a Bachelor of Science in Nursing and a Master of Public Administration, she is a craft enthusiast, food-lover and the occasional half-marathon runner. As a military spouse, she has moved nine times, and this adventure shows in some of her free-spirited characters. Tif currently lives in the DC area with her own real-life military hero and four children.
***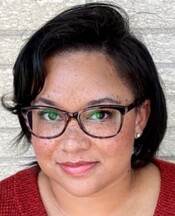 Danielle Jackson Dresser is a contemporary romance author (her debut novel with Berkley will be out in 2022!), avid reader, lackluster-yet-mighty crafter, and accomplished TV binge-watcher.
Once upon a time, she was a publisher publicist and continues to cultivate her love of books and reading by chatting with the best authors in the business as the Editorial Manager of Fresh Fiction and co-host of the Fresh Fiction podcast. Danielle is one of the Boozy Book Broads, a monthly author chat show streamed live on YouTube. She also moderates panels, interviews authors, and hosts a book club at Love's Sweet Arrow, the romance-focused independent bookstore.
Danielle lives in Chicagoland with her very own romance hero husband, darling daughter, and two tempestuous cats. Follow her on Twitter and Instagram, @DJacksonBooks.