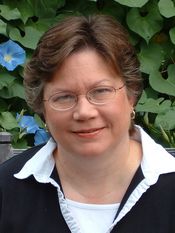 Hello to everyone at Fresh Fiction, and thank you for having me here to celebrate the release of STUD, the eighth book in my Cat Star Chronicles series! To get things started, allow me to tease you with a little excerpt…
Tarq smelled her before he ever laid eyes on her—a glorious, delectable aroma that curled through his head and shot straight into his bloodstream. Closing his eyes, he inhaled deeply as the effect of her fragrance hit him like a pulse blast, obliterating his every thought with the instantaneous ecstasy of an erection so hard it made his head swim.
He glanced away from his menu, taking in the shape of her legs out of the corner of his eye—what he could see of them, that is. Her baggy trousers and apron concealed everything about her legs except the fact that she had two of them.
"Hi, my name is Lucy, and I'll be your server," she said. "Do you already know what you'd like, or do you need more time?"
Tarq smiled to himself as he shook his head. No, he didn't need more time. He knew exactly what he wanted. "You," he replied. "I'd like a full order of you."
When I begin a new story, inspiring my muse requires very little effort on my part. My mind only needs to be open to suggestion. If I try to force it by thinking too hard, the ideas don't come quite as easily. I have to leave my brain alone and let sift through my life's experiences and allow it to see the possibilities that might occur when boy meets girl, or girl meets sexy alien hunk. Then, when I least expect it, an idea will pop into my head. Sometimes those ideas are lines of dialog, but since my muse is very visual, more often they're like photographs in my mind.
I've spent a lot of time with the men of Zetith since I first began writing about them six years ago, and the worlds I created then are as real to me now as any memory. The stench of the slave market on Orpheseus Prime where Jacinth found Cat lingers in the air, as does the freshness of the heavy snowfall when Leo and Tisana first began their perilous journey through the forest of Utopia. The rocky desert on Darconia still scorches my feet, and I can stand on the spaceport platform in Arconcia and see the palace gleaming in the distance. The lumbering tread of the reptilian Darconians echoes through the palace corridors, and the stifling heat and riotous growth in The Shrine of the Desert robs me of breath. I've never forgotten them, nor will I ever forget the alien worlds and species I've dreamed up since then.
I can visualize Lucy and Tarq and the mountains through which they traveled, and their strange alien companions are as familiar to me as my own family. I can feel the heat of passion when Tarq and Lucy make love, as well as the paralyzing fear when the fierce vrelnots attack. But most of all, I can see the tenderness in Tarq's eyes when he looks at Lucy, and can feel his wrenching pain when he convinces himself that his past is too tarnished for a good woman to ever want him.
I recently finished writing the ninth and final book in the series, WILDCAT, which will be released next February. I'm going to miss my Zetithians dreadfully, but knowing that I can revisit them anytime I like is some consolation. I have only to close my eyes and I'm right there beside them once again. My only hope is that I've been able to successfully communicate all of those emotions and sensations to my readers.
I'll leave you with a question to get the comments going. Do movies ever recapture the mental images you had when you read the book? Which ones did it best? Or worst?
STUDBY CHERYL BROOKS – IN STORES FEBRUARY 2012
They're galaxies apart…
Even for a Zetithian, Tarq Zulveidinoe's sexual prowess is legendary. Believing it's all he's good for, Tarq sets out to perpetuate his threatened species by offering his services to women across the galaxy…
But one force can bring them together…
Lucinda Force is the sensitive dark horse in a self-absorbed family, repeatedly told that no man will ever want such a plain woman. Lucy longs for romance, but is resigned to her loveless lot in life—until Tarq walks through the door of her father's restaurant on Talus Five…
ABOUT THE AUTHOR
Cheryl Brooks is a critical care nurse by night and a romance writer by day. She is a member of the Romance Writers of America. She is the author of The Cat Star Chronicles series and lives with her husband, two sons, five cats, five horses and one dog in Indiana. For more information, please visit http://cherylbrooksonline.com/ or follow her on Twitter: @CherylCatMaster.
To comment on Cheryl Brooks's blog please click here.