Please welcome bestselling author Christy Carlyle! We have a double feature today: an interview with Christy and an exclusive excerpt from her latest release, A DUKE CHANGES EVERYTHING. Don't forget to check out the Fresh Fiction review, as well!
INTERVIEW
FF: Mina and Nick are two really interesting characters! On the one hand, you have Mina, who has a profound sense of duty and loyalty to the ducal estate of Enderley, and on the other, there's Nick who wants nothing to do with it: the title of Duke of Tremayne, the actual property, and all of the responsibilities that come with being a duke. How did you balance this conflict with their budding romance?
CC: Thank you! They were definitely two of my favorite characters I've ever written.
Balancing that conflict with their romance was really the fun part. I love starting out with a hero and heroine who are truly at odds in terms of their goals. It provides the opportunity to have each of them take small steps toward each other, toward understanding and appreciating each other's perspective. Not to say that either will change who are they are fundamentally. But when a hero and heroine can expand each other's outlooks, I think that's the best kind of romance in real life and between the pages.
FF: Nick's club is a highly coveted place for noble gentlemen to gamble and let loose. Did you base Nick's establishment on any that actually existed?
CC: I did! After doing some research on gentlemen's clubs in the Regency and Victorian eras, I found myself basing Nick's club partly on Crockford's, which was one of the most infamous gambling clubs in London in the mid-19th century. One facet of Crockford's that I took directly from the actual history of the club was Crockford's method of taking a fee on every bet placed in his club.
FF: Mina takes over her father's position of steward to a grand ducal estate. Was this something women actually did or could aspire to be?
CC: To be honest, I didn't find any historical example of a woman becoming formal steward after her father's death and "inheriting" his role as Mina did. But women were often key in running households, keeping account books, and managing estates after their husbands died. One woman I read about, Elizabeth Prowse, a widow, controlled a 2,200-acre estate in Northamptonshire in the late 18th and early 19th century after her husband died. Although she had an estate steward, she used a double ledger method to check and sign off on all his work.
FF: There's an intriguing power dynamic between Mina and Nick; she's technically his employee, but also, she's more familiar and cares more about his former home. Discuss how this added to the tension between them.
CC: I wanted to take special care with this aspect of their relationship. Though Mina's technically his employee, Nick respects her from the start, even admiring her loyalty to the estate when he cannot share it. Emotionally, I wanted to make sure Mina usually has the upper hand, despite the power dynamic between them.
FF: I loved the servants who worked at Enderley! They added an element of "realness" to the story that I really enjoyed, as well as how they were a second family to Mina. Who was your favorite side character and why?
CC: I have a real soft spot for Mr. Wilder. He's a man who harbors regrets and yet also has a sense of responsibility for the estate and those in his care. He's a hopeful man and he gives good advice in a kind rather than judgmental way.
FF: The holidays are almost upon us! What are some of your family's traditions during this time of year?
CC: A holiday tradition I've followed for many years is to buy one new ornament to put on the Christmas tree to mark the past year. I tend to go for either animal ornaments or something sparkly and colorful. I usually write the year on it someplace in gold Sharpie, and it's a way to reminisce as I decorate the tree each year.
FF: This is the start of a new series for you – congrats! What can we expect in books to come?
CC: Thank you! I'm so excited about this series.
Well, you got to meet all of the heroes in A DUKE CHANGES EVERYTHING. The next book will be self-made man Aidan Iverson's story. He's going to find himself challenged and intrigued by a lady inventor who brings her design before the Duke's Den investors. The final story in the series will be the Marquess of Huntley's book. He's quite a rogue in ADCE, but let's just say he's about to meet his match.
Rapid Fire Random Questions
Favorite candy: Twizzlers
Favorite way to be kind to yourself: Getting a massage with lavender aromatherapy.
Favorite flower: Lily of the Valley
Random interesting fact you like to tell people: I lived in London for a time and worked as a substitute teacher.
Best vacation you've ever taken: Spain. It's a stunningly beautiful country.
Earliest celebrity crush: Hmmm. Probably Harrison Ford as Han Solo.
Cake or pie: Pie, especially blueberry or marionberry.
Last book you read that you really LOVED: Tessa Dare's The Duchess Deal.
You have a totally free afternoon – no deadlines, no obligations, no Twitter notifications! What do you do?: Go to a movie all by myself.
***
EXCLUSIVE EXCERPT 
Follow the First Look and #enter to #win! Enter at: http://www.rafflecopter.com/rafl/display/b050ef29593/?
"Your sleep was troubled?" she asked softly.
"It always is."
"I heard you call out. I thought you said my name." Mina swallowed hard after the admission. She'd probably misheard him, but some rationale felt necessary to explain her presence in his room.
"Did I? Perhaps you're haunting me in my sleep." He did that thing with his thumb again, a seductive slide against her skin. His touch rippled out to spark goose bumps along her arm and heat between her thighs.
"You don't remember your dreams?" she asked, her voice trembling like her insides.
"I try not to."
"What troubles you?"
"Everything." He let out a low chuckle, like the rusty creak of a door hinge. Lowering his chin, he assessed her. "Especially you."
"I never intended to." She pulled her hand from the duke's, ignoring the shiver that spiked up her spine from the friction of his skin sliding against hers. "I'll leave you so that you can get back to sleep."
"Mina, wait." He reached out, caught the edge of her arm, and a few strands of unpinned hair tangled between his fingers. "There's something I must say before you go."
She moved closer. He was utter temptation, all blazing heat and forest scents, and she felt an odd comfort being near him. She knew she should be scandalized. To be alone with him, a duke of the realm. A gambling club owner. Especially while he wore nothing but trousers and a half-buttoned shirt.
(C) CHRISTY CARLYLE, 2018
***
Follow the tour and #enter to #win! Enter at: http://www.rafflecopter.com/rafl/display/b050ef29593/?
11/26/18
a crazy vermonters book reviews – Review
Jen's Reading Obsession – Spotlight
11/27/18
A Cat, A Book and A Cup Of Tea – Review
What Is That Book About – Spotlight
11/28/18
Up 'Til Dawn Book Blog – Review
Cat's Guilty Pleasure – Spotlight
11/29/28
Celticlady's Reviews – Spotlight
Crazy Beautiful Reads – Spotlight
Tangled Hearts Book Reviews – Spotlight
11/30/18
My Book Addiction and More – Review
My Bookish Escapades – Spotlight
12/3/18
Book reviews by duelalias – Review
The Power of Three Readers – Spotlight
12/4/18
Buried Under Romance – Spotlight
Ladytechie's Book Musings – Spotlight
Natasha's Book Nook – Spotlight
THE WORLD AS I SEE IT – Spotlight
12/5/18
Once Upon a Book Blog – Spotlight
We All Make Mistakes in Books – Spotlight
12/6/18
Reads All the Books – Spotlight
Yearwood La Novela – Spotlight
12/7/18
Romance Reviews Today Blog – Spotlight
Duke's Den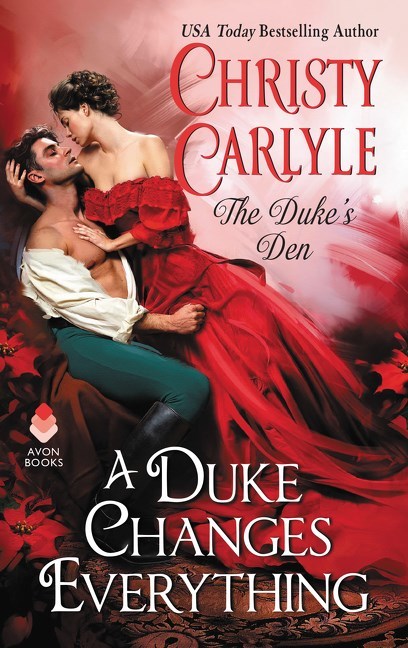 In the first novel in Christy Carlyle's sizzling Duke's Den series, three men, intent on making a fortune, discover irresistible opportunities . . .
Nicholas Lyon gambled his way into a fortune and ownership of the most opulent, notorious gentlemen's club in England. But when Nick's cruel brother dies, he inherits a title he never wanted. The sooner Nick is rid of the estate that has always haunted him, the sooner he can return to the life he's built in London. But there's one obstacle—the exquisite Thomasina Thorne.
When the new heir to the Tremayne dukedom suddenly appears in Mina Thorne's life, she's flustered. Not only is he breathtakingly handsome, but he's also determined to take away her home and position as steward of the Enderley estate. If Mina learns what makes the enigmatic duke tick, perhaps she can change his mind—as long as she doesn't get too close to him.
With each day Nick spends with Mina, his resolve weakens as their colliding wills lead to explosive desire. Could she be the one woman who can help him finally bury the ghosts of his past?
Romance Historical [Avon, On Sale: November 27, 2018, Mass Market Paperback / e-Book, ISBN: 9780062853950 / eISBN: 9780062853967]

A lovely historical romance novel!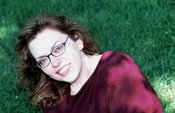 Fueled by Pacific Northwest coffee and inspired by multiple viewings of every British costume drama she can get her hands on, Christy Carlyle writes sensual historical romance set in the Victorian era. She loves heroes who struggle against all odds and heroines who are ahead of their time. A former teacher with a degree in history, she finds there's nothing better than being able to combine her love of the past with a die-hard belief in happy endings.