Against the odds, the oak sapling took root in our backyard that was filled with scrub pine trees and overrun with bramble. Despite the strong growth of the underbrush, the oak sapling, with its tiny trunk and even tinier branches, pushed upward, reaching for sunlight from high above. It was a decent height, maybe five feet, but scraggly and skinny. A canopy of other trees and thicket kept the sapling in the shade and depleted its soil of nutrients. Vines of various kinds wrapped around it, using it to gain a height of its own.
But it didn't die. It also didn't thrive. It reminded me of a vine of poison oak more than an oak tree. Its sickly trunk bent and twisted, always jetting out and then reaching up, clearly trying to find a way to reach life-sustaining sunlight.
At the time our backyard had a blind fence enclosing a half-acre of mostly scrub pines and thicket. We'd left it that way for over ten years because our youngest son asked us to. He loved being outdoors as well as the feel of "deep woods." It seems he spent half of his childhood in that space.
As children do, he outgrew playing like that. He no longer wanted a great forest in which to pretend and imagine, so we decided to clear the space and create a real backyard we could use for gatherings.
We assembled our three sons and some of their friends as well as hired a professional to take down "a forest" of scrub pines. As we cleared underbrush and hauled off the pine logs the professional sawed into manageable pieces, we left the sapling alone, thinking we'd decide what to do with it in a day or two.
Should it be cut down? It was pitiful and it hindered what would soon become a swath of undisturbed lush grass. My husband said we should leave it. He was confident it would grow into a beautiful shade tree.
How? It was too weak to hold up its own weight, and it didn't weigh much.
He put steaks in the ground and tied the puny trunk so it could stand upright.
Within a few months, it looked a little stronger, but the steaks and ropes had to keep holding it upright. By the next spring, we removed the steaks and ropes, and it stayed standing upright! It was scraggly and thin, but it had healthy green leaves shooting out of its tiny branches.
Today, ten years later, the tree is a beautiful, fulfilled shade tree. It's able to hold a rope swing for the grandchildren. Its canopy has a fifty to sixty-foot circumference, and it gives a lovely reprieve during Georgia's long, sweltering summers. Yesterday, Saturday, September 21, 2019, we texted our trusted tree removal guy, because, although the tree is thirty feet from the house, its branches are pushing against our roof, and they must be trimmed.
Sometimes we're thin and frail, surrounded by brush, bramble, and big scrub trees that are blocking our sun.
The power of bush hogging the underbrush that is choking us and cutting down that which is blocking our sun may be necessary in order for us to thrive. We don't embrace thinking like that. It feels selfish and wrong, but what if the most important thing for our life is receiving space and sun to grow?
The Christmas Haven has two characters who feel they need space. One absolutely does need it but doesn't want it. The other seems to be on the verge of cutting down that which should not be cut down or cleared away.
The characters learn the power of doing what's necessary to have space around them, and yet they realize the power of connection, and they come to feel the power of love.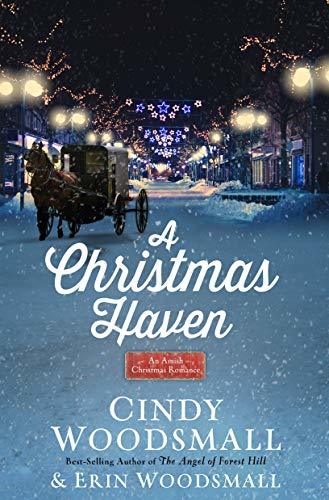 For fans of holiday romances and Amish life comes a new Christmas tale of surprising expectations and discovering miracles.
Old Order Amish Ivy Zook is wrestling with her need to shed her community's ways so she can grow the business of her dreams: planning parties. As long as she's stuck living without modernization, she can barely get her business on its feet. But if she leaves too soon, she'd cause trouble for her sister, Holly, who is planning her wedding to Joshua Smucker. All of their plans become twice as complicated when an old car crashes into the storefront of Greene's Pharmacy, carrying a Swartzentruber (ultra-conservative sect) Amish man, Arlan, and his very ill sister.
The Zooks take in Arlan and Madga, tending to the woman's illness and Arlan begins helping around the family farm. Ivy and Arlan are on different tracks, one wanting to leave her community and the other to return to his. But both young people are trying to discover what God has in store for their futures and what miracles might lie around the corner this Christmas season.
Amish | Romance Holiday [Waterbrook, On Sale: September 24, 2019, Hardcover / e-Book, ISBN: 9780525653295 / eISBN: 9780525653301]
CINDY WOODSMALL is a New York Times and CBA best-selling author of twenty-five works of fiction and one nonfiction book. Coverage of Cindy's writing has been featured on ABC Nightline and the front page of the Wall Street Journal. She lives in the foothills of the North Georgia Mountains with her husband, just a short distance from two of her three sons and her six grandchildren.
ERIN WOODSMALL is a writer, musician, wife, and mom of four. She has edited, brainstormed, and researched books with Cindy for almost a decade. More recently she and Cindy have co-authored five books.