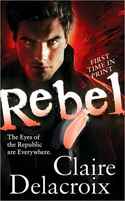 For authors, stories often begin with the question "What if" and that was certainly true for me with my Prometheus Project trilogy. It was late 2004 and I was pushing around a number of story ideas, thinking about trying something different from the historical romances I'd been writing since 1992. I had one vivid scene in my mind of a woman on a motorcycle. She was riding into danger, determined to see that justice was served. Her husband, it seemed, had died and she was the only one who knew the cause of death wasn't an accident. But what had it been? Who was she? Where was she?
One night, after watching all the doom and gloom on the nightly news, I wondered – what if the world really was ending? What if that's where this woman is? And what if her husband was killed because he knew something that could have made a difference? What would that detail have been?
That opened a proverbial Pandora's box of new ideas — and new questions. I quickly decided that the world would have to be in much worse shape than it was currently for things to be on the cusp of disaster, and that started me thinking about ways things could get worse. I imagined a world, roughly 100 years in the future, in which we had launched a lot of nuclear bombs at each other, and in which civil liberties had been diminished. When I started to research more about nuclear fallout and damage, I discovered that we are an incredibly resilient species. The evidence from Hiroshima and Chernobyl showed that there are mutations as a result of nuclear exposure and a higher incidence of cancer, but that we survive. As a species, we are also fond of the notion of slavery — it appears over and over again throughout the historical record. What if those who had been mutated by exposure to radiation became the property of the state, effectively becoming slaves?
I realized that my determined heroine had a daughter who had been so condemned and finding that daughter was part of her mission. I learned that her dead husband had not been the love of her life, and that, in fact, they had been estranged at the end. I realized that her dead husband had learned something that was only the tip of the iceberg, a secret that someone would kill to protect. So, the race was on — for the heroine to find the solution before the guilty party found her.
I had a situation and a character, but not a hero. What would make my tough heroine lose her heart? What kind of man would she love? He'd have to be larger than life, heroic, noble and utterly trustworthy. Hmmm
What other variables could come into play at the end of the world? Because my background is in medieval studies, I immediately thought of the Book of Revelation and its account of the Apocalypse. That led me to angels, and from there to fallen angels, and well, it was a short step from there to the notion of a team of fallen angels voluntarily surrendering their wings and becoming mortal in an effort to stop the Apocalypse — in other words, to save us from ourselves.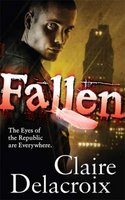 I liked the idea of my heroes being fallen angels. Motivated by good, they'd find the physical world far different from the celestial world they'd known. Montgomery in FALLEN is frustrated by the limitations of his body and of our mortal realm. Rafe in GUARDIAN adores the physical world and becomes so enamored of exploring the boundaries of sensation that he almost forgets his mission. Armand in REBEL begins by hating our world, and halfway thinking we should be left to get what we appear to deserve.
They'd also be vulnerable in our world in way that was unfamiliar to them. I upped the ante for this team of commando angels by leaving them with scars from the removal of their wings — discovery of those scars would see them consigned to the slave dens, a fate from which there is no appeal in this society. You would think that they would be anxious to finish their respective tasks and return to the life they had known, and they do start out that way — but these are romances, which means that love conquers all.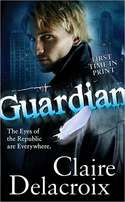 What kind of woman could persuade a fallen angel that she (and her love) was worth the loss of an eternity among the angels? Lilia in FALLEN knows too much and surrenders too little. I halfway think Montgomery stayed just to unravel all of her secrets. Delilah in GUARDIAN is a seer and an innocent, who trusts in the power of the angels more than Rafe even does. His notion that they are stronger together than apart — and that the world needs them both — leads to his choice to stay. And Theodora, in REBEL, again is a woman with secrets who has seen too much. She awakens a spark in Armand that he doesn't ever want to lose.
This series — which I like to call the Prometheus Project (http://www.delacroix.net/angels.html) – is a fusion of genres. It has radiation poisoning. It has angels. It has romance. It has suspense. It was an enormous amount of fun to write and a great creative adventure for me, all launched by two little words — what if? What if it was the end of the world as we knew it? What if the world was changed and saved, right at the end? In each book, the love of the right woman changes the perspective of each of these fallen angel heroes, and — this isn't really a spoiler — persuades each of them to remain in our realm. I liked the way that their sacrifices and their love ultimately created a way for the world to heal instead of ending.
Do you read stories set before, after or during the Apocalypse? Do you read paranormal romances featuring fallen angels? Tell me what you like — or don't like — about either. One person who comments on this post today will win a copy of each of the three books in this trilogy — FALLEN, GUARDIAN and REBEL — so take a moment to share your thoughts!
Claire Delacroix sold her first romance novel, a medieval romance called THE ROMANCE OF THE ROSE, in 1992. Since then, she has written over forty romance novels and novellas – contemporary romances, mainstream romances, historical romances, paranormal and fantasy romances – published under the names Claire Delacroix, Claire Cross and Deborah Cooke – and won numerous awards. Her first book to land on the New York Times list of Bestselling Books was THE BEAUTY, part of her bestselling Bride Quest series. In October and November 2009, she was the writer in residence for the Toronto Public Library, the first time that the library has hosted a residency focused on the romance genre.
She maintains two websites (http://www.delacroix.net and http://www.deborahcooke.com) and posts regularly to her blog, Alive & Knitting, at http://www.delacroix.net/blog. Her current release is REBEL, book #3 in the Prometheus Project trilogy. Visit her website for excerpts from all three books. She is currently participating in Kindle Giveaway with four other authors — stop by her blog to learn how you can enter to win.( http://www.delacroix.net/wordpress/?p=1691 )
To comment for a chance to win on Claire's blog please click here.