The new fall season for shows begins in September and you'll also find some great Paranormal Romances as well. Here are a few to add to your To Be Read list.
ATLANTIS BETRAYED, Alyssa Day (Berkley, 9/7/2010, $7.99)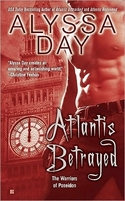 What could Christophe, powerful Warrior of Poseidon, have in common with Fiona Campbell, the notorious jewel thief known as the Scarlet Ninja? Answer: The Siren, a legendary Crown Jewel that Fiona has targeted for her next heist. It's
said to be worth millions, but to Christophe it's invaluable. For the Siren also happens to be one of the missing jewels from Poseidon's trident. But breaking into the Tower of London is a two-person job, and Christophe and Fiona must team up to commit the crime of the century.
VEIL OF SHADOWS, Shiloh Walker (Berkley, 9/7/2010, $7.99)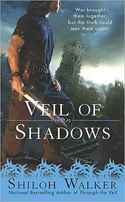 A rebel army has been established to win back the land from demons— and a new soldier named Xan has appeared out of nowhere to join them. Beautiful army captain Laisyn Caar is shocked by the powerful, all-consuming desire she feels in his presence, but when she discovers the dark secrets of Xan's agenda, she'll have to determine whether the man she's starting to love is a friend of her people—or a dreaded enemy.

The second novel in this series is steaming hot, intelligent and extreme — a must-read.
IMMORTAL SEA, Virginia Kantra (Berkley, 9/7/2010, $7.99)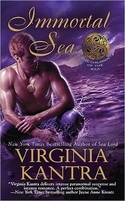 The New York Times bestselling author of Sea Lord takes to the waves again. The island of World's End sets the stage for a dramatic reunion between Morgan of the finfolk and a woman he met years ago—a woman with a startling secret.

Well-Drawn Characters and the Magic of Self-Discovery Add Depth to this Paranormal Romance.
CRUEL ENCHANTMENT, Anya Bast (Berkley, 9/7/2010, $7.99)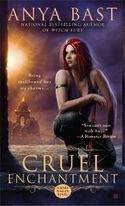 The Dark Magick series continues from this New York Times bestselling author. To keep her fae race from being eradicated, Emmaline Gallagher must retrieve an object of fae power from a locked ancient box. Only Aeric O'Malley has the forging skills to create a key. But will their tumultuous past stand in the way?

The second book in this series builds suspense with betrayal and love that matches no other.
CHAINS OF FIRE: The Chosen Ones by Christina Dodd (NAL, Sept 2010, $7.99, Chosen Ones)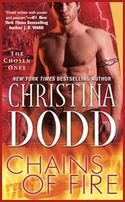 Samuel Faa is a G ypsy lawyer with the power to control minds. Isabelle Mason is wealthy, privileged, and refined, and has the gift for healing. Two of the Chosen O nes, they share a past filled with love and betrayal, and a future denied by fate—until the day they're trapped underground. No way out. No way to deny the passion that still burns beneath the surface. And when danger threatens, Isabelle has only one choice: to place her trust in the power of the one man she could never forgive…or forget.

An exciting, dangerous and powerful addition to the outstanding Chosen Ones series.
CROSS YOUR HEART, Michele Bardsley (Eclipse, Sept 2010, 7.99, Broken Heart)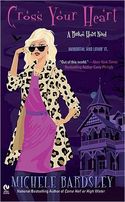 After the death of her husband—and her dreams of motherhood—Elizabeth Bretton returned to the family estate in Broken H eart, O klahoma. L ittle did she know she would also give up her life as the S ilverstone heiress. But escaping the past isn't that easy— especially with a vengeful ghost trying to kill her, a 150-year-old mystery to solve, and an outrageously hot were-jaguar named "Tez" trying to get into her boudoir.
WARRIOR AVENGED, Addison Fox (Eclipse, Sept 2010, 7.99, The Sons of the Zodiac)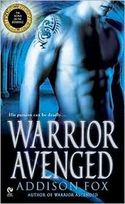 This is the second book in Fox's sexy paranormal romance series. Immortal warrior Kane Montague is as lethal as the S corpion that marks his powerful form. As an assassin for MI-6, he's an ace gun-for-hire. After being double-crossed on a mission, Kane knows all too well who's to blame: a sexy, secretive agent named Ilsa who may be even deadlier than he is.

Another powerfully sexy and exciting entry in this dynamic series.
HAUNTED HONEYMOON, Marta Acosta (Random House, September 2010, $15.00)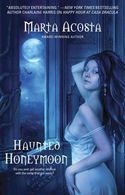 As the only human to survive vampire infection, Milagro de Los Santos has become quite a celebrity among the blood-drinking elite. Too bad the perks of her condition—increased strength, super-fast healing—don't pay her condo fees. There are other complications too. She's feeling guilty about her fling with enigmatic Vampire Council member Ian Ducharme, and pining for her ex-fiancÉ, Dr. Oswald Grant . . . the fabulous man whose kiss changed her life.
It's when Milagro—irked by Ian's attentions to his neighbor—travels to London and enjoys a sexy flirtation of her own, that the blood really hits the fan. Suddenly, those around her are dying gruesome deaths and Milagro's being interrogated. Who would kill to set her up as a murder suspect?
YOURS FOR ETERNITY, Hannah Howell, Alexandra Ivy, Kaitlin O'Riley (Kensington Sept 2010, $15.00)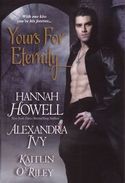 In this captivating new collection headlined by New York Times bestselling author Hannah Howell and rising stars Alexandra Ivy and Kaitlin O'Riley, three women meet the irresistible vampires who are their destiny.
THE BEAST WITHIN, Erin McCarthy, Bianca D'Arc, Jennifer Lyon (Brava, Sept 2010, $14.00)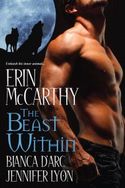 New York Times bestselling author Erin McCarthy teams up with Bianca D'Arc and Jennifer Lyon for a spooky, sexy anthology featuring a trio of superb paranormal stories. When Liv Lugaru's boyfriend Sebastian disappears, she finds comfort in his brother's arms. But Sebastian is closer than Liv realizes, and he'll stop at nothing to protect her. In the misty fog of a lakefront village, zombies are running wild—and zombie hunter John Petit must stop the carnage. But he's also fighting a different kind of battle: a forbidden passion for his new partner, Donna. Gage Remington was once a powerful wizard; now he's a recluse who keeps the world at bay. But when Mira Tate arrives at his door, she stirs in him an attraction he can't deny.
PRIMAL INSTINCTS, Susan Sizemore (Pocket, Sept. 2010, $7.99)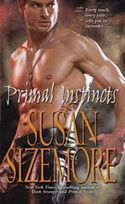 Tobias Strahan leads the elite vampire squad known as the Dark Angels, protecting the city's paranormal denizens. It's the perfect job for an übermacho Prime- until clan heiress Flare Reynard stirs an obsession in him that refuses to fade. Flare's mother—desperate for a grandchild—has made Tobias an intriguing proposition, and it's soon clear to Tobias that Flare is nothing like the spoiled princess he'd assumed her to be. She's smart as hell, wickedly funny, and loyal, and Tobias knows deep within that she is his bondmate—the bondmate every Prime searches for.

An interesting tale where the ratcheting romance heightens an intricate plot.
REVAMPED, J. F. Lewis (Pocket, 09/28/10, $7.99)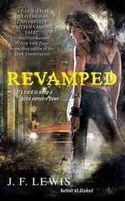 Eric survived a vicious showdown with his double-crossing former best friend and some angry lycanthropes—barely: he's lost his strip club, his treasured red Mustang, his love life, and even his body. But with a little magic, the die-hard Vlad returns to corporeal form, and "Fang the 'Stang" is restored—with an unlife of its own. Now Eric's ready to match wits with one of Void City's most powerful demons to rescue the soul of Marilyn, the love of his (mortal) life. But salvation comes at a high price, forcing Eric to enter his own worst nightmare, vampire High Society, to uncover the truth about the origin of his powers. Having to deal with the Void City elite is bad enough, but the more Eric sniffs around, the more it looks like someone is after his soul, too. Now blood will flow and fangs will be bared, because revenge is never pretty-and Eric has plenty to pass around.
EAT PREY LOVE, Kerrelyn Sparks (AVON, 9/28/2010, $7.00)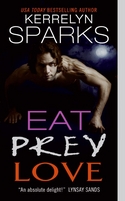 Carlos Panterra is looking for a mate, a woman who will love and care for the young orphans he's recently taken under his wing (or paw, as the case may be). When the shape shifter spies the beautiful Caitlyn, it's like sunshine amidst the darkness. At last, he's found the perfect woman, except. Caitlyn Whelan is mortal. Worse, her father is the head of a CIA agency bent on hunting the undead. Still, Caitlyn knows that Carlos is the man for her, shape shifter or not. So she jumps at the chance when her sister offers her a job to work with him, determined to show Carlos their attraction is more than just animal magnetism. But danger lurks in the night, and their unleashed, untamed passion might just get them both killed.
Hope you'll check out these and let us know what paranormal romances you find this month…