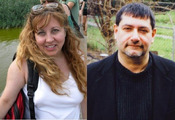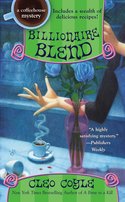 My amateur sleuth grew up much like I did, in a family of food-loving Italian Americans. By the age of eight, I was learning to cook at the elbow of my dear Aunt Mary, an experience I've treasured so much that I've lent it to the main character in my long-running series of culinary mysteries.
Clare Cosi may have been raised in her grandmother's little Italian grocery, but she's come a long way from making espressos in her nonna's battered stovetop pot.
Now a master coffee roaster, Clare not only works with one of the best bean hunters in the business, she manages a century-old coffeehouse in one of New York's most picturesque neighborhoods.
In many ways, Clare's life is rich, unfortunately her bank account isn't. At the start of BILLIONAIRE BLEND—just released in its brand new mass market paperback edition—Clare is trying to find the funds to overhaul her Greenwich Village shop's aging façade when a car bomb explodes on the street outside.
Amid the fire and chaos, Clare comes to the aid of an anonymous customer, an intense young man who turns out to be billionaire tech whiz Eric Thorner.
Eric is so grateful to Clare for saving his life, and so impressed with her knowledge of coffee, that he pays for repairs to her landmark shop and hires her to create the most expensive blend on the planet. He also begins a subtle but relentless campaign to win her affections.
As Clare is pulled deeper into Eric's world of antique limousines and high-tech luxuries; French champagne and private planes, she meets a number of suspicious staffers and cutthroat cronies.
Did one of Thorner's prickly associates plant the car bomb to end Eric's life? Clare isn't so sure, especially when questions arise about Eric himself and an "accidental" death in his past. Could this accomplished young CEO be capable of murder?
To solve this case, Clare will use her ingenuity (and her recipes). By the end of the book, you'll have taken a trip with Clare to an exclusive millionaire's club, flown with her to a bohemian Paris neighborhood, visited some of the most intriguing coffee growing regions of the world—and uncovered the dark motives behind several murders.
Because this is a "culinary" mystery, you will also have over 20 fun recipes to try in your own kitchen, including a list of Clare's secret off-the-menu coffeehouse drinks, as well as tasty foods enjoyed by the characters in the book.
To see the book's illustrated Recipe Guide, click here for a free PDF.
For new readers: While BILLIONAIRE BLEND marks the 13th book in my Coffeehouse Mystery series, you can certainly read it as a stand-alone novel. If you enjoy the characters, you can read more about them in the previous books.
To download a free title checklist of all 13 Coffeehouse Mysteries, in order, including brief story summaries, click here.
Finally, I invite you to keep in touch with me by friending me on Facebook and/or signing up for my newsletter by writing an email that says "sign me up" and sending it to CoffeehouseMystery@gmail.com.
Thanks to you all for reading my post. Good luck to you, good reading, and…
Have a delicious week, everyone!
~ Cleo
***
CLEO COYLE is the pseudonym for Alice Alfonsi, writing in collaboration with her husband, Marc Cerasini. Their latest mystery, BILLIONAIRE BLEND , earned a starred review from Kirkus, a "Top Pick" honor from RT Book Reviews, and this month Berkley is releasing the book in mass market paperback. When not haunting coffeehouses, hunting ghosts, or rescuing stray cats, Alice and Marc are New York Times bestselling media tie-in writers who have penned properties for NBC, Lucasfilm, Disney, Fox, Imagine, Marvel, and MGM. They live and work in New York City, where they not only write the bestselling Coffeehouse Mysteries but also the popular Haunted Bookshop Mysteries. To learn more, visit Cleo's website.
Leave a comment on Cleo's post today and you will be entered to win a beautiful 16-ounce "Gimme Coffee" Latte Cup and Saucer (made in Italy) and a signed copy of her Coffeehouse Mystery BILLIONAIRE BLEND in its brand new mass market paperback edition format.
Watch the Coffeehouse Mystery Series book trailer here!
To comment on Cleo Coyle's blog please click here.