My husband and I have had plenty of ups and down, and we always try to put the pain, joy, and absurd humor of our daily lives into our novels. It's one of the reasons readers tell us they've formed deep connections with our characters, especially our amateur sleuth, single mom and coffeehouse manager Clare Cosi, whose quirky adventures and complicated love life have helped us sell more than one million books in our Coffeehouse Mystery series.
With Clare now on a path to be married to her longtime boyfriend, NYPD Detective Mike Quinn, my husband and I began our Brewed Awakening story development with a conversation over (no surprise) coffee. After everything Marc and I have gone through as a couple, we wondered: What if our years together were suddenly wiped from our memories? Would we be drawn to each other again? If so, how exactly does "like" deepen into something more? When does love begin?
To tell this story, we agreed that Clare would have to suffer from a traumatic memory loss. Her damaged memory ends up wiping away years of experiences, including every single memory of Detective Mike Quinn, the man she's grown to love over our long-running series. The memory block is tied to a crime she witnessed, and she must find a way to recover clues to solving that crime, buried somewhere in her brain. The task proves to be a monumental challenge, not only for Clare, but also for the friends and family who love her, especially Mike, who is devastated when Clare no longer remembers him. During the story, he resolves to make her fall in love with him again. The question is how?
If you're a newcomer to our Coffeehouse world, don't hesitate to pick up Brewed Awakening. Every Coffeehouse Mystery can be read as a stand-alone novel. And, if you like one, you'll have many more to enjoy. But don't miss our latest, newly reissued by our publisher in a brand-new paperback format. We hope you'll find our mystery about memory to be unforgettable.
"Amid the delightfully twisty mystery, Coyle poses an intriguing question: if you lost all memory of your beloved, would you fall for him all over again?" —Publishers Weekly on Brewed Awakening
 FREE RECIPE GUIDE
https://www.coffeehousemystery.com/userfiles/file/Brewed-Awakening-Recipes-Cleo-Coyle.pdf
Cleo Coyle's newly reissued culinary mystery, Brewed Awakening, includes an appendix of recipes that will show you how to prepare the delicious foods and drinks mentioned in the story. To see, print, or download the free, illustrated guide to the book's recipe section, click here.
—
SIGN UP FOR CLEO'S NEWSLETTER: Fun contests, bonus recipes, and book news.
—
Be sure to check out Cleo's Fresh Fiction Contest, running right now! Follow the link and see instructions for how to enter. A lucky winner will win a copy of Brewed Awakening, a $25 Amazon gift card and a canvas tote bag!
—
Coffeehouse Mysteries #18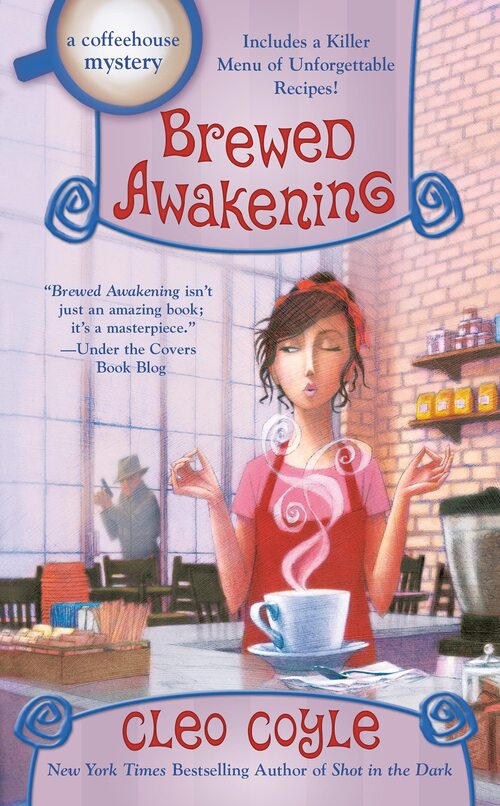 From Cleo Coyle, the New York Times bestselling author of Shot in the Dark and Dead Cold Brew, comes a delicious new entry in the "fun and gripping" (The Huffington Post) Coffeehouse Mysteries.
When coffeehouse manager Clare Cosi awakens on a bench in Washington Square Park, she has no idea she's been missing for days, or that her friends and family have been frantic with worry. Now that she's back, everyone is overjoyed, including a handsome NYPD detective who claims to be her fiancé. But to Mike Quinn's crushing distress, Clare doesn't remember him, or much of anything about the last fifteen years of her life.
Clare's missing memory is tied to a crime she witnessed. An acquaintance of Clare's elegant employer–and fellow member of an exclusive Gotham circle known as "The Ladies Who Brunch"–invited Clare to her posh hotel to sample gourmet wedding cakes. After their indulgent tasting, they headed to the parking garage, where a camera captured a masked figure with a gun confronting the hotel heiress with Clare looking on. Did the kidnapper take Clare, too? The camera went dark, just like Clare's memory. Soon authorities grow suspicious. Is Clare really a victim? Or merely acting like one? Evidence is mounting that she set the woman up.
To clear her name, Clare must find a way to reclaim her memories and rescue the heiress before this high-stakes crime ends in tragedy. Otherwise, instead of walking down the aisle, Clare may find herself perp-walking to prison as an accomplice to kidnapping and murder.
Mystery Cozy | Mystery Culinary [Berkley Prime Crime, On Sale: June 29, 2021, Mass Market Paperback / e-Book (reprint), ISBN: 9780451488893 / eISBN: 9780451488886]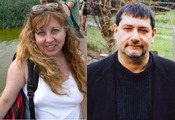 CLEO COYLE is the New York Times bestselling pseudonym for Alice Alfonsi, collaborating with her husband, Marc Cerasini. With more than 1 million copies of their books sold, Alice and Marc have written 18 entries in their long-running, critically acclaimed Coffeehouse Mystery series. Their 19th, HONEY ROASTED, is coming in January 2022 from their longtime publisher, Penguin Random House. They also write the national bestselling Haunted Bookshop Mysteries with THE GHOST AND THE HAUNTED PORTRAIT (7th in the series) recently released by Berkley Books. Alice and Marc are also bestselling media tie-in writers who have penned properties for Lucasfilm, NBC, Fox, Disney, Imagine, Toho, and MGM. They live in New York City, where they haunt coffeehouses, hunt ghosts, wrangle rescue cats, and write independently and together.