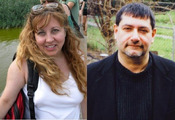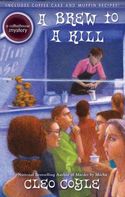 How do you keep things fresh? An important question for any author writing a long-running series.
A BREW TO A KILL is our 11th Coffeehouse Mystery, and Holiday Buzz, releasing in December, will make it an even dozen. Fresh inspiration is the key to keeping stories crackling, and my husband and I continually go to a well that never runs dry—the city where we live.
New York is also where the Coffeehouse Mysteries are set, in a quaint, landmark coffee shop that's been a part of the colorful fabric of picturesque Greenwich Village for over a century.
Our amateur sleuth, Clare Cosi, manages the place. She's a single mom, in her forties, and though her daughter is grown, she often acts as a surrogate mom to the oddball collection of young baristas in her employ.
For any author of crime fiction, New York is definitely a city that keeps on giving. Having lived here for three decades, I can tell you that it's filled with quirky people as well as criminal minds. What Marc and I see and hear on the streets of our neighborhood often inspires the twists and turns in the Coffeehouse plotlines.
The people of our city are also inspiring—from our local firefighters, who served up a powerful plot idea in ROAST MORTEM to Manhattan's culinary professionals who provided background for the gourmet restaurant scenes of FRENCH PRESSED.
The men and women of the NYPD are probably the most inspiring to us of all, which is why I'm giving away an NYPD coffee mug today, along with a beautiful, signed hardcover copy of my new Coffeehouse Mystery.
New York cops are tough guys (and gals) with larger-than-life personalities and dry, often dark senses of humor. They've seen it all and heard it all, dealing with traumas and terrors that few citizens ever experience, which is why these dedicated men and women have become models for some of the most beloved characters in our books (or so our readers tell us).
In A BREW TO A KILL, you'll meet a brand new cop, a detective from the New York City Police Department Highway Patrol division named "Mad Max" Buckman. Max works for AIS, the Accident Investigation Squad, and he becomes the biggest annoyance and the greatest ally of our amateur sleuth as she works to solve the crime of a brutal hit-and-run that takes place just outside her coffeehouse.
Publishing today, along with A BREW TO A KILL, is the brand new paperback edition of our bestselling hardcover from last year, MURDER BY MOCHA. And if you'd like to know what inspired that book, it was a trip to Brooklyn where a local chocolatier makes bean-to-bar chocolates. Observations at the shop led us to the idea of "Mocha Magic," a coffee drink that carries a little extra zip in the form of an aphrodisiac—which leads to some sexy situations as well as murder.
MURDER BY MOCHA made four year-end best mystery lists last year, and if you've been waiting for the paperback release, we hope you'll enjoy the ride—and the chocolate recipes!
Of course, our unofficial motto is "Leave the gun, take the cannoli," which means our mayhem is never complete without unmasking the bad guy and unveiling a fantastic menu. There are over 20 delicious recipes awaiting you in A BREW TO A KILL. For a sneak peek at some of them, click here.
FREE RECIPE – You can download a free, illustrated PDF of one of my recipes right now by clicking here. My (lowfat) Strawberry Shortcake Muffins are just perfect for a summer breakfast treat or coffee break snack. May you eat them with joy!
Win free coffee!
To get more of Cleo's recipes; sign up for her newsletter; enter to win free coffee from her; or learn about her books, visit her official website She runs it as an online coffeehouse.
Contest watch
Be sure to sign up for Cleo's $75 Gift Card Giveaway! Check it out on the upcoming Dog Days of Summer Fresh Fiction contest page.
Watch the Coffeehouse Mystery Trailer here
Praise for A BREW TO A KILL
4-1/2 Stars "Completely entertaining!" —Romantic Times
"A foodie's delight…and satisfyingly rich mystery." —Kirkus Reviews
"Fans of the Coffee House series will savor another serving of Clare's pluck…" —Booklist
"Coyle lavishly details an ethnically diverse New York in her lively 11th mystery." —Publishers Weekly
To comment on Cleo Coyle's blog please click here.