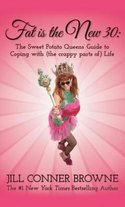 March 2012
On Sale: March 20, 2012
266 pages
ISBN: 1612181406
EAN: 9781612181400
Kindle:
B006JTTIDQ
Paperback
$14.95
Humor, Women's Fiction

Sometimes you have to laugh instead of crying!
Fat Is The New 30
by Jill Conner Browne
The Sweet Potato Queens® are back and better than ever in this, the ninth book in Jill Conner Browne's uproarious series that always looks at the brighter side of life—even during the crappy parts. Browne puts her considerable talents for smiling, waving (equally well with either hand), or doing both simultaneously to use as she doles out the advice and bitingly hysterical observations.
Adding the title of Deity of Denial (one she shares with her seester Judy) to her ever-growing list of accomplishments, she takes us all on a tour of her special brand of subterfuge. From the effective use of watermelon as an emotional slight of hand to Life in Pig Time's reminder to not waste life on the non-essential to the truth behind the Bonfire of the…Mules, the secret to life is woven expertly and subtly through every paragraph on every page: life is how you look at things. Even when it's crappy, you have the power to change it simply by changing your viewpoint.

Inspiring and funny