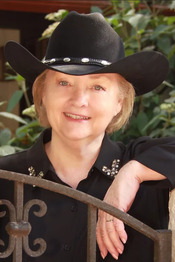 When I began writing WILD TEXAS ROSE, I felt like I was going home. My footprints were already molded into the foundation of this Historical Romance. I'd been thinking about these characters for years and finally it was time for their story. All four men in this story were damaged by the Civil War but all were going on with their lives believing they'd always be alone. This book is about friendship that always stands fast and how the love of a few women, good or bad, can change a man's life for the better.
This is my 25th Historical Romance, my 35th book and I'm still having a ball. I think what I love most about writing is discovering the characters and letting them tell me their stories. Like breathing , no two people are alike.
When I sat down in my study and traveled back to Texas in the 1800's, I began with Rose McMurray. As a child she drove everyone crazy organizing her world and as an adult nothing has changed. She's twenty-six and traveled from Whispering Mountain to Fort Worth to help a friend with her wedding plans.
From the first, Rose knows something is very wrong and of course, she sets out to correct the problem. The adopted son of her uncle, Duncan McMurray, has his hands full with a gang of killers in Dallas, but he rides over to help Rose.
As Rose builds her forces, not only the bride's life falls in dangers but so does Rose and Duncan's.
I had great fun mixing up the stories of people in this book. So often when people think they are all alone in the world they find they are surrounded by friends when trouble rides in. The love stories were also fun to write, for with the exception of one lady who took her clothes off for a living, most of the people were new to loving. On August 7th when this book hits, I'll be like a proud parent standing outside the nursery windows looking at a newborn.
Hope all of you enjoy WILD TEXAS ROSE. One person to comment will win a copy!
Jodi Thomas | Facebook | Twitter
To comment on Jodi Thomas's blog please click here.