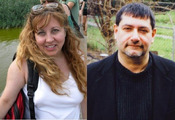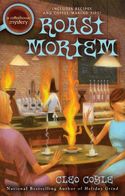 Who love pancakes? Raise your hand! I'll bet you all have special memories associated with a tall, hot stack, drenched in butter and swimming in sweet syrup. When I think of pancakes, I think of firefighters.
Why? Because although I now live in big, bad NYC, I was born and raised in a little town in Western Pennsylvania. Unlike the Big Apple's 11,000-member force of professional firefighters, my tiny town had a volunteer fire department that raised money with fish fry dinners and pancake breakfasts. (Hence that pancake connection.)
I was going to put this tasty recipe in my new Coffeehouse Mystery, Roast Mortem. The book's storyline was inspired by New York's firefighters.
Of course, we all know about the FDNY's heroism during 9/11. But I wanted to go deeper. I see these hunky, heroic guys almost every day in my Queens' neighborhood and decided to research how they work and live—the research is layered into my latest mystery.
If you're not familiar with the Coffeehouse Mysteries, watch the trailer below. I just put it together to help new readers understand the series' basic set up. What do you think? Oscar worthy?
Now for that blueberry pancake recipe! Just click this link to download it free in a PDF document.
To see some of the recipes included in my new release, Roast Mortem, a culinary-themed mystery, click here.
Want to read the Prologue and First Chapter? Click here.
You can download more of my free, bonus recipes by visiting the recipe page of my website: www.CoffeehouseMystery.com I run it as a *virtual* coffeehouse.
So click on over and join the Roast Mortem release party. I have some fun contests running now. I hope you'll join in and stay awhile—then come back again and again.
Finally, I'd like to send a big thank you to Fresh Fiction's Sharon Chance for the Coffeehouse Mystery shout-out in her wonderful Cozy Corner.
The cozy is kicking butt and Sharon really does have them covered. Lots of great reads this month—I'm so proud to be part of the lineup!
Have a tasty weekend, everyone!
~ Cleo
To comment for a chance to win please click here.