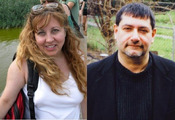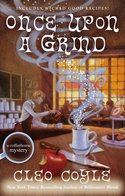 Do you have a favorite fairy tale? Mine is Cinderella, but I am no Disney princess. While I love pumpkins, I'd rather turn one into a pie, cake, or muffin than a sparkly carriage. Unlike Snow White, I've cooked more birds than sung to them, and my snoring alone disqualifies me as Sleeping Beauty.
My character Clare Cosi has the same suspicious view of perfect princesses. A single mom in her forties, Clare manages a thriving coffeehouse business and cherishes her grown daughter—the best thing to come out of her early, disastrous marriage. Now she's struggling with a second-chance relationship.
While NYPD Detective Mike Quinn is a very good man, he's also a dedicated cop—maybe too dedicated. Between his career and Clare's fear of going through the pain of a second marriage Fail, her happy ending is still a fairy tale.
At the start of ONCE UPON A GRIND, Clare is living separately from Quinn, whose expertise in narcotics has landed him a temporary position with the US Justice Department in Washington. Missing him greatly, she throws herself into her work by helping her merry band of baristas give their shop's coffee truck a Jack-in-the-Beanstalk makeover for a children's festival in Central Park (appropriate since she's running a business that lives or dies on the quality of its beans).
When she discovers a young model's body in the park's woods, the police believe "Sleeping Beauty" is the victim of a drug overdose. But Clare uncovers evidence that points to a list of suspects—from a New York Giant to a wolf of Wall Street and quite a few wicked witches.
Now Clare is really in the woods with a dangerous predator on her heels and an investigation that leads from a secret Prince Charming Club right back to her own NYPD detective boyfriend.
By the end of ONCE UPON A GRIND, you'll have taken a storybook odyssey with Clare, opening secret doors uptown and down as she solves a cold case murder that's been open since the Cold War and survives the wrath of a stone cold killer—all while coping with a cauldron of surreal visions brought on by the grinds of a mysterious coffee brewed from rare African beans.
Because the book is also a culinary mystery, you'll find more than 20 recipes to try in your own kitchen, including:
Clare's Black Forest Brownies
Silver Dollar Chocolate Chip Cookies
Cappuccino Blondies
Fryer Tuck's Ale-Battered Onion Rings
Cinderella Pumpkin Cake
Snow White Chocolate Mocha
Dr Pepper Glazed Chicken
Easy Almond Milk Custard
Inside Out Chocolate Cream Cake
And many more plus…
Madame's Guide to Reading Coffee Grinds
READ THE BOOK'S FIRST CHAPTER HERE.
SEE THE BOOK'S ILLUSTRATED RECIPE GUIDE HERE.
Note for new readers: While ONCE UPON A GRIND is the 14th title in my series of Coffeehouse Mysteries, you can read it as a stand-alone. If you like it, you will have 13 more books to enjoy. Click here to download a free checklist of every title in order, including brief story summaries.
What is your favorite fairy tale? Tell me in the comments and you will be entered to win an "Inspire Joy" necklace, hand-crafted by the Women's Bean Project (a worthy organization that works a special kind of magic helping impoverished women). You will also win an autographed copy of my new Coffeehouse Mystery in its beautiful hardcover first-edition format.
Happy holidays, everyone, and may your New Year be bright!
~ Cleo
Visit Cleo at her online coffeehouse.
Friend her on Facebook.
Follow her on Twitter.
Watch the official Coffeehouse Mystery Trailer here.
Holiday Giveaway: Don't miss Cleo's ONCE UPON A GRIND Holiday Contest with a $75.00 gift card in the prize package!
Win Coffee: Enter to win premium coffee in Cleo's weekly drawings by singing up for her free E-newsletter (recipes, contests, fun info).
Praise for ONCE UPON A GRIND
"CHARMING, VIVID, AND MEMORABLE" 4-1/2 Stars, TOP PICK! —RT Book Reviews
"FRESH AND FUN" —Booklist
A Mystery Guild Featured Alternate Selection
Hardcover and digital editions released by Penguin
Audiobook produced by Blackstone Audio
What is your favorite fairy tale?
One commenter on this post will win an autographed copy of ONCE UPON A GRIND in its beautiful hardcover edition and this hand-crafted "Inspire Joy" Necklace from the Women's Bean Project, a nationally-recognized organization that works magic helping impoverished women by teaching them job readiness and life skills needed to find and keep employment.