Angie, what's it like writing with a co-author? Is it seriously like the best thing ever?
It is seriously the best thing ever, yes! I love that we've decided to work together writing romance. I've said it before and I'll say it again: it's the most fun I've had in a long time when it comes to writing. I think my favorite part is brainstorming our books and characters! We work so well together, with each of our different strengths playing roles. Your ability to follow big picture themes and character development, and my ability to think of the smaller details and how they play into those bigger themes. It's a win-win!
Amalie, you're such a fast writer, I often wonder how you do it. What's something you have to do to gear up for a writing session? Like, major doses of espresso?
Haha, my YA editors always ask if I have clones in my basement. Confession: I might. Just kidding. I'm lucky that I do write quickly. It may not always be awesome, but that's why I have you. You keep me in my lane when I veer down ridiculous tangents. Readers, I'm not kidding. It's like SQUIRREL! Or in this case, hot guy on a horse! To gear up for a writing session, I make sure I have coffee and my playlist for these books (mostly classical). When you're writing different genres, it's hard to keep track. Playlists are essential to my process!
Angie, how do you feel about writing cuddle scenes with your best friend in the world?
Honestly, I felt really comfortable writing these romantic scenes with you right off the bat because we were already friends before we started writing together. Also, sharing the responsibility of getting those scenes just right takes the pressure off big time. People have asked me what it's like to write romantic scenes with another person, and I think that being able to giggle and laugh while we write and edit the scenes together is one of the biggest draws for co-authoring for me.
Amalie, what do you think is the best part about co-authoring with someone?
For me, the best part is the word presents. I *love* waking up to a new chapter when I open Google Docs, and then getting fired up to write because of what Angie has written. It's like the best case scenario…like a choose your own adventure historical romance novel, one that I get to write as well. What's not to love about that? Plus, Angie is brilliant. Like hardcore awesome talented. I'm one lucky co-author.
Angie, you are a terrific editor. Do you ever think "oh my god, this is a load of crap?" And if so, how do you approach it gently, given your co-author is such a delicate snowflake.
You are my most precious snowflake! I love revisions (you know that by now) and when I get into a scene you've written, I never know what to expect. I could get all excited because I can see places for me to layer in, or I can sit back and cruise through your scene without feeling the need to do anything at all. I love that we can edit each other comfortably, and when we want to change something, we can find a way to make it work. I've learned over the last few books we've written that email and Google comments don't always translate emotion well, so i also like being able to talk on the phone too!
Amalie, do you ever try to write one of your own books and miss my invaluable input?
OMG. THIS QUESTION. Seriously, it's like I'm missing half my brain when I try to write something on my own. This can't be good for my self-esteem. We're together, we're not together. What is HAPPENING? Yes, it's hard. Sometimes, I feel like a split personality, and it just feels so much better when I'm writing with you. Everything makes sense. My world makes sense. You complete me.
Angie: You had me at hello.
Amalie & Angie: *ugly crying*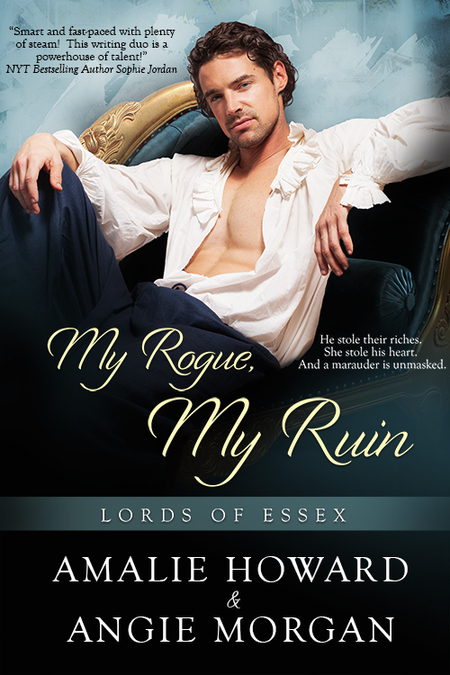 The Marquess of Hawksfield's lineage is impeccable and his title coveted, but Archer Croft is as far from his indulgent peers as he can get. His loathing for the beau monde has driven him to don a secret identity and risk everything in order to steal their riches and distribute them to the less fortunate.
Lady Briannon Findlay embraces her encounter with the Masked Marauder, a gentleman thief waylaying carriages from London to Essex. The marauder has stirred Brynn's craving for adventure, and she discovers an attraction deeper than the charming thief's mask.
Brynn is a revelation, matching Archer in intelligence, wit, and passion. Stubborn and sensuous in equal measure, she astonishes him at every turn, but when someone sinister impersonates Archer's secret personality, and a murder is committed, Archer begins to think he doesn't stand a fighting chance without her.
Romance Historical [Entangled Select, On Sale: November 21, 2016, e-Book, ISBN: 9781682813522 / ]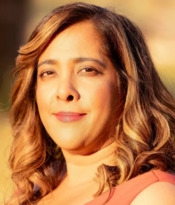 Amalie Howard grew up on a small Caribbean island where she spent most of her childhood with her nose buried in a book or being a tomboy running around barefoot, shimmying up mango trees and dreaming of adventure. 22 countries, surfing with sharks and several tattoos later, she has traded in bungee jumping in China for writing the adventures she imagines instead. She isn't entirely convinced which takes more guts.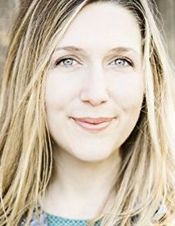 Angie is the author of several critically acclaimed young adult and middle grade books written under two other names (Page Morgan and Angie Frazier), and is now thrilled to be leaping into the world of adult romance. My Rogue, My Ruin is the first of three books in her new Lords of Essex series, co-written with good friend and fellow author, Amalie Howard. Angie lives in New Hampshire with her husband, their three daughters, and a menagerie of pets.