I loved writing COLD PRESSED MURDER, the second book in Berkely Prime Crime's OLIVE GROVE MYSTERY series, following ONE FOOT IN THE GROVE. One of the elements I'm most excited about in this second cozy mystery is the recipe section at the end of the book. Each recipe featuring olive oil is taken directly from the pages of the story. And one of my all-time, most favorite recipes was developed just for this story!
Precious Darling's Famous Cold-Pressed Olive Oil Peach Cake is to die for. It's dense, super-moist and sweet—but not too sweet. And it's deliciously satisfying, especially when topped with fresh fruit.

Happily, when I developed and tested the recipe, it was during peach season here in Virginia. So once I nailed the recipe down, I baked one final version, sliced myself a fat piece of warm cake, and slathered that puppy with fresh peaches and freshly prepared whipped cream. Not normally a cake person, I was on cloud nine devouring the fruits of my labors! Moreover, the cake tasted absolutely scrumptious the next morning when I had a piece for breakfast, topped with a medley of fresh fruit and yogurt.
Needless to say, my olive oil cake didn't last long.
<grin>
Olive Oil Improves My Old Recipes
Much to my surprise, developing olive oil recipes for my books has totally changed the way I cook, as well as the choices I make when choosing foods to eat. Moreover, I've enjoyed the challenge of tinkering with old family recipes and using olive oils instead of other fats when preparing meals. Many of my old family recipes are much improved after making my olive oil tweaks. And, yes, I've proven that one can make a delicious flaky tart or piecrust using a mild olive oil instead of butter!
And, using olive oils in both sweet and savory dishes has led me to appreciate the subtleties and differences between unique olive oil varieties and blends. Like wine, not all olive oils are the same. Not even remotely so.
For example, the olive oil that I'd use in a savory dish would not be the same oil that I'd add to a mild dish or sweet dessert. A more green, robust olive oil, like the Koroneiki variety that is high in polyphenols—the healthy, natural chemicals that give you that peppery burn in the back of your throat—pairs well with soups, salads and grilled meats. Whereas, a more delicate, mild, fruity or buttery flavored oil with little or no bitterness, like the Arbequina variety, is better suited for chicken, pasta, vegetables and even sweet dishes.
Can't Get Enough Olive Oil Ice Cream
One use for olive oil that's really surprised and delighted me has been in frozen desserts. Before the OLIVE GROVE MYSTERY series, I'd never tried olive oil ice cream or gelato. And although I understand it's a common ice cream flavor in Italy, olive oil ice cream is not readily available in my rural community. And even if I'd discovered it here, I doubt that I'd have tasted it without some compelling reason … like, authoring a culinary cozy series about olive oil! I mean, really , olive oil and ice cream? The combination sounded odd to me, to say the least!
So last year when I purchased an ice cream maker and began experimenting, making dozens of olive oil ice creams and gelatos (poor me, all that experimental ice cream—someone had to eat it!), it was my first time tasting the heavenly stuff. And it just dilled my pickle, as they say!
Now that I've come up with several of my favorite frozen olive oil treats—like Ambrosia Curry's Boozy Peach-Bourbon Ice Cream, featured in COLD PRESSED MURDER—I actually prefer the olive oil ice creams and gelatos to many frozen desserts made straight with dairy ingredients. The olive oil imbues a subtle fruitiness that that's wonderfully unique and satiating. Before my dive into olive oil, I never knew that I could crave such a delicate, distinctive flavor. And now, I can't get enough!
I hope you enjoy finding new ways to use olive oil in your recipes as much as I do!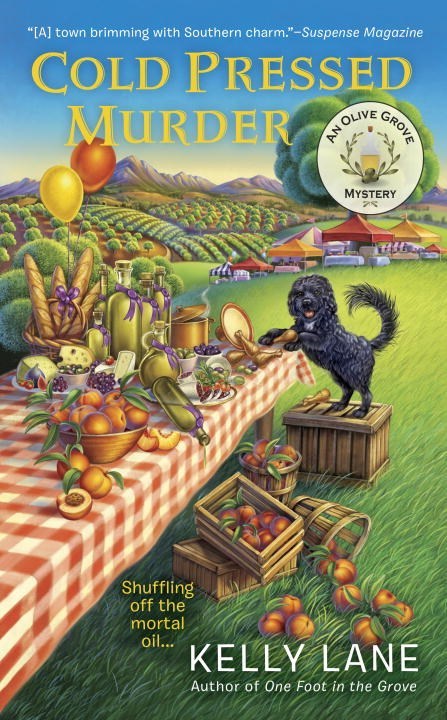 Eva Knox and her quirky Southern family are back in the second in the "intriguing"* culinary mystery series.
It's the pits for the attendees of the annual Farm Family Fare in Abundance, Georgia, when olive oil farmer Eva Knox finds herself in the middle of a murder case…
Eva and the residents of Knox Plantation are oozing with excitement over the activities planned for the Farm Family Fare. The weekend event consists of two days of tours, exhibitions, music, tastings, and, most important, cooking demonstrations with celebrity chefs from the Chow Network. The enthusiasm, however, begins to dribble away after one of the star chefs goes missing—and is later found dead in the back of a refrigerated truck.
The scandal gets messier after the police discover that Eva's sister Daphne spent the night with the victim right before he died, making her the prime suspect for his murder. It's up to Eva, with the help of her other sister, Pep, and her best friend, Precious, to track down the real killer before Daphne finds herself squeezed into handcuffs…
INCLUDES RECIPES!
Mystery Culinary [Berkley Prime Crime, On Sale: March 7, 2017, Mass Market Paperback / e-Book, ISBN: 9780425277232 / eISBN: 9780698180048]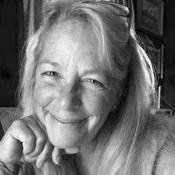 Kelly Lane lives on a farm near Charlottesville, Virginia. In addition to her work as editor and "slush pile reader" for a prominent literary agent, she has penned as a copywriter, journalist, and worked as a business writer, editor, and public relations consultant for Fortune 500 companies. Set on an olive plantation in Southern Georgia, ONE FOOT IN THE GROVE and COLD PRESSED MURDER are the first two books in Kelly Lane's OLIVE GROVE MYSTERY series published by Berkley Prime Crime. Each book includes original recipes inspired by dishes in the story.