When I'm strolling Riverwalk in New Orleans, with thick fog rolling in and the mournful toot of a tugboat off in the distance, I have every confidence that I can convincingly capture this ethereal moody image on paper – even though I don't actually live there.
I'm one of those authors who buzz in and out of cities to snatch a quick whiff of atmosphere and head-spinning locale. And I really love it that way. Because when I visit New Orleans, I'm dashing around that grand old city at breakneck speed, tasting oysters, downing an Ibita Beer while listening to zydeco music, sneaking into above-ground cemeteries, and buying potions and spells at French Quarter voodoo shops. These are all fabulous elements that come together and form a kind of author's gumbo that I can sprinkle like zesty herbs throughout my Scrapbook Mysteries.
The same goes for Charleston, South Carolina, the setting for my Tea Shop Mysteries. Charleston is another old-world city that's filled with history and mystery. They've got narrow alleys where duels were fought, Revolutionary War-era graveyards, spooky old plantations, the pounding surf of the Atlantic, and historic grande dame homes along with old Huguenot families with plenty of skeletons in the attic.
As much as I'd love to live in Charleston – though I can't afford the home prices – I think I enjoy visiting just as much. Because with each and every visit I'm able to breathe in a huge amount of atmosphere that adds to the rich settings in my books.
Settings, as you probably know, are one of the elements that add texture and character to a book. Settings also tell you a lot about a character without having to go into a long description of that character. A character's mood, outlook, and actions are just naturally flavored by the setting in which they live.
Settings can also serve as a kind of character. In my Scrapbook Mysteries, New Orleans is often portrayed as a dark, brooding place where merriment can break out at any moment. This is a city where Mardi Gras is practically a religion and your family pedigree is scrutinized as if you were competing at Westminster.
In my Tea Shop Mysteries, Charleston is often portrayed as genteel, old world, and upper crust. And I particularly enjoy creating a sense of place. I try to let my readers smell the crepe myrtle, feel the industrial strength humidity, taste the French cooking, and experience the resonance of Charleston's history.
So, no, I don't live in Charleston or New Orleans or any of the places I describe in my novels. But all my characters have settled in quite nicely, thank you. Which means my characters, settings, and stories will hopefully reside in reader's hearts as well.
All my very best,
Laura Childs
Halfway between a cozy
and a thriller – a thrillzy!
Laura Childs is the New York Times and USA Today bestselling author of the Tea Shop Mysteries, Scrapbook Mysteries, and Cackleberry Club Mysteries. PEKOE MOST POISONis her just-released Tea Shop Mystery. In Laura's previous life she was CEO of her own marketing firm, authored several screenplays, and produced a reality TV show. She is married to Dr. Bob, a professor of Chinese art history, enjoys travel, and has two Chinese Shar-Pei dogs.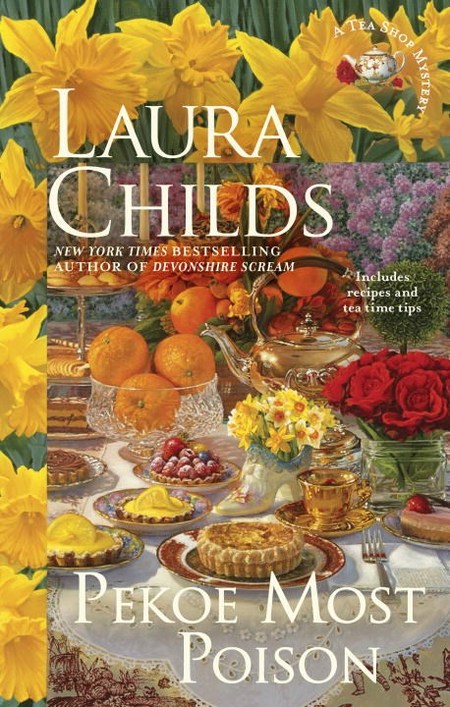 In the latest Tea Shop Mystery from New York Times bestselling author Laura Childs, Theodosia Browning attends a "Rat Tea," where the mice will play…at murder.
When Indigo Tea Shop owner Theodosia Browning is invited by Doreen Briggs, one of Charleston's most prominent hostesses, to a "Rat Tea," she is understandably intrigued. As servers dressed in rodent costumes and wearing white gloves offer elegant finger sandwiches and fine teas, Theo learns these parties date back to early twentieth-century Charleston, where the cream of society would sponsor so-called rat teas to promote city rodent control and better public health.
But this party goes from odd to chaotic when a fire starts at one of the tables and Doreen's entrepreneur husband suddenly goes into convulsions and drops dead. Has his favorite orange pekoe tea been poisoned? Theo smells a rat.
The distraught Doreen soon engages Theo to pursue a discreet inquiry into who might have murdered her husband. As Theo and her tea sommelier review the guest list for suspects, they soon find themselves drawn into a dangerous game of cat and mouse…
INCLUDES RECIPES AND TEA TIME TIPS
Mystery Cozy [Berkley Prime Crime, On Sale: March 7, 2017, Hardcover / e-Book, ISBN: 9780425281680 / eISBN: 9780698197398]