The world needs more female leaders, that's for sure. But bringing a strong female leader to life in my latest book Echoes from the Veil wasn't always easy for me. In this book my half-Fae main character Elizabeth Tanner has to learn how to trust herself and her abilities to lead a Fae rebellion. I didn't want to write a cliché "kickass female heroine," though. I wanted readers to see her development, her struggles, and her insecurities. I've recently finished Brené Brown's book Dare to Lead and she says that one of the most defining factors of a good leader is being able to lean into vulnerability. It seems a bit counterintuitive in our hyper-competitive, "show no fear" kind of leadership culture, but for Brené Brown, true leadership comes from understanding one's values, strengths, and weaknesses. It means coming to terms with fundamental truths about who we are, and in order to do that, we must make ourselves vulnerable.
In Echoes from the Veil, I wanted readers to experience that journey with my heroine as she struggles to carry the heavy mantle of leader of a resistance movement in the Faerie realm. Because she doubts herself and her abilities, she makes a crucial error early on in the novel that has catastrophic consequences. Part of her arc, though, is that she must go back in time to the legendary time of the ancient Celts in order to fetch something that might possibly save the rebellion and the universe from splitting apart. It's there she trains with an ancient Celtic warrior woman and learns how to unleash the magical power she's always possessed. Here is one crucial scene where Elizabeth takes control of her destiny:
"When you fight, you are just mirroring the moves, the things people have told you," she said. "Now it is time to fight as yourself, with all the gifts the gods have given you."
I shook my head, glancing down at my hands. How had I stopped time? Slowed down the world? A cold chill swept through my veins, and I flexed my shoulders, wondering if I could repeat that power. I glanced up at Scáthach, clutching my spear against my body as if I could hide behind it.
"But isn't that a crutch?" I said. "Like cheating?"
She let out a barking laugh. "Oh, you think this is fair? Is it fair the gods made women small and men like Cuchulainn into giants?" She pounded her chest. "What I lack in strength, I have made up with skill and precision. But you…you have a gift. Embrace it. Do not fear what you are and what you can do. That is what will ultimately defeat you. The fear."
Of course, you and I don't have access to magical Fae powers (or do we?!), but what I was trying to invoke in this scene was how important it is for us as women to not be afraid to show up with all the power and abilities we have gained through our education and experiences. We must live that truth wholeheartedly. Too often myself and other women I know hide under a kind of curtain of culturally-imposed modesty. Our confidence is mistaken for aggression or we're called "bossy" or "full of ourselves" if we dare speak up or take charge of a situation. The fear is palpable as well. So many times in the past, I shirked a leadership role because I was terrified of failing or falling short somehow. It's the fear that ultimately defeated me, not my own lack of ability.
Because this is a romance, I wanted to tell that story as well–the very true story that strong women can love and be loved. Her sexy Celtic warrior boyfriend is strong and capable, but at the end of the day, she is her own source of strength.
Aisling Chronicles #3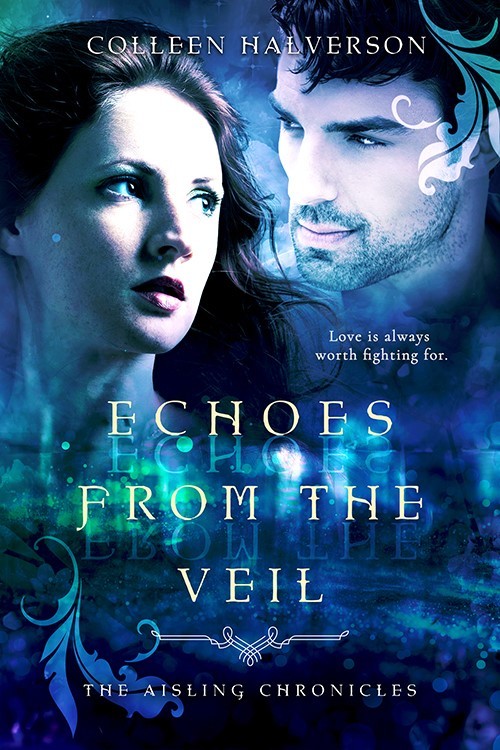 Aisling Elizabeth Tanner is now the leader of the Faerie rebellion. Facing the end of the world, she will have to find the strength to lead the Fae to victory against the threat they face, or risk losing everything, including Finn, whom she's come to love more than life.
Warrior Finn O'Connell wants nothing more than to fight by Elizabeth's side. But an ancient Celtic goddess threatens to take charge of his soul, and he will have to wage a war within himself to save the rebellion from disintegrating into chaos.
Betrayal leads them into the Fae Underworld, where Finn discovers his greatest sacrifice might be letting Elizabeth go–forever.
The Aisling Chronicles are best enjoyed in order.
Reading Order:
Book #1 Through The Veil
Book #2 Children of the Veil
Book #3 Echoes from the Veil
Romance Fantasy [Entangled: Amara, On Sale: February 24, 2020, e-Book, ISBN: 9781682815434 / eISBN: 9781682815434]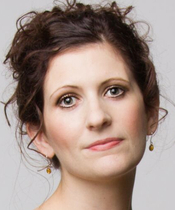 As a child, Colleen Halverson used to play in the woods imagining worlds and telling stories to herself. Growing up on military bases, she found solace in her local library and later decided to make a living sharing the wonders of literature to poor, unsuspecting college freshmen. After backpacking through Ireland and singing in a traditional Irish music band, she earned a PhD in English with a specialization in Irish literature. When she's not making up stories or teaching, she can be found hiking the rolling hills of the Driftless area of Wisconsin with her husband and two children.