I'm often asked about my writing routine. How I write. When I write. Where the ideas come from and how I get each one onto the page.
For me, ideas have never been a problem. I have too many most of the time. The trick is deciding which ones I connect with most. My characters help me with that when they show up and start talking. The loudest, most determined one always gets the most airtime inside my head, invading my creative bubble so insistently I can no longer ignore them. Sometimes, it makes for a chaotic start to my day!
One thing for sure, though, remains consistent about my writing routine. I'm a morning person, pure and simple. So when I tell people I get up at 5 AM, seven days a week, to write, I am invariably treated to incredulous looks and even a few "Are you crazy?" comments.
Maybe I am. Then again, maybe I'm just the right amount.
My imagination is alive early in the day. From the moment I open my eyes, the story I'm writing comes to life inside my mind and characters take shape and form. There's just something about a quiet house and the absolute stillness before the world wakes up that grabs and holds my attention.
When I was thirteen, I often tiptoed downstairs before the house stirred. While my family lay dreaming, I buried my nose in books about myths full of monsters. Alive in those pages were gods and goddesses, nymphs and faeries along with all things dark and scary. Those stories of old captured my attention and helped my imagination take flight.
It's no surprise then, that I write stories about a race of dragon-shifters living in secret among humans. The seed for my Dragonfury novels, and the intense group of half-human, half-dragon warriors portrayed in them, was planted in the wee hours before the sun rose, in the dark moments before dawn. While writing FURY OF DESTRUCTION, the newest release in the Dragonfury series, I found myself reconnecting with the thirteen-year-old flipping through dusty pages full of monsters and magic.
In retrospect, she never minded getting up early. And neither do I, especially when I get to slip inside a world inhabited by dragons every day.
So there you have it. How I dive into whatever story I'm working on every day. Thanks for stopping by, and please drop me a line. Anytime. I'm always happy to hear from you. Visit me on my website www.CoreeneCallahan.com and while you're there sign up for my Newsletter to get all the latest book news, access to exclusive VIP giveaways, freebies and more.
—
WICKED FUN GIVEAWAY: Comment below for a chance to win a $25 e-certificate from the book retailer of your choice, a dragon tote bag, and a signed Dragonfury bookmark.
 —
Pick up Fury of Destruction at all of your favorite book retailers: https://books2read.com/u/mBoaBk
Happy reading and good luck everyone!
In the seventh installment of Coreene Callahan's bestselling Dragonfury series, a hard-edged dragon shifter must find mercy in order to save an innocent woman's life.
A man on the warpath…
Dragon warrior Gage has earned his brutal reputation. He strikes hard and fast, killing without mercy or remorse. But with the Nightfury lair full of females and a newly adopted son to protect, his ability to focus takes a hit. When one mistake leads to another, putting an innocent woman on enemy radar, he's forced to decide—keep her safe by taking her with him or roll the dice and hope she goes unnoticed by the Razorback pack.
The woman in his way…
Samantha Redhook isn't a pushover. She floats like a butterfly and stings like a bee. But with her business failing, desperation pushes her to take a contract she normally wouldn't have, landing her in a world of trouble. Can she save the situation before things get worse or will an error judgement put an end to her dreams, and then her life?
Romance Paranormal [Oliver-Heber Books, On Sale: November 23, 2021, e-Book, ISBN: 2940162372608 / eISBN: 1230004577317]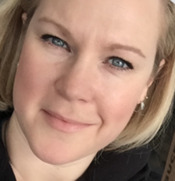 Riveting Stories. Magical Worlds
Coreene Callahan is the bestselling author of the Dragonfury Novels and Circle of Seven Series, in which she combines her love of adventure and the supernatural with her passion for history. After graduating with honors in psychology and taking a detour to work in interior design, Coreene finally returned to her first love: writing. Her debut novef Fury of Fire was a finalist in the New Jersey Romance Writers Golden Leaf Contest in two categories: Best First Book and Best Paranormal. She lives in Canada with her family, a spirited Anatolian Shepherd, and her wild imaginary world.