D is for Deputy Donut, both the cat and the shop.
E is for Emily and the exciting Brent Fyne.
C is for coffee, crime, and that cop.
K is for mistletoe—you know what I mean. (And did I mention the handsome Detective Brent Fyne?)
*
T is for tourists stranded in town.
H is for houseguests, feeling quite down.
E is for events and entertaining all 'round.
*
D is for donuts, detectives, delight.
O is for observing, overhearing, and "Oooohs!"
N is for nosing around in the night.
U is for understanding the most subtle clues.
T is for treats. (That includes mistletoe.)
S is for sleuthing, skiing, and snow.
Exclusive Excerpt from DECK THE DONUTS
Chapter 6
I turned on the bedside lamp. Dep stood with her nose against my closed bedroom door. Her tail twitched back and forth, and the fur along her spine stood up in a way that made my own hackles rise.
It was one thirty in the morning.
Who had closed the front door? Had Paige left, or had someone arrived? I always locked the door, but maybe seeing Dep on Paige's lap after I came in from parking the car had distracted me and I'd forgotten.
I flung the covers back, slid my feet into slippers, opened my bedroom door, and listened.
Across the hall, the guest bedroom door stood open, and the room was dark. I had turned off the lights downstairs before I went to bed, but now, light from the living room shined through the stair railing and lit the wall in ornate stripes between shadows of Victorian spindles.
I tiptoed downstairs. Dep trotted down more quickly but more quietly. Paige's and my winter boots were on the mat beside the door. My ski boots were missing.
The front door was unlocked. I picked Dep up, hugged her against my nightgown, and cautiously opened the front door.
Wind blew snow in on us.
"Meow!" Dep wriggled out of my arms and raced toward the stairs.
Both snow shovels were on the porch, but my skis and poles were gone. Because of blowing snow, I couldn't see as far as the street or my driveway. I could barely tell that we had shoveled. I closed the door. I almost locked it, but I hadn't thought of giving Paige a key, so I merely latched it and hoped the wind wouldn't blow it open.
I realized I'd half expected that rescue blanket to make crinkling noises when the wind was blowing in through the open doorway, but it hadn't.
The blanket was gone.
Dep was partway up the stairs, sitting on a step and holding one paw up as if she'd suddenly stopped licking snow off it. As soon as she saw me heading toward her, she meowed and bounded to the second floor.
I followed her and listened outside the guest room. I heard no snoring or other breathing sounds. "Paige?"
No one answered. I reached into the room and snapped on the overhead light. My late grandmother's quilt was pulled up over the pillows, and no one was in the bed. The rescue blanket had been folded and smoothed across the foot of the bed. Had Paige been too cold to sleep but hadn't wanted to use the spare blankets I'd offered her?
I turned out the light and went downstairs. With Dep trotting ahead of me, I padded through the living room, dining room, kitchen, and sunroom. Paige wasn't in any of them. I even turned on a light in the back, but my walled garden was solid white, and so was the air above it. I'd read too many scary stories about basements to go down there, but I opened the door, turned on the light, and looked down the stairs. "Paige?" No answer. Reassured that Paige had gone somewhere on skis and that no one else had come in, I shut the basement door and turned out all of the lights downstairs except the one that Paige had left on, the overhead fixture near the front door.
Upstairs again, I closed Dep into my bedroom with me and crawled into bed. Had Paige received a call from the hospital that made her rush over there?
Chilled and feeling sorry for her, I didn't expect to sleep, but I must have. I didn't hear the front door open and close, but I did hear the click of the guest room door as it latched. It was almost three. I considered getting up and asking her where she'd been and if Travis was all right, but if she had received bad news, I didn't want to upset her more with piercing questions. I also didn't want to leave my warm cocoon or the cat curled on my pillow next to my face.
Besides, I needed to get up in a couple of hours. Tom lived farther from Deputy Donut than I did and drove to and from work. He might not be able to make it there at the time we usually started making donuts, six thirty, but I could ski to the shop and open it for anyone who needed to come in out of the blizzard and enjoy fresh donuts and a hot drink. If Paige needed my skis again, I could walk.
The moment my alarm went off, I silenced it. The guest room door was closed, and I heard faint snoring. I took a quick shower. As usual, Dep accompanied me downstairs and into the kitchen. I fed her, ate a quick breakfast, and left Paige a note with my phone number and suggestions for breakfast and lunch. I added, I should be back before six this evening.
Ordinarily, Dep went to work with me. In warm weather, she wore a halter and walked very nicely, well, mostly, on a leash. In cold or rainy weather, I tucked her into a carrying pouch inside my parka or rain jacket. She usually positioned herself near the front door when it was time to leave.
Now, with her eyes half closed, she was sitting on the couch as if she had decided not to go near the door where wind and snow had blown in on her at one thirty in the morning. I stage-whispered, "Sorry, Dep, you're not coming today."
She didn't open her eyes. "Mew."
I put my cross-country ski pants and jacket over my work uniform of black jeans and white long-sleeved shirt. I attached a broom to the backpack I carried as a purse and slipped the backpack's straps over my shoulders. The broom's bristles stuck up above my head. From a distance in the snow, I might look like a tall person with a skinny neck and hair standing on end. My ski boots were wet, but my thick wool socks would insulate my feet and keep them toasty.
The front door was locked. I bent to prevent the broom's bristles from hitting the doorjamb, let myself out, and turned the dead bolt with my key. Except for streetlights and the Christmas lights on my porch, it was dark outside. I didn't want to take time to shovel, and besides, snow was still falling. The temperature had risen to only slightly below freezing. Although the snow was wetter and heavier than it had been when Paige and I shoveled, it was still blowing around in strong gusts of wind and heaping itself into drifts. Feeling with my feet for the stairs underneath the snow, I carried my skis and poles down to the sidewalk. The deep, wet snow on sidewalks would make skiing difficult. Still carrying my skis and poles, I trudged through a bank of plowed snow to the street. Enough snow had accumulated since the plow had passed to create a reasonable although slightly slushy base for skiing. I snapped my boots into the latches on my skis.
Pushing with my poles and gliding on my skis, I warmed up. The snow wasn't coming down as furiously as it had been when I'd looked outside after hearing Paige leave, and I could actually see the houses I skied past.
I wasn't the only one whose Christmas lights were shining before dawn. Between those lights and the decorated Christmas trees brightening front windows, the neighborhood resembled a Christmas village covered in a soft white blanket.
Farther along, on Wisconsin Street, streetlights were closer together, their brightness softened by falling snow. Tinsel garlands and lights outlined shop windows. Construction paper ornaments and cards that kids had made covered most of the inside of the library's front windows. Battery-powered but realistic candles flickered on stacks of Christmas books in the windows of the bookstore.
A man in a pickup truck was plowing the driveway to the parking lot behind Deputy Donut and other shops. I waved and skied past our sweet little donut shop. The dim lights we always left on during the night inside Deputy Donut and the streetlights outside glittered off tinsel on the big Christmas trees we'd set up in the twin front windows. Even though I couldn't see much of the shop's interior, and the lights on the trees were dark, the shop gave me a feeling of warmth and Christmas cheer.
After a long block of skiing in the street, I reached the village square. The ice sculptures were covered with heaps of snow, turning the landscape into a miniature mountain range. Although the festival's lights weren't on underneath the snow, flashlights were moving around the square, and people were calling to each other and laughing while cleaning snow off their ice sculptures.
Which was what I'd planned to do.
But I couldn't.
Frosty the Donut had disappeared.
I twisted to look all around me. My first impression had been correct. Frosty the Donut was gone.
How could a giant ice sculpture vanish during the night? Frosty the Donut had been important to Tom and me as a whimsical method of advertising our shop during the holiday season, and we'd been proud of the sculpture we'd designed. Besides, although the festival still had many fun and exciting sculptures, the loss of one of them would be a blow to everyone in our close-knit community. At least one busload of tourists had set out to see our inaugural Ice and Lights Festival, and if all went well, more visitors might come other years.
But all was obviously not going well.
In a sort of disappointed shock, I forced my skis through deep snow close to where I'd seen our ice sculpture the night before when I'd pointed it out to Paige. From the ice block at its base to the crown of its crystalline top hat, Frosty the Donut had been about seven feet high. Except for towering old oaks, nothing nearby was anywhere near that tall, but mounds of snow where Frosty had been, if stacked end-to-end, might have reached that height.
The wind swirling snow around me was not as strong as it had been during the night, but I didn't think that even at its fiercest it could have toppled Frosty the Donut. It would not have had enough surface to push against. It would have whistled through the holes in the middle of the three ice donuts representing snowballs.
I pulled my broom up and over one shoulder and used it almost like a shovel to push the uppermost layer of snow off the nearest mound of snow. The next layer was lighter and fluffier.
Sure enough, snow had been hiding Frosty's base. Surrounding Frosty's carved name on the Wisconsin Street side of the base, snow was imbedded in cracks and dents that hadn't been in that ice before the storm.
A vehicle must have slid into this corner of the square and knocked Frosty the Donut onto its back. Since then, the vehicle must have driven away or been towed, and snow had covered its tracks. The furrows my skis had made between the street and the fallen sculpture were already filling.
I pushed snow off the miniature hill beyond Frosty's base and found the edge of the largest of the three ice donuts.
It and the other two donuts were on top of something.
(c) Ginger Bolton, Kensington, 2021. Shared with permission from the author.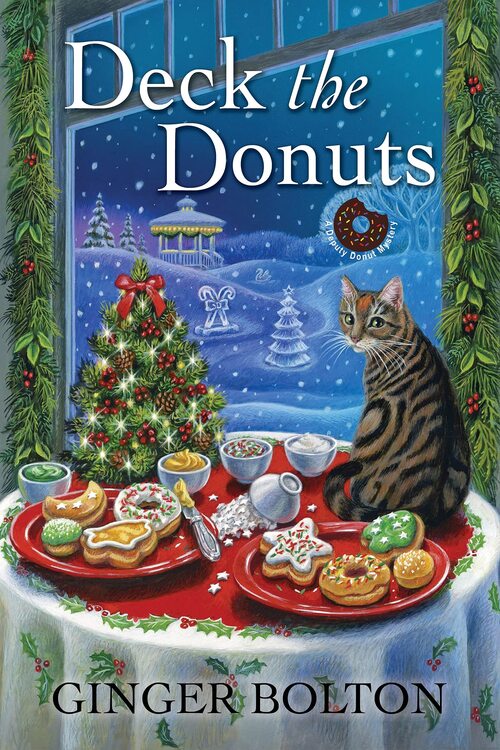 'Tis the season for the delectable desserts Emily Westhill and her cuddly cat serve up at Deputy Donut—but someone naughty on Santa's list has come to town . . .
 
It's Christmastime again in Fallingbrook, Wisconsin. Emily has truly decked the halls of her donut shop and decorated her donuts with festive designs from green and red frosting to snowflake sprinkles. For the annual Ice and Lights Festival, she's commissioned a sculpture with three ice-carved donut shapes to form a holey snowman, Frosty the Donut. She has one Christmas wish this year—to spend some time under the mistletoe with a certain detective.
But the holidays just aren't the same without an unexpected disaster or two. A tour bus on its way to the festival has crashed and a snowstorm has left all the shaken passengers stranded and shivering. Emily and her friends open their homes to shelter the traveling families, while the bus driver is admitted to the hospital for his injuries. But the following morning, Emily discovers his body—buried beneath Frosty the Donut.
The bus passengers show little sympathy for the man who dashed through the snow so badly, some claiming he was under the influence while behind the wheel. Emily also discovers that the driver had a history with folks in Fallingbrook. With multiple motives for murder piling up, it will take a Christmas miracle for Emily to solve this crime . . .
Mystery Cozy [Kensington, On Sale: October 26, 2021, Trade Size / e-Book, ISBN: 9781496725608 / eISBN: 9781496725615]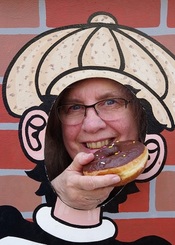 Ginger Bolton is very fond of donuts, coffee, and coffee shops that encourage patrons to linger and chat. Ginger lives in a rural area surrounded by cozy villages. When she isn't reading, writing, or daydreaming while gazing out windows, she walks her dogs, plays an electric piano (she uses earphones so as not to frighten the wildlife,) creates minor disasters in her kitchen, and has been known to take part in local amateur theater productions, which, intended or not, were comedies. As Janet Bolin, Ginger also writes the Threadville Mystery Series–murder and mayhem in a village of needlecraft shops.