I hope you've enjoyed our wonderful summer of guest bloggers at the Cozy Corner! I can't thank my fellow mystery authors enough for stopping by and sharing their great posts! Hugs to all of them for the time, tidbits, and talents they've shared with our readers!
If you've been following the Cozy Corner for long, you know I'm prone to step away from the cozy world from time to time and delve into a thriller. But not just any chilling intrigue will do. My escape from the safe, loving small town communities must take me into the intrigue and darkness of a city like Gotham with real-life multi-faceted characters. (Not men in dark masks with capes, scratchy voices and gadget belts; although they are nice on the big screen:) That's quite a tall order. Especially if I want to read an action-packed mystery layered with clues and hidden agendas all written in graphic, but clean language—a rarity in the genre.
What I really liked about the book I chose this week, was that it's actually a prequel to a series that's new to me. (Who doesn't love discovering a backlist just waiting to be devoured?!) I found exactly what I was looking for in EVERY WICKED MAN, by Steven James and have filled my to-be-read-file with the series. But then I found myself wanting to get behind the scenes and into the mind of the writer, because let's face it, a writer's mind can be fascinating, scary, seductive, bewitching and just downright fun to dive into. I hope you enjoy my interview with the man behind The Bowers Files, Steven James!
Kym: Hi, Steven! Welcome to the Cozy Corner!
Steven: Thanks for the chance to be here.
Kym: When did you know you wanted to write thrillers?
James: Man, I'd say it was when I was overseas in India teaching writing in 2003 or so. I read a thriller and I was so frustrated with it that I literally threw it against the wall of the hotel room. I thought I can write better than that! And then a voice in my head said, "Oh, yeah? Prove it." And that was it. For better or worse I was on the path to writing thrillers of my own.
Kym: You've taught writing and storytelling on four different continents. Did your lesson plan change with your location, or was your message the same with a few minor tweaks?
James: Storytelling is universal. Wherever I go I emphasize that at the heart of a story is tension, and at the heart of tension is unmet desire. So, at its core, a story is not so much about what happens as what goes wrong, and it's not so much about what a character does as what he pursues. This idea of pursuit translates into stories all over the world.
Kym: You have a podcast, www.thestoryblender.com., and you interview other storytellers from film, print and the web. Your guest list is an eclectic group of individuals with fascinating backgrounds and careers. What interview stood out for you as a learning moment in your writing?
James: The one that jumps to mind first is my interview with Sue Grafton last year. She had so much wit and down-to-earth wisdom that I could have listened to her chat about the craft of writing all day. It was a shame that she passed away. Thankfully her insights and stories continue to live on.
Kym: I have to agree with that. She will be greatly missed by all mystery authors and readers alike. Your latest book, Every Wicked Man, is the eleventh in your Bowers Files novels. What do you think has made this series so successful?
Steven: Truthfully, even though the stories are high-action and high-suspense, I keep hearing over and over from readers that what really draws them into the series is the relationship between the main character, FBI Special Agent Patrick Bowers, and his surly but whip-smart teenage stepdaughter Tessa. I think that people see, in the struggles that Patrick and Tessa have connecting with each other and being there for each other, that there's a deep, resonant, emotional core to the series. The books are intelligent cat and mouse thrillers with heart.
Kym: If you looked in the mirror and saw Patrick Bowers, what would you have in common with him? What would be a stark difference between the two of you?
Steven: Ha. Well, interestingly enough I've never described his face or his hair or eye color—anything like that. I've wanted to leave that up to the imagination of readers. So, physically, I can't really say what we have in common, other than that we're both around the same height at 6'3″. We both like rock climbing (although he's much better at it than I am), and he's better at using logic to solve crimes than I am too. Huh. So, the more I think about it, he's better at pretty much everything that I like than I am. Most striking difference? He is aging much more slowly than I am.
Kym: LOL, aren't they all! I'd hoped, however, to trip you up and get a peek at Patrick in the mirror! The three novels of The Bower's Files: The New York Years, are actually prequels to The Bowers Files. What made you go back in time to write the three evocative novels?
Steven: After I wrote the 8-book series of books popularly known as The Chess Series (OPENING MOVES, THE PAWN, THE ROOK, THE KNIGHT, THE BISHOP, THE QUEEN, THE KING and CHECKMATE), my publisher wanted to continue the series, but there was really nowhere to go after CHECKMATE. So, I decided to go back in time and write a spinoff series that happened before THE PAWN and tell the stories about Patrick and his first wife, Christie. And I'm glad. EVERY CROOKED PATH, EVERY DEADLY KISS and EVERY WICKED MAN are some of the most stirring and memorable stories in the series.
Kym: What is your favorite moment in or aspect of The Bowers Files?
Steven: I'm not sure I can pinpoint a favorite moment—each book has scenes that I find resonant or memorable and each book holds a different place in my heart. I would say that one of my favorite aspects of the books comes from seeing Patrick tackle moral dilemmas that intrigue me. For instance, trying to discern what's more important, truth or justice; working through depression; or examining the evil that runs through each of our hearts. Rather than just being crime novels, they are stories that delve deeply into exploring vital aspects of human nature.
Kym: What's next for you after Patrick Bowers?
Steven: For now, I'm writing a near future thriller that will release next year. Then, we shall see where the muse leads me…
Kym: Thank you for joining us on Fresh Fiction's Cozy Corner.
Steven: Great to be here. Thanks for inviting me!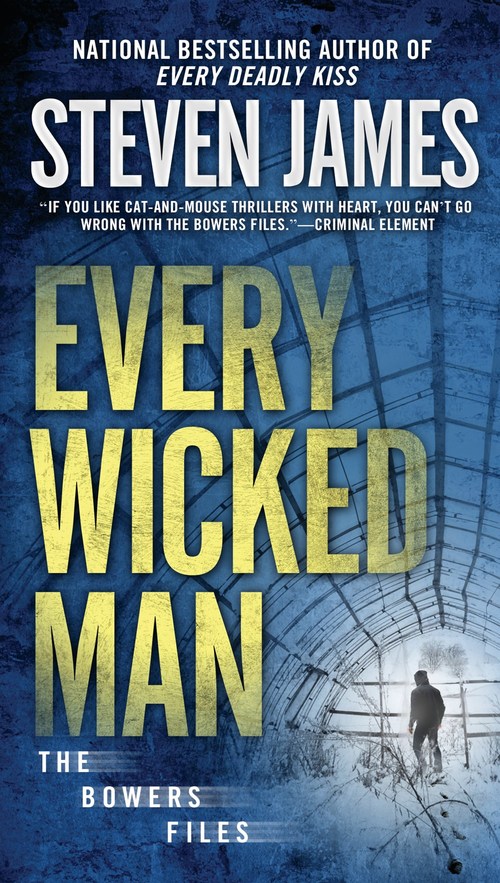 A criminal mastermind's chilling terrorist plot forces FBI Special Agent Patrick Bowers to the brink in the latest thriller from bestselling novelist Steven James.
When a senator's son takes his own life and posts the video live online, Agent Bowers is drawn into a complex web of lies that begins to threaten the people he loves the most. As he races to unravel the mystery behind the suicide and a centuries-old code that might help shed light on the case, he finds a dark pathway laced with twists and deadly secrets that touch a little too close to home.
A fast-paced, intelligent thriller, Every Wicked Man will have readers racing through the pages to its thundering conclusion.
Thriller [Berkley, On Sale: September 4, 2018, Mass Market Paperback / e-Book, ISBN: 9781101991596 / eISBN: 9781101991602]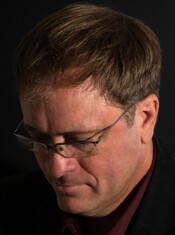 Steven James is a national bestselling novelist whose award-winning, pulse-pounding thrillers continue to gain wide critical acclaim and a growing fan base.
Suspense Magazine, who named Steven's book THE BISHOP their Book of the Year, says that he "sets the new standard in suspense writing." Publishers Weekly calls him a "master storyteller at the peak of his game." And RT Book Reviews promises, "the nail-biting suspense will rivet you."
Equipped with a unique Master's Degree in Storytelling, Steven has taught writing and storytelling on four continents over the past two decades, speaking more than two thousand times at events spanning the globe. In his podcast "The Story Blender," he interviews leading storytellers in film, print, and web. Listen now to any of the dozens of archived podcasts for free by visiting his website www.thestoryblender.com.
Steven's groundbreaking book on the art of fiction writing, STORY TRUMPS STRUCTURE, won a Storytelling World award. Widely-recognized for his story crafting expertise, he has twice served as a Master CraftFest instructor at ThrillerFest, North America's premier training event for suspense writers.
Respected by some of the top thriller writers in the world, Steven deftly weaves intense stories of psychological suspense with deep philosophical insights. As critically-acclaimed novelist Ann Tatlock put it, "Steven James gives us a captivating look at the fine line between good and evil in the human heart."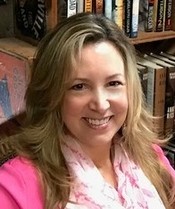 Kym Roberts is a retired detective sergeant who looks for passion, mystery and suspense in every book she reads and writes. She can be found on the web at kymroberts.com, on Facebook at @KymRoberts911author and on Twitter @kymroberts911. You can also listen to her new podcast Romance Book Chat with Kym and Misty on iTunes, Stitcher & more. Kym's latest Book Barn Mystery, LETHAL LITERATURE, released in May and KILLER CLASSICS, Book Barn Mystery #5 is available for pre-order now! If you'd like to meet Kym, she'll be at Fresh Fiction's Readers & ritas November 9-11, 2018 in Allen, Texas.