Have you been to San Francisco? What about Napa Valley, or Muir Woods? If you haven't, then I encourage you to pick up a copy of MEET ME IN SAN FRANCISCO.
It's the second book in my Girls Weekend Away. The first book came out in July WHAT HAPPENS IN VEGAS, THE NASHVILLE BET comes out in December and we have to wait until Valentine's Day next year for A MATCH MADE IN MONACO.
If you haven't read the first book, don't worry, because each book was written as a standalone with interconnecting characters. So you can read them in any order, although I would recommend reading the last book last.
I went to San Francisco in 1998, with my mom. And I must say I think I left my heart there. I fell in love with San Francisco, or the City as they call it, and never San Fran I was told. Mom and I did some wonderful sightseeing, including Muir Woods. I loved it so much I simply had to put it in the book. I hope I captured the essence of the place. Even if it was only a little bit of what it was like to walk through those majestic trees, it might give you a sense of being there. The scene on the trolley is taken from my trip with mom, and yes, it almost happened to her too! I visited again for another and different conference in 2010, I managed to walk through Chinatown and have lunch on the Wharf. I wish I'd had more time and one day hope to go back.
Without giving away too much of what happens in the book, there are a number of other places the hero takes the heroine to help her try and rediscover herself while deepening their relationship.
I don't think this is a spoiler, but one thing I didn't put in the book which I actually did experience in 1998, was an earthquake. A 5.4 magnitude. At 7:09 one morning, I heard the strangest rumbling and squeaky sound. It took me a few minutes to figure out what was going on and I yelled at my mom "we're having an earthquake!". She jumped out of the bed with the TV clicker so she could check the news. I will admit I was rather freaked out. I live just outside Toronto, so we are on the wrong tectonic plate for any significant earthquakes. Respect to you Californians that experience earthquakes as much as you do.
I put the links below for you, that will take you straight to MEET ME IN SAN FRANCISCO, and also to good reads as I would be very appreciative if you marked the book to be read or, if you have read the review would be very much appreciated.
I hope to see you on release day on social media. I will be posting, tweeting, and on Instagram.
Girls Weekend Away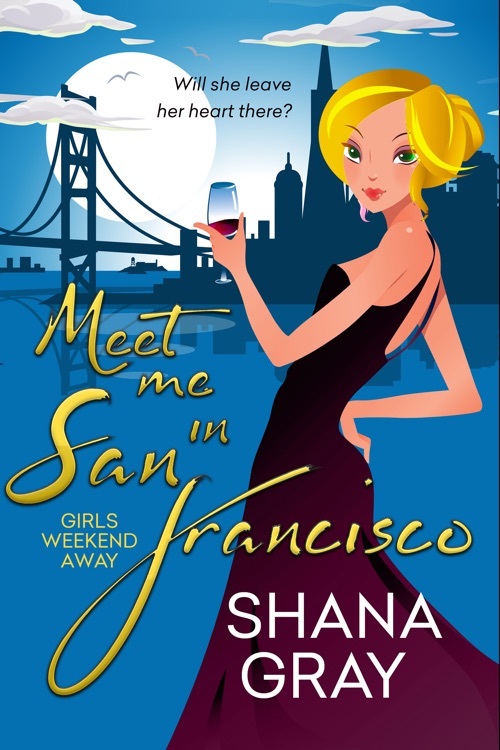 In the second warm, funny and romantic novel in the Girls' Weekend
Away series, four best friends embark on the ultimate girls' getaway
filled with hijinks and a sprinkling of romance. For any fan of
Bridesmaids and Sex and the City and readers of Jo Watson, Lauren
Layne, Joanna Bolouri and Cate Woods.
The single mom…
When Celia Fox's ex-husband serves her with custody papers during
the same weekend he's getting remarried, she expects things to go
downhill from there. So when her best friends show up to whisk her
away for a girls' getaway to San Francisco, it's just what the doctor
ordered. Add in the chance to see Landon Bryant again, and she can't
wait for the weekend to begin.
And the playboy millionaire…
Landon and Celia shared stolen moments of passion in Vegas, and
Landon hasn't been able to stop thinking about her since. He knows
she's under pressure to hold her family together, but he's determined
to prove he's there for her – and that she deserves some fun of her
own.
Are about to get wild.
As Celia rediscovers who she used to be and her relationship with
Landon deepens, she begins to believe he's someone she can rely on.
But Celia has been keeping a secret from everyone – if the truth comes
out, will they play it safe or take a leap of faith?
Look for the other Girls' Weekend Away novels, including What
Happens In Vegas!
Romance Contemporary [Entangled, On Sale: September 25, 2018, e-Book, ISBN: 9781640636880 / ]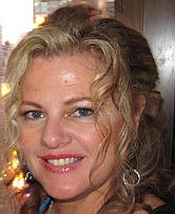 Shana Gray writes contemporary romance and womens fiction that just might make you laugh. Her books can be found at Headline Eternal Romance, Entangled Publishing, Harlequin Blaze, and Random House Loveswept, she is also an indie author. Her international top seller, WORKING GIRL is available in six languages. A mom of two grown sons, a future daughter-in-law, and was adopted by her black cat, she lives in a small town in Ontario, Canada. When she's not writing or at the day job, she spends time with her family, menagerie of pets, enjoying a fine red or rose wine and is always eyeing travel plans ready to fly off at the drop of a hat to experience the beauty of the world around us.