As an author, there's nothing more gratifying than meeting readers who take interest in and appreciate your writing. As a reader, there's nothing more fascinating than meeting your favorite authors, then being introduced to more authors whose work is new to you. As an author who reads religiously, the combination of those two things is heaven…especially when the event is hosted by an indy mystery/thriller bookstore like the Poisoned Pen in Scottsdale, Arizona!
That's what last weekend was for me. Pure bliss. A meeting of mystery authors from my publishing house that had stars shining down on it. I got to sit behind the scenes and chat with fascinating individuals who bring the world of mystery to life with their intriguing experiences. And after that, we got to meet readers and chat about our writing and just life in general.
You never know what stories will come forward. Like the author who went out target shooting in the desert with a bunch of men she barely knew…and then she stuck one of their guns in her rib cage because she wanted to be able to describe the feeling in her book! Now there's a story that could quickly be turned into a murder mystery;) Or the other author who's a musician but doesn't talk about his former life…what secrets is he hiding? Maybe the author who worked in the IT world with top-secret software…was there a Jane Bond in our mix? I should also warn you about the unassuming gentleman at the dog park, oh how your comments are inspiring the next great mystery!
Inspiration is all around us, even in the authors we meet. Here's a quick peek at some of the authors who will be visiting the Cozy Corner in the year to come, but don't make assumptions the authors with the secrets could be center stage or hiding from view;) Enjoy!
(left to right, Kym Roberts, Tamara Berry, Lynn Cahoon, Diana Freeman, & Jessica Ellicott)
Seances are for Suckers by Tamara Berry
When something goes bump in the night . . . it's most likely a plumbing problem, or something equally mundane. But fake medium Eleanor Wilde is happy to investigate and cleanse your home of spectral presences—for a fee. Hey, it's a living . . .
Ellie has an ailing sister to care for, and working as a ghost hunter who doesn't believe in ghosts helps cover the bills for both of them. When she's lucky, it also pays for the occasional tropical vacation. Her brother doesn't exactly approve, but Ellie figures she's providing a service. On her latest job, though, she may be in for some genuine scares.
The skeptical, reserved, and very rich Nicholas Hartford III has flown her all the way to his family's ancestral estate in England—supposedly haunted by a phantom named Xavier. Nicholas thinks it's all just as much a crock as Ellie's business is, but the fact remains that something is causing the flashes of light, mysterious accidents, and other apparent pranks in the chilly, eerie castle. His mother is sure that Xavier is real, and he's willing to employ Ellie if she can get to the bottom of it and put a stop to the nonsense.
While the food and accommodations are somewhat disappointing (dorm-room furniture? Really?), Ellie is finding it an adventure to get to know this eccentric family and their houseguests and to poke around in the nearby village for clues. But when an actual dead body appears—and subsequently disappears—at Castle Hartford, she'll have to apply her talent for trickery and psychological insight to solve a flesh-and-blood murder.
Of Murder and Men by Lynn Canon
Love is in the air in Aspen Hills, and it's making a terrible mess of Cat Latimer's writers' retreat—especially when blood stains the plot… 
Ever since her business partner, Shauna, fell for a wealthy landowner in town, Cat has been working double time to keep her writers' retreat running. And with the January session almost underway, that spells trouble. As if scheduling mishaps aren't disastrous enough, Shauna skips out on kitchen duties one morning, forcing Cat to serve unsuspecting guests store-bought muffins…
But best-laid plans really go awry when Shauna discovers her beau missing from their bed. When his body later turns up in the horse barn, they quickly find out the victim's scandalous lifestyle left many dying for revenge. While balancing an eccentric group of aspiring writers and a suspect list for the record books, Cat soon finds herself on the heels of a killer—and authoring her most deadly conclusion yet…
A Lady's Guide to Etiquette and Murder by Diane Freeman
In this exciting historical mystery debut set in Victorian England, a wealthy young widow encounters the pleasures—and scandalous pitfalls—of a London social season…
Frances Wynn, the American-born Countess of Harleigh, enjoys more freedom as a widow than she did as a wife. After an obligatory year spent mourning her philandering husband, Reggie, she puts aside her drab black gowns, leaving the countryside and her money-grubbing in-laws behind. With her young daughter in tow, Frances rents a home in Belgravia and prepares to welcome her sister, Lily, arriving from New York—for her first London season.
No sooner has Frances begun her new life than the ghosts of her old one make an unwelcome appearance. The Metropolitan police receive an anonymous letter implicating Frances in her husband's death. Frances assures Inspector Delaney of her innocence, but she's also keen to keep him from learning the scandalous circumstances of Reggie's demise. As fate would have it, her dashing new neighbor, George Hazelton, is one of only two other people aware of the full story.        
While busy with social engagements on Lily's behalf, and worrying if Reggie really was murdered, Frances learns of mysterious burglaries plaguing London's elite. The investigation brings death to her doorstep, and Frances rallies her wits, a circle of gossips, and the ever-chivalrous Mr. Hazelton to uncover the truth. A killer is in their midst, perhaps even among her sister's suitors. And Frances must unmask the villain before Lily's season—and their lives—come to a most unseemly end . . .
Murder Flies the Coop by Jessica Ellicott
One would hardly call them birds of a feather, but thrill-seeking American adventuress Beryl Helliwell and quietly reserved Brit Edwina Davenport do one thing very well together—solve murders . . .
Sharing lodging in the sleepy English village of Walmsley Parva has eased some of the financial strain on the two old school chums, but money is still tight in these lean years following the Great War. All of Beryl's ex-husbands have proven reluctant to part with her alimony, which is most inconvenient.
So when the local vicar—and pigeon-racing club president—approaches them with a private inquiry opportunity, the ladies eagerly accept. There's been a spot of bother: the treasurer has absconded with the club's funds and several prized birds.
Beryl and Edwina hope to flush out the missing man by checking his boardinghouse and place of employment at the coal mine. But when they visit the man's loft, they find their elusive quarry lying in white feathers and a pool of crimson blood, stabbed to death—the only witnesses cooing mournfully.
After a stiff gin fizz, the ladies resume their search for the missing funds and prized birds—and now a murderer. Beryl and Edwina aren't shy about ruffling a few feathers as they home in on their suspects. But they had better find the killer fast, before their sleuthing career is cut short…
Until next week when you meet the other authors who visited The Poisoned Pen, get cozy and read on!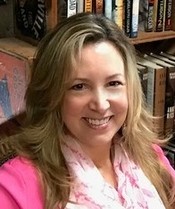 Passion. Mystery. Suspense. Catch the Wave! Because a little PMS can change your world!
Kym's love for action an adventure goes all the way back to her childhood when a special spy ring guided her and her young pack of sleuths to the henchmen hiding in their neighborhood. Armed with a badge and the best equipment a few pennies could buy, she's carried that code of honor through adulthood and learned some juicy tricks along the way. 😉 Although she retired her special shield that's tattooed upon her heart, you might catch her wearing that ring when another secret mission calls her name!
Her humor is often raunchy, her jokes are often bad, but her hunger for a story keep the adventures coming fast. So Catch the Wave of passion, mystery and suspense—with some stupid author tricks along the way;)