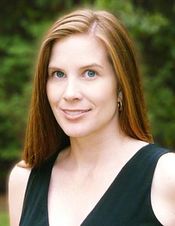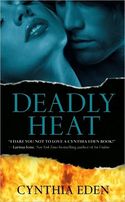 Hi, everyone! It's great to be blogging at Fresh Fiction today.
I have a secret to confess.  I have a dark side. Very dark.  When folks look at me, I've often been told I look (at least) semi-sweet and fairly innocent.  Ha. Such a lie. Maybe it's the soccer mom persona that fools them.
When I'm alone and I'm writing, that sweet act vanishes.  Instead, I let the darkness out.  That darkness really came out when I wrote my "Deadly" romantic suspense series for Grand Central Publishing. In those books, I jumped right into the minds of serial killers.
My husband worried that I was a bit too comfortable writing from the killer's perspective. Actually, I still think he worries that—I've seen the suspicious glances that he gives to me.
However, it's not just my villains who have such a lethal edge. Instead, my heroes and heroines often have some rather lethal characteristics, too.  In DEADLY HEAT, my heroine is a fire fighter. Lora can't be afraid of death—she faces it every day.  But when her lover is killed in a blaze, the desire for vengeance consumes her, and it's that lust for revenge that creates the shadows that surround her. As for Lora's hero, FBI Special Agent Kenton Lake…well, his life *is* killers. He tracks serials, night and day, and he doesn't really even think about the future—about that whole picket fence and dog life-style. At least, he doesn't think about it until he meets Lora. Then he wonders if there might be more to the world that just darkness.
When I read (and write) books, I don't look for easy stories. I liked twists, I like turns, and I like for my characters to fight for their happy endings.  Sure, they have to walk through some dangerous times, but the good thing about a romance novel? Well, I can guarantee that no matter what they face, my hero and heroine will live happily ever after.
So give me some danger. Give me the darkness. Don't be fooled by any unassuming exteriors. We've all got a bit of darkness inside us.
Besides, the thrill of danger can just make love that much more intense.
Now you tell me…how do you like your romance novels? With a dark edge? Humorous?  What types of books do you enjoy? One commenter will be picked at random to win a copy of DEADLY HEAT.
Thanks for checking out my post!
www.cynthiaeden.com
DEADLY HEAT—Available 1/25/11 from Grand Central Publishing
DEADLY LIES—Available 3/1/11 from Grand Central Publishing
To comment on Cynthia Eden's blog please click here.