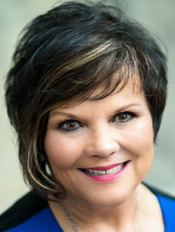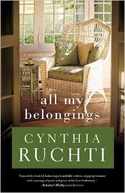 Most novelists walk through life collecting stories and scenes and breath-stealing words like black knit pants collect cat hair. We can't walk through a room or a day without something landing and sticking.
When I sat down to write ALL MY BELONGINGS, I drew heavily on those stick-forever moments.
The main character in ALL MY BELONGINGS, Becca, is a selfless caregiver. Even when rebuffed, shamed, and unappreciated, she kept caring. As I wrote scenes of Becca's patience and kindness toward a woman who couldn't remember her cherished son and flitted seamlessly from reality to a non-existent ballet class, I realized I was writing Becca as the caregiver I wish I'd always been for my kids, my husband, my grandkids, my mother…
Some of Becca's actions seemed so familiar. Where did they originate?
Long ago, I visited an elderly relative in a nursing home. When she motioned for the nurse to take her to the bathroom, I stepped into the hall, but couldn't help overhearing the nurse talking low and sweetly to the woman. "Bernice, why don't I get you a dry pair of panties? You'll feel so much better." Tenderness laced every word that came from the caregiver's mouth.
At ten years old, my daughter broke her leg her first time skiing the bunny hill. It was the era of heavy plaster casts and awkward crutches. The school bus driver descended the bus steps every morning to lift her into the bus. God bless him.
As my mother entered hospice care, I watched gifted caregivers make her feel like a family member rather than a patient. I listened as they did everything they could to respect her opinions and requests. Sometimes they had every right to be frustrated or irritated. But they served my mother with a gentleness that brings tears to my eyes these four years later.
The short-tempered nurses and impatient wheelchair pushers and those who respond to dementia with anger—though in the minority—helped form the opposite traits in Becca. As I've walked through life, snippets of scenes and memories of conversations, odors, facial expressions, and bone-weariness collected in my subconscious. I couldn't have known then that they would inform Becca's character and her story.
Today at a store I observed a young teen hold a door open for an elderly couple moving at a snail's pace. I expected to see him sigh when his act of kindness took far longer than he might have imagined. Instead, I watched as the teen rushed ahead to the next set of doors to hold those open, too. With a genuine smile on his face.
I wonder in what future novel that scene will find a home.
To comment on Cynthia Ruchti's blog please click here.