The Daily Dose
Smattering of Romance, Paranormal, and General Observations


Last week, the The Daily Dose gave away Rosemary Clement-Moore's THE SPLENDOR FALLS, this week we're offering the trilogy that earned Rosemary a RITA during the recent Romance Writers of America national convention. Her trilogy of books focusing on Maggie Quinn, a high schooler with a gift, a grandmother, stable parents and a hot young grad student who's interested in her.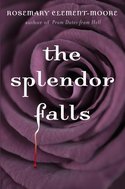 The young adult series begins with PROM DATES FROM HELL where Maggie struggles with her awakening gifts and senior year (and not necessarily in that order). HELL WEEK follows Maggie through her first semester at college and the infamous hell week associated with pledging a Greek house. The third and final installment in her Girl vs. Evil trilogy is HIGHWAY TO HELL and a Spring Break gone awry.
These books are laugh out loud funny, deliciously written and terrifically engaging. All three are autographed by the author and available as a gift to the person you nominate. Learn more about these terrific books: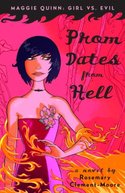 From School Library Journal: Under normal circumstances, Maggie Quinn would want nothing to do with the vicious, elite clique at her high school. But when the jocks and their girlfriends start falling prey to a series of situations ranging from embarrassing to potentially fatal, not to mention reeking of sulfur, the school newspaper reporter can't ignore the story.
In addition to being a Nancy Drew wannabe, Maggie has inherited her grandmother's sixth sense, as evidenced by the demon appearing in her dreams. Although she is initially reluctant to believe that anything supernatural is going on, her partnership with a paranormal-studies college student who is in one of her father's classes eventually leads her to a salt-throwing showdown with the demon and his minions at her senior prom. Maggie's transformation into a butt-kicking demon hunter is well drawn as is the budding romance with her partner. The pair launch into a routine set of investigations to reveal a weak backstory accounting for the origins of the demon that will not compel readers to suspend disbelief. The main draw of this book, however, is Maggie's sarcastic tone, which is dripping with wit on nearly every page. Sharp writing and a satirical portrayal of the high school social scene make this an enjoyable read in the vein of "Buffy the Vampire Slayer."—Emily Rodriguez, Alachua County Library District, Gainesville, FL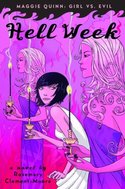 "[Teens] will devour Hell Week."—School Library Journal
Maggie Quinn has battled an ancient demon, faced down psychotic cheerleaders, and saved her best friend from certain death, but nothing can match this. Formal sorority recruitment, otherwise known as rush.
And after facing hellfire, infiltrating sorority rush should be easy. But when she finds a group of girls who are after way more than "sisterhood," all her instincts say there's something rotten on Greek Row. And when Hell Week rolls around, there may be no turning back.
"Maggie's snarky humor and quirky personality keep this novel's first half light, but the second takes a dark page-turning twist as Maggie is forced to figure out the ancient source of the sisters' power."—Kirkus Reviews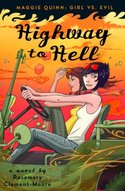 Maggie Quinn was expecting to find plenty of trouble with Lisa over Spring Break. Give a girl a bikini, a beachfront hotel, and an absent boyfriend, and it's as good as a road map to the dark side. But Maggie doesn't have to go looking for trouble. Trouble has started looking for her. One dead cow and a punctured gas tank later, she and Lisa are stuck in Dulcina, Texas—a town so small that it has an owner. And lately life in this small town hasn't been all that peaceful. An eerie predator is stalking the ranchland.
Everyone in town has a theory, but not even Maggie's psychic mojo can provide any answers. And the longer the girls are stranded, the more obvious it becomes that something is seriously wrong. Only no one—not even Maggie's closest ally— wants to admit that they could have been forced on a detour down the highway to hell.
The Rules
1. You comment on the blog in order to be entered into the drawing. 2. You must include whom you want to give the gift too. You do not have to name names or post their email information, just a short blurb about what they mean to you or why it's important they receive it. You can be a real secret Santa as well. 3. Each drawing will last 24 hours unless otherwise noted. (7 a.m. to 7 a.m. CST) 4. Winners will be notified by email so make sure I have that or access to it via your profile. Upon notification, you let me know whom the gift is going to. 5. You may only win one giveaway, once you win one you cannot enter into anymore. 6. Spread the holiday cheer for everyone celebrating Hannukah, Kwanzaa, Yule, Christmas and more.
Let Rosemary Clement Moore and the The Daily Dose be a part of your holiday plans. Enter to win these fantastic books for someone you love! Entries close at 7 a.m. Central on Tuesday, December 8.
---
A lifelong writer turned author, Heather Long's first book Remembering Ashby is available for purchase at Sapphire Blue Publishing. Coming soon is the urban fantasy: Prime Evil. The Daily Dose explores books, television, writing and more — all topics that Heather enjoys.
NOTE: all comments here will be included in the Daily Dose giveaways so you can leave your nomination [CLICK HERE] or on the Daily Dose blog. If you comment and nominate someone on the Fresh Fiction page for the Daily Dose you'll also be entered in our special Secret Elf sweepstakes, the winner will receive a $25 Amazon Gift Certificate and the person they nominate will also receive a $25 Amazon Gift Certificate on December 20th.
>