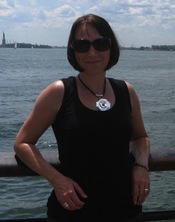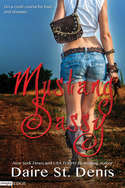 As I writer, I use music all the time to help me set a scene. It's critical because, let's face it, I'm often writing alone while still in my jammies, hair sticking up and wearing a non-flattering, fluffy pink housecoat. Yep. Pretty glamorous. So, imagine trying to write a really angsty or emotional scene while your kitten is all snuggled up in your lap, cozy-like. Or, trying to write a sexually charged scene while your kids watch Sponge Bob in the other room. It's not going to happen.
What I have to do is pop in my ear buds, find an appropriate song and play it – over and over and over again until it consumes me. If it's an upbeat scene, I listen to dance music with a fast tempo, catchy lyrics and repetitive chords. Sometimes I even have to get up and dance around for before sitting down to write (this is not pretty – thank God I do it in the privacy of my own home). The slower tempo of ballads accompanied by acoustic guitars and pianos evoke the kind of sadness and melancholy I need to write heartbreak/achy scenes. And, the screaming electric guitars and frenzied drum beats of heavy metal or punk make is perfect for fight scenes or really aggressive scenes.
In Mustang Sassy, which was inspired by the song, Before He Cheats, by Carrie Underwood, the first scene has the heroine, Sass Hogan, catching her boyfriend playing tongue-tango with another woman on the dance floor of the local saloon. Sass pays him back by taking a tire iron to his '67 Mustang Fastback and really doing a number on it. I don't know how many times I listened to the song while writing that scene, the music conjuring up long buried emotions from years ago when I discovered my own boyfriend cheating. How the hurt and rage of discovery might lead to such a destructive act and would feel so good…in the moment. And then afterwards, when sanity and scruples returned, how horror and confusion would set in.
In another recent book of mine, HOW TO DEBAUCH A BIKER (part of the Riding Desire boxed set) there's a bittersweet scene where the hero and heroine know they have limited time together. I must have listened to Stay, by Sara Bareilles about a million times while writing that scene because the lyrics (Oh I don't wanna cry, I know we'll get to tomorrow and say goodbye) and plaintive notes in Sara's voice were so perfect for that scene. In another book, SEX, SPIES AND PHOTOGRAPHS, the hero is a French photographer and I listened to Toi et Moi by Guillaume Grand obsessively. Actually, I watched the video because I love Guillaume's scruffy look, hazel eyes and gravelly voice. D-Lish!
So, what about you? Do you have a go-to song you listen to when you're sad? Happy? Need to clean the house? What is it? I'd love to hear from you.
Two commenters with their to-go-to songs will win a digital copy of MUSTANG SASSY
When Sass Hogan catches her boyfriend slow-dancing and doing the tongue-tango with Tori Double-D-Cup Hunter, she pays him back the only way she knows how—by taking a tire iron to his beloved '67 Mustang Fastback. There's only one problem.
She's destroyed the wrong car.
Jordan Michaels wants his car fixed, now, and he wants Sass's auto body shop to do it. But the handsome blond has a secret-he's really Jordan Carlyle of Carlyle's Classics, Hogan's biggest competitor, and he's determined to prove himself to his family.
As Sass and Jordan get to know each other, the depth of the attraction has them falling in love. But a relationship based on lies will only leave them primed for the worst wreck of their lives.
To comment on Daire St. Denis's blog please click here.