Dear Reader,
Christmas Day of 2020 gave us all something to glom onto and obsess over: the Netflix adaptation of Julia Quinn's beloved Bridgerton series, quite aptly titled BRIDGERTON. Diversely cast, boldly fashionable, unabashedly sexy, and just plain fun, BRIDGERTON is the romance series adaptation we've been waiting for… With Shonda Rhimes' production company at the helm, would you expect anything else?
This isn't an article dissecting the show (it's not perfect, but I was able to overlook some of its missteps—particularly those around race and what the diverse casting really meant and didn't follow through on—and still enjoy it), or the merits of having Dame Julie Andrews as the witty and sharp voice of Lady Whistledown. Instead, this is an article about why, after I binged the series over a couple of days in January, I decided to embark on a re-read of the entire Bridgerton book series.
I read the Bridgerton books back in 2008, when I had just started working in publishing and was fully ensconced in the romance genre. I believe I picked up ON THE WAY TO THE WEDDING, which, as it happens, is the last book in the series. Within a few chapters, I knew I was going to have to stop and start with book one, THE DUKE AND I, and then spend the next month of so reading the rest.
And here we are again, 13 years later, reading them all again.
I think the Bridgerton series is a great one to re-read—the characters are vivacious, the plotlines somewhat absurd but interesting, and Julia Quinn writes in a way that's approachable and still gives the feel of Regency England. As I'm always looking for in historical romance, I want the pretty dresses and the rules of society, but I also want characters who aren't so beholden to them that they don't seem like "real" people. The family at the center of this series—the alphabetically named siblings who all seem to get along for the most part, are wonderfully clever, banter amongst themselves and with their love interests, and support each other in ways that feel true to sibling relationships, too. Each of them has their own set of problems to work through, and often, finding the person they are meant to be with helps them on their personal journeys as well.
Having read through all eight of them again and in quick succession, I've found that my favorite Bridgerton novel has changed over the years. I've always been a fan of THE VISCOUNT WHO LOVED ME (and I cannot wait to see Anthony and Kate brought to life next season on Netflix. Mallet of Death, am I right?!), but this time around, I really found myself enchanted by WHEN HE WAS WICKED, book six, about Francesca and Michael. Francesca sort of confused me throughout the series—she wasn't always around, was quieter than most of her siblings, and then suddenly, she was married off-page. Maybe it was because I was always confounded by her station in the Bridgerton family, but this re-read, I found myself relating to her in a different way. Of all the Bridgertons, Francesca probably would have been fine throughout our current pandemic situation, but I fear the others would have all gone completely bonkers having to stay cooped up from the world. But Francesca was content with taking a step back and spending time with the people who really meant a lot to her. Her first husband of course, but also his cousin, Michael, who she got to know over the course of her marriage and in turn, became one of her closest friends. When her husband unexpectedly passes away, Francesca wants to turn to Michael for support, but he leaves and travels to India, unsure how to process his own grief, but also scared of what could come next in both of their lives—hers as a young widow and his as the new Earl. And when Michael finally does return, Francesca is mad at first, but neither can deny that they've been thinking about each other, and that their feelings have changed and deepened.
I'm also complete and total trash for pining heroes and Michael is very good at pining.
Now, like the TV series, the Bridgerton books are not perfect. THE DUKE AND I, in particular, has definitely been taken to task for issues around consent, and there are some other questionable instances in all of the books. Additionally, there is the topic of BIPOC people existing in Regency England and many authors completely leaving them out of their stories.* Julia Quinn has gone on the record discussing some of these aspects of her most popular series, too.
But I am not going to act like I wasn't giddy over the casting announcements surround season 2, the new covers for the reissued Bridgerton books, and even, by extension, the renewal of Sanditon on PBS.
And having a reason to spend a few hours re-reading books that helped form the romance reader I am today, well… I'll do anything for that! And I'm probably going to do it again and again, too.
—
*There are historical romance authors who do write historically accurate portrayals of England's diversity. We spoke to author Vanessa Riley about this and much more in a recent episode of the Fresh Fiction podcast: https://freshfiction.podbean.com/!
—
This Friday, May 21, 2021, the Boozy Book Broads (yours truly, Melonie Johnson, and Angelina M. Lopez) are joined by bestselling author Priscilla Oliveras! You can find out more on Love Sweet Arrow's Eventbrite or join us at 7pm CT/8pm ET on LSA's YouTube page: http://bit.ly/LSATube.
—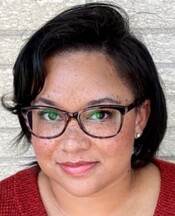 Danielle Jackson Dresser is a contemporary romance author (her debut novel with Berkley will be out in 2022!), avid reader, lackluster-yet-mighty crafter, and accomplished TV binge-watcher.
Once upon a time, she was a publisher publicist and continues to cultivate her love of books and reading by chatting with the best authors in the business as the Editorial Manager of Fresh Fiction and co-host of the Fresh Fiction podcast. Danielle is one of the Boozy Book Broads, a monthly author chat show streamed live on YouTube. She also moderates panels, interviews authors, and hosts a book club at Love's Sweet Arrow, the romance-focused independent bookstore.
Danielle lives in Chicagoland with her very own romance hero husband, darling daughter, and two tempestuous cats. Follow her on Twitter and Instagram, @dj_dresser.