Hi!
I write the Cookbook Nook Mysteries, which means I spend a lot of time researching cookbooks and recipes. Poor me! Also, because I include recipes in my mysteries, I do a lot of taste testing. Feeling sorry for me yet? Probably not. You would if I was a lousy cook, but I've been cooking all my life. I catered during high school, and I ran a restaurant in my twenties. However, my protagonist, Jenna Hart, a former advertising executive who moved home to the seaside town of Crystal Cove, California to help her aunt open the Cookbook Nook, a delightful bookstore packed with cookbooks and cooking items, is not a cook. She needs simple recipes, i.e., 5-ingredient recipes. To help Jenna, I include a simple recipe that she could whip up in each book. FYI, she's determined to become a better cook. In fact, in GRILLING THE SUBJECT, she has advanced to ten-ingredient recipes. How? Because Katie, the chef at the Nook Café, is teaching Jena to think of dry ingredients as one "recipe" and the liquid ingredients as another "recipe." Then she can combine the two recipes into one. Two fives add up to ten. Does that make cooking less scary? You bet!
For now, I thought I'd offer you one of Jenna's favorite recipes, one she inherited from her mother for chocolate pudding. It's so easy, delicious, and creamy. TIP: I found these adorable glass pudding dishes at Bed Bath and Beyond for pennies!

Jenna's Mom's Easy Chocolate Pudding
(serves 4)
Ingredients:
2/3 cups sugar
1/4 cup cocoa
3 tablespoons cornstarch
1/4 teaspoon salt
2 ¼ cups milk
2 tablespoons butter
1 teaspoon vanilla extract
Whipped cream
Directions:
In a medium saucepan (no heat yet), stir together sugar, cocoa, cornstarch, and salt. Now stir in the milk. Cook over medium heat, stirring constantly, until the mixture boils. Remove from heat and stir in the butter and vanilla.
Pour into individual dessert dishes. Note: to keep a skin from forming on the top, press some plastic wrap on the surface of the pudding.
Refrigerate at least 2 hours.
When ready, remove the plastic wrap and top each with whipped cream, if desired.
FYI, in GRILLING THE SUBJECT, you can expect a lot of barbecue recipes because the Wild West Extravaganza has come to town!
Now tell me, what is the name of your favorite EASY recipe? Comment below and you'll be entered to win a copy of GRILLING THE SUBJECT.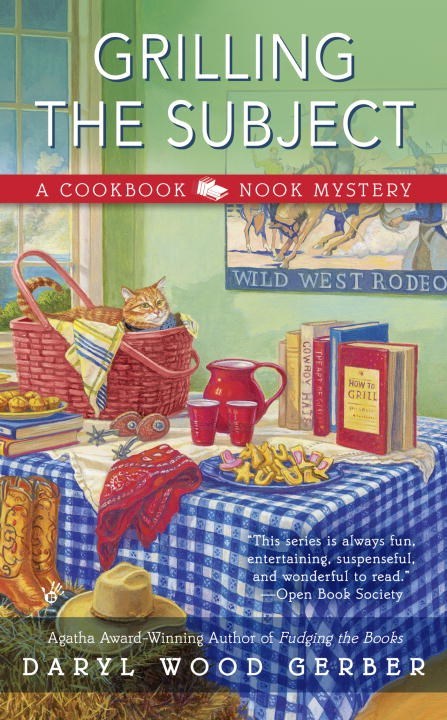 Things heat up for bookstore owner Jenna Hart in the latest Cookbook Nook mystery from the Agatha Award-winning author of Fudging the Books.
As the Wild West Extravaganza rides into Crystal Cove, California, Cookbook Nook store owner Jenna Hart is ready to indulge her appetite for grilled and barbecued treats and maybe even try the Texas skip. But when the body of one of her father's neighbors is found the next morning smoldering in a bonfire, the rodeo revelry is extinguished.
Sylvia Gump had acquired plenty of enemies with her practice of illegally encroaching on her neighbors' properties—including Jenna's dad, who was off fishing by himself and has no alibi for the murder. Now it's up to Cary Hart's dutiful daughter to clear his name before the real killer turns up the heat and rakes someone else over the coals…
Mystery Cozy [Berkley Prime Crime, On Sale: August 2, 2016, Mass Market Paperback / e-Book, ISBN: 9780425279410 / eISBN: 9780698187573]
Daryl Wood Gerber writes the nationally bestselling A Cookbook Nook Mystery series featuring a cookbook store owner who is an avid reader and admitted foodie. Set on the coast of California. As Avery Aames, she writes the Agatha Award–winning, nationally bestselling Cheese Shop Mystery series featuring a cheese shop owner who cares about family above all else. Set in the quaint, fictional town of Providence, Ohio. Daryl's short stories have been nominated for the Agatha and other awards.
Prior to writing, Daryl was an actress in Los Angeles. A fun tidbit for mystery buffs: she co–starred on the popular series, "Murder, She Wrote" and "Matlock." Daryl graduated from Stanford University. She enjoys golfing, swimming, photography, gardening, gourmet cooking, and has been known to jump out of a perfectly good airplane. Avery and Daryl blog at Mystery Lovers Kitchen as well as Killer Characters.