1–What's the name of your latest release? 
A MURDEROUS RELATION, the fifth Veronica Speedwell mystery.
2–What is it about? 
My Victorian butterfly hunting sleuth, Veronica Speedwell, joins with her detecting partner, Stoker, to investigate a potential royal scandal during Jack the Ripper's reign of terror in London.
3–What word best describes your heroine? 
Intrepid. Veronica has a zero-tolerance policy for other people's nonsense and she is never afraid to seize an opportunity or take on a foe.
4–What makes your hero irresistible? 
Stoker is a walking contradiction; he's big and fit and dangerous, but he's also the guy who needs a constant supply of candy and who reads French romance novels and cuddles stray dogs.
5–Who are the people your main characters turn to when they need help? 
My characters are always adding to their found family. They have a mentor–an elderly noblewoman who is the power behind the English throne–as well as a resourceful female reporter, a Black master pastry chef from Martinique, and a police detective who is just as likely to arrest them as take a bullet for them. But, always and above all, they turn to each other.
6–What do you love about the setting of your book? 
Victorian England is what I like to call "comfortably exotic." It's similar enough that readers can relate but different enough to make it interesting and allow a reader to escape for a little while to a new world.
7–Are you a plotter (follow an outline) or a pantster (write by the seat of your pants)?
I'm a loose plotter or organized pantster. I know the general points in the timeline and where I'll end up, but how I manage to get there is always a surprise.
8–What is an ideal writing day for you? 
A good writing day starts with yoga because sitting at a computer stiffens me up. If I've spent time on the mat, I'm in much better shape. I only write for about an hour and a half, but I'm typing full-out during that time. My sweet spot is 8 pages or so. Fewer than that and I don't feel I've really clicked into the story; 15-20 pages is just physically tiring and wrecks me mentally. I can do it, but it's not my preference. I also spend a good chunk of each day reading, posting to social media, screening documentaries or films for research–author business!
9–Do you listen to music while you write, need total silence, or do you have the TV on?
I always listen to music–instrumental only. I prefer soundtracks and I usually add a new one to my collection with every book. Sometimes I make a special playlist for a book, and occasionally I will listen to just one piece on repeat for the whole book because it fits the mood so perfectly.
10–How do you approach research? 
Like a kid in a candy store! I love research. It's one the greatest joys of my work because it gives me the chance to geek out over subjects I'm interested in. I can buy as many books as I need, watch hours of documentaries, chat with experts. The rabbit hole is one of my very favorite places to be.
11–What is your publishing journey story? 
I wrote my first full novel when I was 23 and didn't get published for fourteen years. Once I finally got a book deal, I sold six books in four months, and my first novel was nominated for a number of awards. I have been published ever since. I changed publishers to join Penguin a few years ago, and it's been an absolute thrill ride. I love everyone there, and they work so diligently to get the series in front of people. There's been a fair bit of serendipity in my career, but I also work hard and I persevere.
12–Do you have critique partners/writing groups you want to give a shout-out to? 
I work solo. One of my dearest friends is a freelance editor and occasionally I'll send something her way if I need cheerleading because she's got a great eye, but that's only when I'm having a crisis of confidence or I just think she will enjoy it. My mother proofreads for typos, but I prefer to limit editorial discussions to my actual editor. I work hard to clear other voices out of my writing, and my editor is very skilled at knowing what I'm trying to say and communicating to me where and how I'm not hitting the mark.
13–What're the most frustrating things about being an author? 
When you want to write a book and you don't yet have the skills to make it as good as it needs to be. I have one or two books kicking around in my subconscious and I know I'm not ready to write them. I will be, just not yet.
14–What's your favorite scent?
For comfort, my dog's feet combined with bergamot and mountain laurels–and that's a whole cocktail of childhood stuff mixed together. For perfume, it's Lubin's Black Jade.
15–What movie will you watch no matter what if it's on TV?
The original version of The Women. I adore TCM and if I see that or Sunset Boulevard is on, I am powerless to turn the channel.
16–Do you like breakfast, lunch, or dinner best? 
Breakfast! I am a morning person, and that first pot of tea is like a benediction.
17–What's one thing you wish you knew more about? 
Victorian natural history. My degree is in English and history, so I always have to research the science since my two main series characters are natural historians. I love the work, but it would be lovely to just know the answers sometimes.
18–What's the silliest thing you've recently done?
Wore a wig of long pink curls onto the London tube. I had a good reason.
19–What can readers expect from you next? 
More Veronica! I've just written Veronica #6 and am in the very early stages of planning Veronica #7.
20–How can readers reach you?
Readers can email me at [email protected], but I am a Twitter devotee and can be found there just about every day. @deannaraybourn is my IG and Twitter handle. Come say hi!
A Veronica Speedwell Mystery #5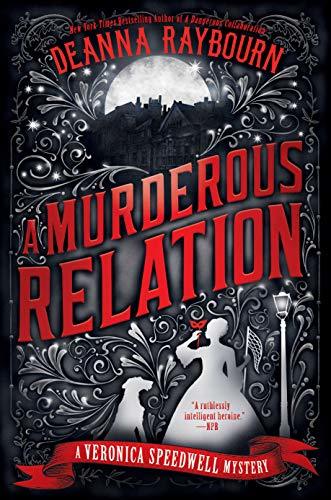 Veronica Speedwell navigates a dark world of scandal and murder in this new adventure from New York Times bestselling and Edgar Award nominated author Deanna Raybourn.
Veronica Speedwell and her natural historian colleague Stoker are asked by Lady Wellingtonia Beauclerk to help with a potential scandal so explosive it threatens to rock the monarchy. Prince Albert Victor is a regular visitor to the most exclusive private club in London, known as the Club de l'Etoile, and the proprietess, Madame Aurore, has received an expensive gift that can be traced back to the prince. Lady Wellie would like Veronica and Stoker to retrieve the jewel from the club before scandal can break.
Worse yet, London is gripped by hysteria in the autumn of 1888, terrorized by what would become the most notorious and elusive serial killer in history, Jack the Ripper–and Lady Wellie suspects the prince may be responsible.
Veronica and Stoker reluctantly agree to go undercover at Madame Aurore's high class brothel, where another body soon turns up. Many secrets are swirling around Veronica and the royal family–and it's up to Veronica and Stoker to find the truth, before it's too late for all of them.
Mystery Historical | Mystery Woman Sleuth [Berkley, On Sale: March 10, 2020, Hardcover / e-Book, ISBN: 9780451490742 / eISBN: 9780451490766]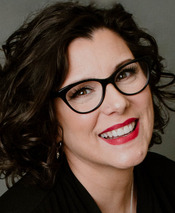 A sixth-generation native Texan, Deanna Raybourn graduated from the University of Texas at San Antonio with a double major in English and history and an emphasis on Shakespearean studies. She taught high school English for three years in San Antonio before leaving education to pursue a career as a novelist. Deanna makes her home in Virginia, where she lives with her husband and daughter and is hard at work on the next installment in the award-winning Lady Julia Grey series.