1–What's the name of your latest release?  
 CRIES FROM THE LOST ISLAND 
2–What is it about?  
It's about a brokenhearted teenage boy who has just lost the love of his life, a young woman who believed she was the reincarnation of Cleopatra. The story is set against the magnificent ruins of ancient Egypt and brings to life the greatest love story of all time.  
The leading character is Hal Stevens. He's sixteen and a budding historical scholar from a small town in Colorado. Hal has only two friends, Roberto the Biker Witch and Cleopatra Mallawi. Cleo believes she's being stalked by an ancient Egyptian demon, Ammut, the Devourer of the Dead. When Hal gets a desperate call from Cleo saying the demon has found her, he and Roberto rush to her house, but find her dying. Cleo's last request sends Hal and Roberto on the journey of a lifetime with famed archaeologist Dr. James Moriarity. To save Cleo's soul, they must find the lost grave of Cleopatra. . . and then discover a way to open the path to the legendary Island of the Two Flames.  
But they are not alone in their search. They are being watched by others–and not all of them are human.
I had a wonderful time writing CRIES FROM THE LOST ISLAND, not just because I loved the story and characters, but because I got to add my own archaeological theory about the location of the lost graves of Antony and Cleopatra.  
3–What word best describes your main characters?  
Vulnerable.
4–How do your characters cope with the supernatural elements of your book?   
Hal doesn't know for sure if he's actually seeing ghosts and demons, or if his grief is causing him to lose his mind. He terrified.       
5–Who are the people your main characters turn to when they need help?  
After Cleo's death, Hal turns to Roberto. 
6–What do you love about the setting of your book?   
CRIES FROM THE LOST ISLAND starts in the mountains of Colorado. It's beautiful and wild country. The story then moves to an archaeological site in Egypt. Ancient Egyptian architecture, art, and religion are simply stunning. A better word might be mesmerizing. When you walk through the monumental ruins of Egypt, I swear you feel the footsteps of ancient gods and demons in your heart. It's haunting and powerful–and hard to walk away.   
7–Are you a plotter (follow an outline) or a pantster (write by the seat of your pants)?   
A little of both. I'm a professional archaeologist. The non-fiction information guides the basic plots of my books, but the characters' journeys are all "pantster" stuff. I live the story with them. If I'm doing it right, I have no idea what they're going to do next. They constantly surprise me!  That's one of the great joys of being a novelist. The characters are alive inside you.
8–What is an ideal writing day for you?  
Mike and I rise before dawn, take care of our beloved Shetland sheepdogs, and discuss plots and characters over breakfast. Then we go to our respective offices and hope the other worlds we're writing about become more real than this world. If we're very lucky, we "come back" to this world around four o'clock, have a glass of wine together, and discuss what happened in our stories that day. That's the stuff perfect days are made of.     
9–Do you listen to music while you write, need total silence, or do you have the TV on? 
I select one song for each book and listen to it over and over as I write. The music sets the emotional tone of the book. It's a sort of meditative technique that allows me to wall out this world and focus on an imaginary one. 
10– How do you approach research?  
I take it seriously. In fact, most of my books have bibliographies. I want my readers to be able to go to the best sources if they want to know more about the story's background. Good research is critical to creating a believable story. It's also half the fun.   
11–What is your publishing journey story?  
I've been publishing since high school, but I suppose my first professional publication was an essay about T.S. Eliot in a college literary journal in 1976. I had several non-fiction publications during my career as a historian and archaeologist with the U.S. Department of the Interior, but my writing career really began in 1989, when DAW Books bought my first novel, ABYSS OF LIGHT. Since then, I've published 49 novels, two short stories, and around 200 non-fiction articles about archaeology, history, writing, and North American bison. I suppose I'm best known for our prehistory series, the NORTH AMERICA'S FORGOTTEN PAST series (also known as the PEOPLE books), which I co-author with my husband W. Michael Gear. Mike and I have co-authored 36 books. It's been an exciting, fascinating journey.
12–Do you have critique partners/writing groups you want to give a shout-out to?  
Michael Gear is the love of my life. We edit together, write together, plot together, research together, and spend long hours talking about writing, history, archaeology, and the future of North American bison. His heart beats in my stories as much as mine does.
13–What're the most frustrating things about being an author?  
The most frustrating thing is the daily struggle to pry open the doorway to that other world so I can step through and see clearly. The worst days are days when the doorway remains closed to me. It's as though the characters have shut their eyes. 
14–What's your favorite scent? 
The exotic fragrance of Datura blossoms on warm autumn nights.  
15–What movie will you watch no matter what if it's on TV?   
PREDATOR. 
16–Do you like breakfast, lunch, or dinner best?   
Definitely breakfast. That's a precious time of day for me. Mike and I have lived on a ranch for 28 years and morning is when you can hear the bison calling across the meadow in front of the house. We live at the edge of the Yellowstone ecosystem, so their voices blend with the distant howls of wolves and hooting of owls. It's a magical time of day in northern Wyoming. 
17–What's one thing you wish you knew more about?   
I wish I knew more about everything. I never feel like I know enough to truly write well, but I especially wish I knew more about ancient medicinal plants. I've studied the subject for thirty years and still learn something amazing every day.   
18–What's the silliest thing you've recently done?  
I was inadvertently pushed into the corner of the corral by a 3,000-pound bison bull. Fortunately, Storm is a nice guy and casually walked by me.
19–What can readers expect from you next?   
THE ICE LION is finished and in the hands of my fabulous editor, Sheila Gilbert, at DAW Books. I'm currently working on the second book in that series.
20–How can readers reach you?   
We have an extensive social media platform. Our website is www.Gear-Gear.com, but anyone interested in our work with bison can take a look at this PBS episode: https://www.youtube.com/watch?v=wqj9T6wSFMc
We'd especially love everyone to join our discussions on Twitter @GearBooks and Facebook  at https://www.facebook.com/groups/54987233824/?ref=bookmarks
Thanks for the great questions. I enjoyed chatting with you!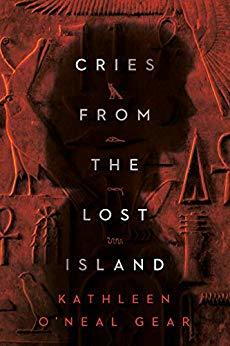 This standalone fantasy brings an ancient Egyptian mystery to life against a modern background, in a tale expertly crafted by a seasoned anthropologist
Set against the glory and tragedy of ancient Roman Egypt, this novel brings to bring to life the greatest love story of all time.
Sixteen-year-old Hal Stevens is a budding historical scholar from a small town in Colorado. A virtual outcast at high school, he has only two friends: Roberto the Biker Witch and Cleo Mallawi. Cleo claims to be the reincarnation of Queen Cleopatra. She also believes she's being stalked by an ancient Egyptian demon, Ammut, the Devourer of the Dead.
But when Hal and Roberto find Cleo murdered in the forest near her home, it appears she may have been telling the truth. Her last request sends them journeying to Egypt with famed archaeologist Dr. James Moriarity, where it quickly becomes clear that Cleo has set them on the search of a lifetime: the search for the lost graves of Marc Antony and Cleopatra.
But they are not alone in their search. Cleo's murderers are watching their every move. And not all of them are human. . .
Young Adult Suspense | Young Adult Adventure | Young Adult Fantasy [DAW, On Sale: March 10, 2020, Hardcover / e-Book, ISBN: 9780756415785 / eISBN: 9780756415792]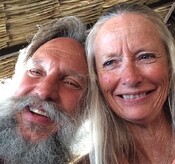 KATHLEEN O'NEAL GEAR is a former state historian and archaeologist for Wyoming, Kansas, and Nebraska for the US Department of the Interior. She has twice received the federal government's Special Advancement Award for "outstanding management" of our nation's cultural heritage. The Gears, whose First North American Series hit the international as well as USA Today bestseller lists, live in Thermopolis, Wyoming.