Every year Red Door Reads tries to lessen the sting of Tax Day by giving our readers something special. In the past we've asked you Who's Been Skrewd and gave you Fifty Ways to Kill Your Larry.
This year we asked our readers what they'd like to read. We held a contest last fall and received many suggestions for character traits and story settings. The winners were chosen by bestselling authors Sabrina Jeffries and Carly Phillips. Now the authors of Red Door Reads have taken the top four elements and crafted one amazing story from the winning suggestions.
"The Road Home" is truly a group effort. Each chapter was written by a different Red Door author. It is vibrant, unpredictable, and full of twists and turns. On April 15, Tax Day, each author made their chapter available on their webpage–completely FREE! Just follow the links to read the story. This is our treat to you, so just sit back and enjoy.
And when you are finished, you can enter the Doing It Your Way Contest. Just answer a few questions about the story for a chance to win a Kindle Fire or a fabulous Red Door Reads Prize Pack.
Matthew Chadwick just inherited an island off the coast of Maine. The last time he was here he left Anne Bartlett in tears. Anne has spent her adult life trying to forget this blue-eyed Marine. Matthew's return stirs up old feelings–and something more. Someone doesn't want him back on the island. As Matthew digs into the past, it becomes clear more than just Anne's heart is in danger…
Join us on April 15th to follow their story.
Red Door Reads takes you on the journey home!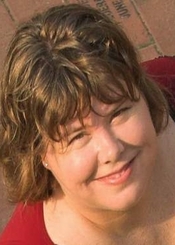 Deb Marlowe grew up in Pennsylvania with her nose in a book. Luckily, she'd read enough romances to recognize the true modern hero she met at a college Halloween party—even though he wore a tuxedo t-shirt instead of breeches and tall boots. They married, settled in North Carolina and produced two handsome, intelligent and genuinely amusing boys.
Though she spends much of her time with her nose in her laptop, for the sake of her family she does occasionally abandon her inner world for the domestic adventure of laundry, dinner and carpool. Despite her sacrifice, not one of the men in her family is yet willing to don breeches or tall boots. She's working on it.